A small town in southeastern Michigan was forced to move a sculpture away from municipal buildings after getting an earful from locals who complained the artwork was too racy.
The sculpture, "Blue Human Condition," appears to depict seven human figures of unknown gender huddled in ambiguous standing and sitting positions.
It was installed in Adrian on April 21 next to a municipal building and the police department, and it "quickly" attracted unintended criticism from peeved locals who "thought there was some sexual undertones associated with the sculpture," said City Administrator Shane Horn.
"There were some who mentioned they didn't want to bring their children downtown because of something they interpreted as being somewhat sexually suggestive," Horn told NBC News.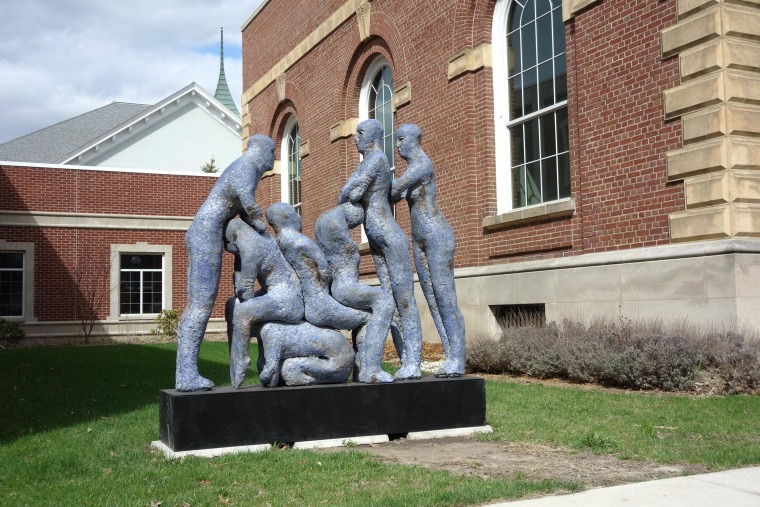 Horn decided to move the sculpture to an out-of-the-way public park "that's not as highly-trafficked" following internal discussions with city staff.
"At that location, there's no public buildings. And this way, those who wanted to could view it and those who didn't could make that choice," Horn said.
Mark Chatterly, the Williamston, Mich., artist who created the sculpture, did not immediately return NBC News' request for comment on the relocation of "Blue Human Condition." Horn said that Chatterly is "disappointed."
"He's disappointed that it's moved, but he's happy that we're keeping it," Horn said. "His response has been from the start that there's nothing sexually suggestive about it."
"(Chatterly has said) it's designed to show that we all lean on each other and rely on each other," Horn added.
— Daniel Arkin