WARREN, Mich. — Patrick Anderson has spent 25 years working for General Motors, most recently at the company's transmission factory here. In a little over a month, he will see a plant he worked for close for the third time.
Anderson's father and grandfather worked for automakers as well, enjoying good paying jobs and stability, he said. Now Anderson tells his kids to steer clear of that kind of work.
"It's not the dream job it used to be," Anderson, 47, said before his 12-hour shift that begins each day at 2:30 p.m. "It's actually quite a nightmare to try and survive and reach your pension. It feels impossible."
The 261 hourly workers who help operate this plant build car transmissions, but just after Thanksgiving they found out from news reports that GM planned to close their 2.1 million square-foot factory that the company has run since 1958.
GM plans to keep its transmission plant in Mexico open instead.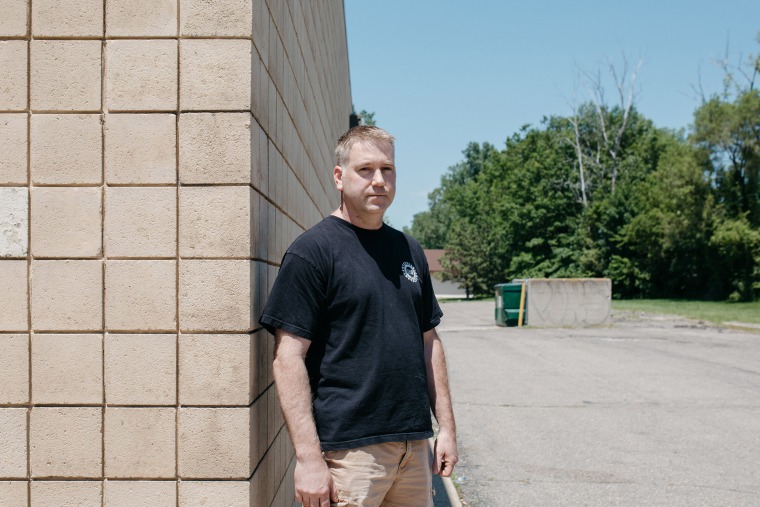 It's these labor issues — the loss of manufacturing, imbalance between corporations and workers and growing income inequality — that gained some attention during the first Democratic presidential debates on Wednesday and Thursday.
General Motors announced in the fall that it planned to cut costs by eliminating 14,000 jobs and save $6 billion by 2020. That decision comes almost exactly 10 years after the U.S. Treasury provided the company a $51 billion bailout.
General Motors is the largest employer here in Macomb County — carmakers Chrysler and Ford are two other major job producers for the area. The company's restructuring and the plight of union workers received a specific callout during Wednesday's debate when Ohio Congressman Tim Ryan spoke of the GM plant that closed in Lordstown, Ohio, in March.
"General Motors got a tax cut," Ryan said on the debate stage. "General Motors got a bailout. And then they have the audacity to move a new car they're going to produce to Mexico?"
"Our representatives really need to sit down and think about where America is going to be if we don't stop the bleeding."
Many other candidates — including Jay Inslee, Elizabeth Warren, John Delaney, Bernie Sanders, Andrew Yang and others — mentioned the plight of manufacturing workers in the United States and the need for the next president to directly address that challenge.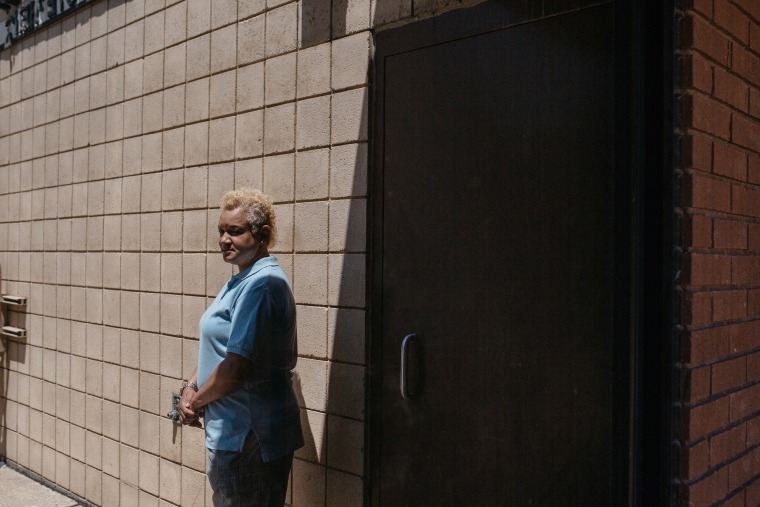 Inslee and Delaney talked about the need for strong unions and collective bargaining, while many others discussed the opportunity to replace the lost automotive manufacturing with clean energy industries.
Workers here in Macomb had few illusions about the distance between those visions and reality, however. Many said that no matter who wins the election in 2020 — Republican or Democrat — they need real action from politicians and not empty promises.
"I just want them to stop selling us a dream," said Regina Duley, 53, an autoworker at the Warren transmission plant. "They all go in there and say the same thing. Don't talk about it: be about it."
GM promised to place many of those workers at new job sites, but with only weeks until this factory finally shutters, the United Auto Workers said employees are still waiting for answers.
"It gives a lot of anxiety to our membership — the uncertainty," said Ghana Goodwin-Dye, 56, the president of UAW Local 909.
Even if some are still able to find work, it's the prospect of moving, of leaving their home and potentially their families that is a major sticking point with workers here, said Korey Benson, a 12-year veteran of this auto plant where he started his career.
"That's the most unnerving and unsettling thing: to make a decision to go out of state and leave my wife and children here," Benson said. "Maybe see them on the weekend. Maybe see them on a holiday. I have an 8-year-old son who loves his dad. I coach his football team. I wouldn't be able to do that anymore."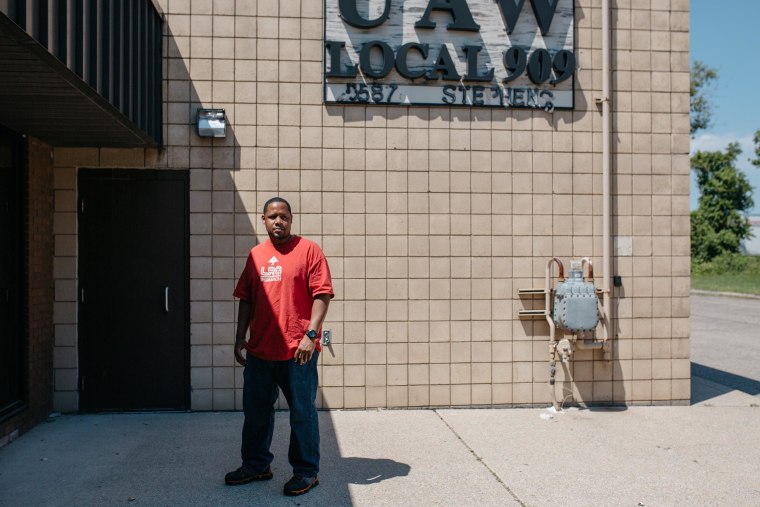 The politics of labor
Convincing workers, like those losing their jobs at the Warren plant, could be a deciding factor in the next election cycle — especially in a pivotal place like Macomb County.
Macomb has gained renewed attention, as it is seen as a potential bellwether where Trump beat the odds in 2016. Many presidential candidates have already come through the area as part of their campaign.
After supporting Democratic candidates each election cycle since 1992, Macomb County voters here helped the president beat Hillary Clinton by more than 48,000 votes — much greater than the approximately 11,000 vote margin that eventually swung Michigan toward Trump.
Stan Greenberg, a Democratic pollster who has studied Macomb County since the 1980s, said that voters here are driven primarily by economic and labor concerns, especially as the union jobs that once promised a steady salary increasingly disappear.
"There's this myth about the Trump voter here who regrets it, and I'm not sure that person exists."
"The big issue is NAFTA and the outsourcing of jobs," Greenberg said. "My work so far shows people in Macomb have been a little skeptical so far of Trump's efforts. The tariffs are seen as uneven. They're not sure yet if this new NAFTA deal is real. They want to see what happens with immigration."
Congress still has not passed the United States-Mexico-Canada Agreement, which would supplant the North American Free Trade Agreement that many blame for the loss of American manufacturing jobs.
Still a long way to the election
The ongoing trouble is there is little economic progress to boast about in the Detroit area, which includes part of Macomb County, over the past few years. The Federal Reserve Bank of St. Louis found that metropolitan Detroit's economic growth has lost some of the continuous economic strides it gained since the Great Recession — most recently dropping 1.43 percent in March 2019.
To appeal to Macomb County, local Democratic activist Shelby Nicole, 25, said 2020 candidates need to provide real economic solutions for a frustrated and beleaguered voter base that is aging and white. But that electoral makeup might be exactly why it is outside of Democrats' grasp, she added.
"I think Macomb County is going to vote for Trump," she said at a bowling alley in Warren. "I don't think anyone has a chance. They love the guy here. There's this myth about the Trump voter here who regrets it, and I'm not sure that person exists."
For many voters here, it remains to be seen whether any of the Democratic candidates become a new favorite for Macomb County — even after two nights of debates.
More than a dozen voters told NBC News they did not watch the debates. At this point, many said there were too many candidates and it was much too early to pay attention.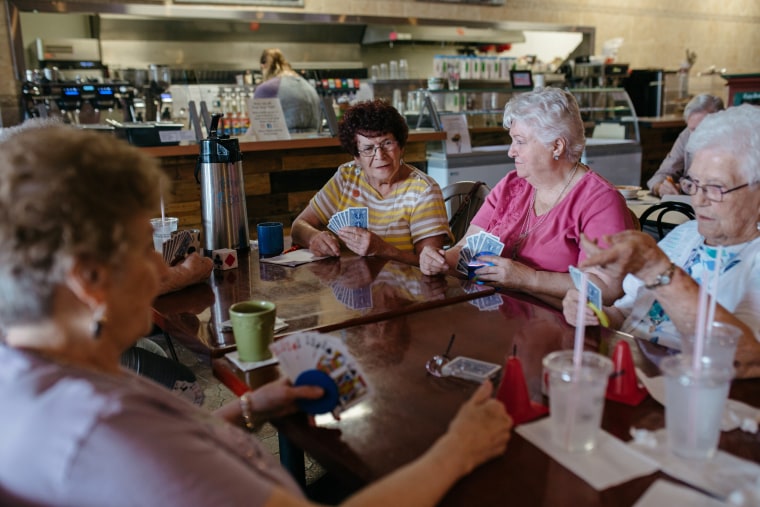 At Hometown Heroes Coffee and More — a recent campaign stop for 2020 presidential candidate Beto O'Rourke — Charlotte Ross, 88, and her friends shrugged off the mention of the debates as they played a heated game of pinochle.
"It's confusing," said Ross, who lived her entire life in Macomb County. "You have to vote for the least worst of them, but there's too many to keep track."
For many workers here, however, the national debate is existential and goes beyond party or personality — especially as another plant here closes its doors.
It's a consideration that weighs heavy on Goodwin-Dye, 56, after 33 years at GM.
"I honestly believe," she said, "that our representatives really need to sit down and think about where America is going to be if we don't stop the bleeding."