A powerful snowstorm that blanketed much of the Midwest over the weekend began to wind down Monday morning after snarling flights, closing highways and forcing schools to close in several states.
A blizzard and winter storm warning was in effect through 6 a.m. on Monday across northeast Missouri and into southeast Wisconsin and northeast Illinois, including the greater Chicago area. The snow was expected to taper off later in the morning.
Flight-tracking website FlightAware reported that more than 1,200 flights within, into or out of the U.S. were canceled on Sunday, one of the busiest travel days of the year. Those cancellations continued Monday with close to 1,032 flights canceled just before 10:20 a.m. ET. More than 340 flights due to depart from Chicago's O'Hare Airport were canceled Monday morning, according to the site.
Along the shore of Lake Michigan in both Chicago and Indiana, the National Weather Service warned of flooding on Monday and said that waves could reach 12 to 16 feet along the Cook County shore and 14 to 18 feet along the Indiana shore.
The snow prompted schools across the region to close on Monday, including in Kansas City and Chicago.
On Sunday, strong winds and snow created blizzard conditions across much of Nebraska and parts of Kansas, Iowa and Missouri.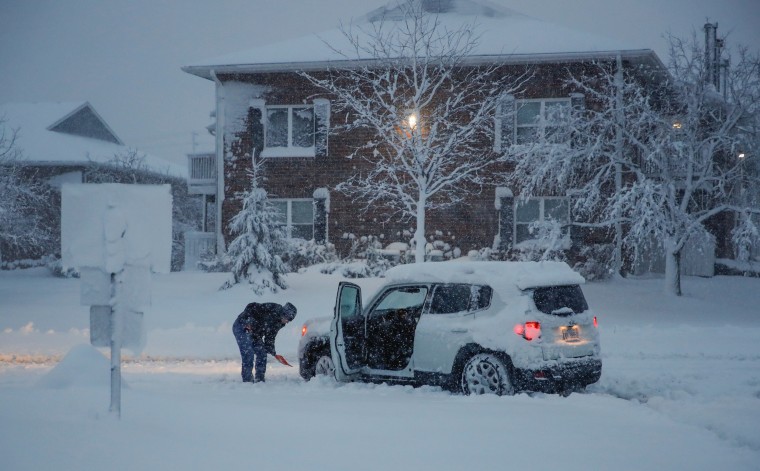 In Kansas, the emergency management division urged people to stay off the roads on Sunday. Kansas City received 5 feet, 8 inches of snow Sunday, breaking the record for the date that was set in 1895, according to the National Weather Service. By Monday, Kansas Highway Patrol public information officer Benjamin Gardner told residents in north and central Kansas that while the storm had passed in the area, they are still responding to slide-offs and crashes.
In eastern Nebraska, part of Interstate 80 between Lincoln and Omaha was closed Sunday morning because of multiple accidents after snow blanketed that area. That included semitrailer trucks jackknifed across the highway. It was re-opened by Sunday afternoon.
The Nebraska State Patrol tweeted Monday that they has responded to 25 crashes, 110 motor assists and helped other agencies with 15 incidents Sunday night.
In Kansas, Gov. Jeff Colyer issued a state of emergency declaration. The action came as a large stretch of Interstate 70, spanning much of the state, was closed between Junction City and WaKeeney.