At the center of Mike Flynn's problems with Congress, and now the Pentagon, is the money he received from RT, the Kremlin-financed cable TV news channel.
In December 2015, the man who was briefly President Trump's national security adviser got $45,000 plus expenses for attending a gala dinner in Moscow and giving an interview. Details of the contract didn't become available until after he resigned in February.
Congress has asked the White House for documents related to Flynn's RT contract, and Thursday the Defense Department confirmed it is probing whether the retired lieutenant general violated the law, DOD regulations or the Emoluments Clause.
So what is this network that has meant both profit and headaches for Flynn? According to the U.S. intelligence community, RT, formerly Russia Today, is a Putin regime propaganda machine that gets nearly $200 million in direct Kremlin financing annually.
Related: Putin, Russia Tried To Help Trump By 'Discrediting' Clinton, Says Report
In the IC's January 6 assessment of how Russia interfered with the U.S. election, RT was described as having "contributed to the influence campaign by serving as a platform for Kremlin messaging to Russian and international audiences," including U.S. viewers.
The assessment noted that during the campaign, RT "consistently cast President-elect Trump as the target of unfair coverage from traditional U.S. media outlets that [it] claimed were subservient to a corrupt political establishment." At the same time, "RT's coverage of Secretary Clinton throughout the U.S. presidential campaign was consistently negative and focused on her leaked e-mails and accused her of corruption, poor physical and mental health, and ties to Islamic extremism."
Related: Russians Paid Mike Flynn $45,000 for Moscow Speech, Documents Show
The assessment also included a little-discussed annex that laid out RT's history of "anti-U.S. messaging" going back to the 2012 election, stating more recent activities are just the latest example of tactics meant to undermine trust in U.S. democracy and undercut U.S. criticism of Russia.
"Knowing it was out there, on their air, why did he hide it? It makes no sense."
Although neither the assessment or the annex mentions Flynn's 2015 appearance at RT's 10th anniversary gala -- where he was seated next to Putin -- it does note that RT likes to hire or "make contractual agreements" with Westerners whose views fit its agenda.
Related: Guess Who Came to Dinner With Flynn and Putin
In his interview at the gala, which was broadcast on RT, Flynn spoke about "converging interests" between the U.S. and Russia on terrorism: "If I have anything to say about it, if anyone wants to listen to me, I'm trying to help us understand what we are facing and move to a place where we can understand what those mutual interests are."
At the time, Flynn had been advising candidate Trump for two months.
RT reached out to Flynn, offering him a contract to speak at the event, then placed him at the head table between Putin and Margarita Simonyan, RT's editor-in-chief. The IC's assessment describes Simonyan as someone who "promot[es] popular dissatisfaction with the U.S. Government." Flynn has told the Washington Post that it was RT's idea to give him such a prime perch.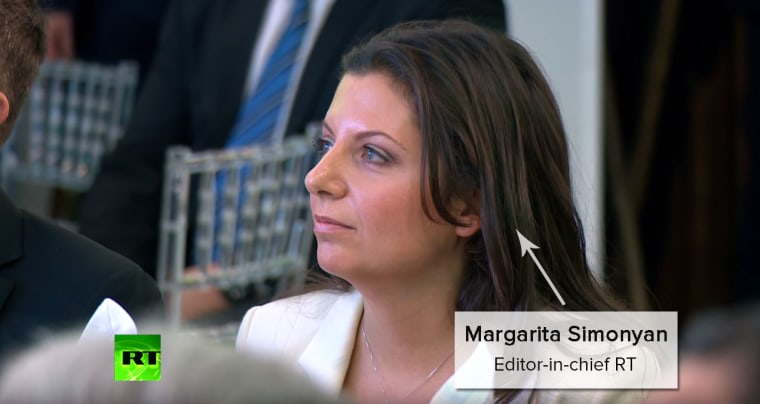 As Michael McFaul, the former U.S ambassador to Russia, told NBC News earlier this year, "Of course, it is not coincidence that General Flynn was placed next to President Putin. Flynn was considered a close Trump advisor. … Why else would they want him there?"
The IC also noted cooperation between the Kremlin, Russian intelligence services and RT's editors. Quoting Simonyan, the annex noted that her boss, Putin's Deputy Chief of Staff Aleksey Gromov, would share classified information and discuss coverage plans in meetings with RT managers. Gromov was also seated at the head table with Flynn at the Moscow gala.
Simonyan was quoted in the assessment on the value of RT in Russian propaganda, although she eschewed the word as having a "negative connotation."
Related: Pentagon Investigating Flynn for Foreign Payments
"It is important to have a channel that people get used to, and then, when needed, you show them what you need to show. In some sense, not having our own foreign broadcasting is the same as not having a ministry of defense," she told interviewers as far back as 2012. "When there is no war, it looks like we don't need it. However, when there is a war, it is critical."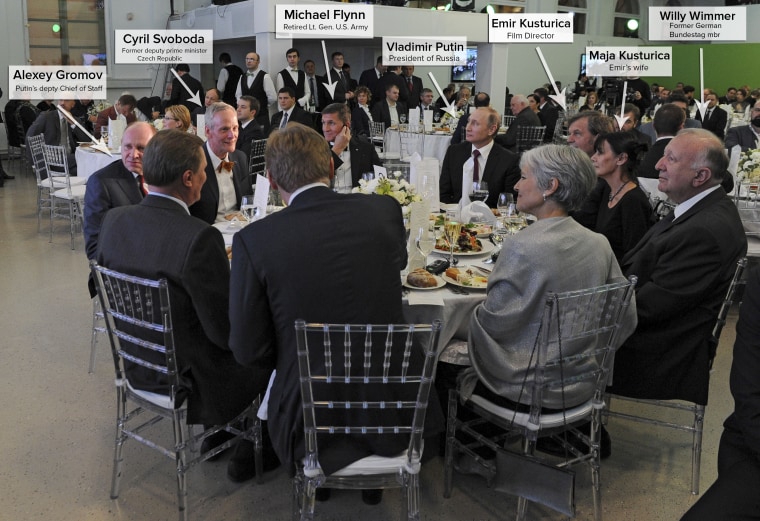 Should Flynn have known about RT's role in anti-U.S. propaganda? The annex, according to the assessment, was based on an unclassified report distributed to the intelligence community in December 2012. That's eight months after Flynn was installed as the director of the Defense Intelligence Agency, a key component of the community. He was head of the DIA until he was pushed out in August 2014.
Ironically, as the heat turns up on Flynn, RT is starting to change its tune.
Clinton Watts, a senior fellow at the Center for Cyber and Homeland Security at George Washington University, says there has been a noticeable change in Russian messaging since the U.S. hit a Syrian government airstrip with cruise missiles on April 6 as retaliation for a deadly gas attack on Syrian civilians.
"The tone has changed across the Russian information networks, including RT," said Watts, who testified before Congress earlier this year on Russian attempts to influence the U.S. "The first time there was an indication they're not happy with the administration was when missiles started to land in Syria. It's not the level that we saw with Secretary Clinton, not that aggressive, but certainly more antagonistic than they had been."
Watts also said he was mystified that Flynn didn't disclose his payment by RT, since his interview was broadcast on the network. "Knowing it was out there, on their air, why did he hide it? It makes no sense."