Police SWAT teams are coming under growing pressure after a 19-month-old boy was critically injured by a SWAT grenade in his crib in Georgia.
The boy, Bounkham Phonesavanh — known as Bou — is undergoing rehabilitation back home in Wisconsin this week after he was released from an Atlanta-area hospital following more than a month of treatment, which included putting him in a medically induced coma.
Bou was severely injured during a middle-of-the-night raid May 28 when police and sheriff's deputies raided a home in Cornelia, about 75 miles northeast of Atlanta.
Officers were serving a "no-knock" warrant on drug charges for a 20-year-old man who they thought lived at the home, which the Phonesavanh family was visiting while on vacation. The sheriff said there was no indication that a family with four children were in the home, even though a minivan with four children's car seats was parked in the driveway.
The officers threw a "flash bang," or a stun grenade, into the doorway to disorient anyone who might have been inside. It fell into Bou Bou's playpen and exploded.
The incident is one of several highlighted in a new report from the American civil Liberties Union objecting to the "militarization" of U.S. police agencies, especially SWAT teams.
"Across the country, heavily armed Special Weapons and Tactics (SWAT) teams are forcing their way into people's homes in the middle of the night, often deploying explosive devices such as flashbang grenades to temporarily blind and deafen residents, simply to serve a search warrant on the suspicion that someone may be in possession of a small amount of drugs," the report (PDF) charges.
"Neighborhoods are not war zones, and our police officers should not be treating us like wartime enemies. However, the ACLU encountered this type of story over and over when studying the militarization of state and local law enforcement agencies," it says.
The ACLU said it studied 800 confrontations in which SWAT teams were deployed across 20 local, state and federal police agencies in 2011 and 2012.
About 80 percent of the missions were launched to serve search warrants — not to deal with active shooters or barricaded fugitives, it found. Those dangerous circumstances were present in only 7 percent of the SWAT raids the ACLU studied.
More than half of the assignments, 54 percent, involved suspects described as black or Latino, far above those groups' representation in society in U.S. society, revealing stark, often extreme, racial disparities in the use of SWAT locally," the nonprofit civil rights group said.
In the raid that injured Bou, officers were trying to find his nephew, who was suspected of making a $50 drug sale, the ACLU said.
Bou's father, also named Bounkahm, told the organization that he was born in Laos and remembers communist soldiers breaking down the door of his childhood home.
"It felt like that," he said, according to the ACLU. "This is America, and you're supposed to be safe here, but you're not even safe around the cops."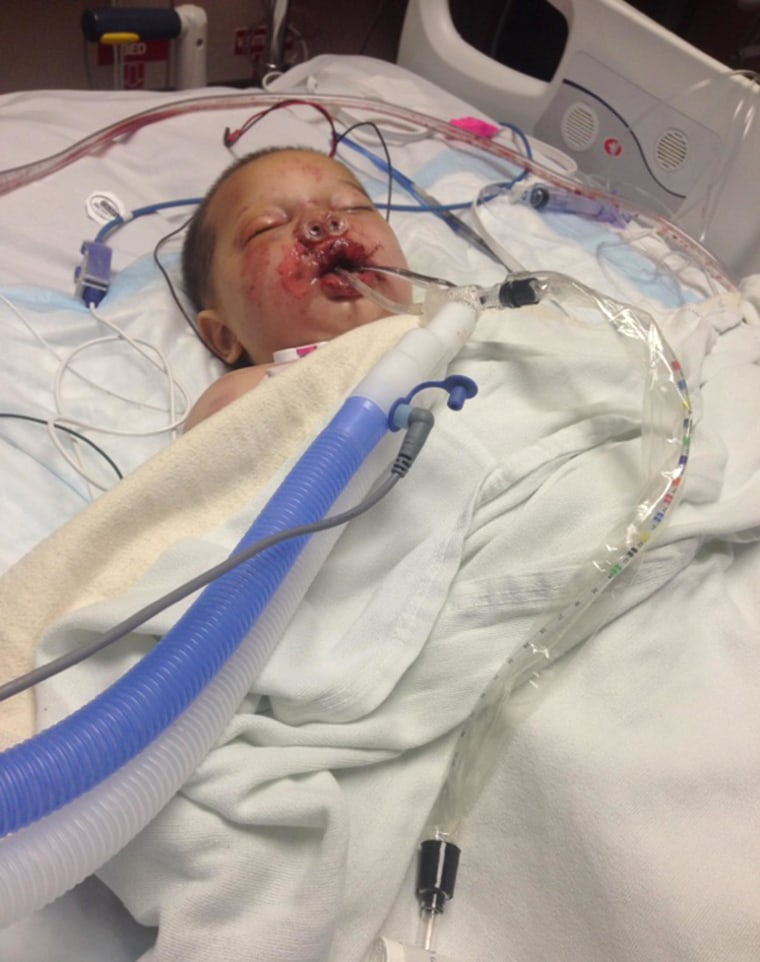 Bou was running around at a going-home celebration breakfast last week, pointing in delight at a poster of SpongeBob SquarePants, NBC station WXIA of Atlanta reported. He can be seen smiling in his mother's lap in a photo on a Facebook page set up to raise funds for the family:
In an essay for Salon magazine, Bou's mother, Alecia Phonesavanh, wrote that the nephew didn't actually live at the home. Police records support that contention, showing that Wanis Thonetheva, 20, was later arrested without incident at a different address.
In an interview on MSNBC-TV's "Politics Nation" last month, Alecia Phonesavanh said the officers had to have suspected that children were in the home when they rammed through the front door at 3 a.m. without warning.
"They were blind or deaf or just plain stupid and arrogant," she said.
"We had our minivan right next to the door. We had the family decals right on the back windshield," she said. "There's a pack-and-play two feet from the window clear as day — you can see it."
The Georgia Bureau of Investigation has launched an investigation of the incident with the U.S. Justice Department.
In the meantime, Alecia Phonesavanh told MSNBC last week, the family is still waiting for an apology.
"They have not made a phone call, no card, no teddy bear, no balloon no nothing of anything of a apology to my family or my son," she said.