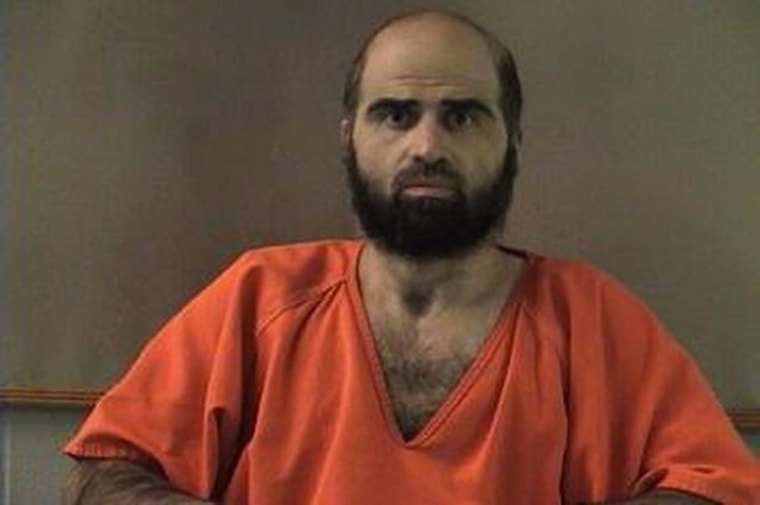 Former Army psychiatrist and convicted killer Maj. Nidal Hasan was sentenced to death by lethal injection on Wednesday for gunning down 12 soldiers and one civilian at Fort Hood, Texas, in 2009.
But the U.S. military hasn't executed a soldier since 1961, when Pfc. John Arthur Bennett was hanged at Fort Leavenworth, Kan., for the 1954 rape and attempted murder of an 11-year-old Austrian girl.
The "reluctance" to put soldiers to death comes not from handing out death sentences during military trials, says Guy Womack, a retired Marine Corps lieutenant colonel and Houston-based defense attorney, but on the part of commanding generals and appellate courts, which are hesitant to uphold the sentences.
"You would think a military community, in particular military judges, would be no more reluctant to approve a death sentence than their brethren in other circuit courts of appeals. But they are," he said. "They don't approve death sentences.
"In 52 years now, there hasn't been a service member executed. And that's pretty astounding," Womack said.
But even before 1961, soldier executions were increasingly rare: There have only been 135 service members sent to death in total since 1916 — the midpoint of World War I and when data on executions date back to — according to a spokeswoman at the non-profit Death Penalty Information Center in Washington, D.C. 
Numerous layers must be passed before servicemembers can be put to death. It must be a unanimous finding of guilt by a military jury; in the sentencing phase, military prosecutors must prove the existence of at least one aggravating factor in the crime, which the jury must also agree on unanimously (an aggravating factor could be, for example, an especially vulnerable victim in a rape, such as an elderly person or a child); a commanding general must decide to uphold the death penalty sentence; and if there are appeals, appellate military courts must uphold the sentence.
And finally, the president of the United States, the final authority, must approve the military execution.
Now that a military jury sentenced Hasan to death, he will join four American servicemen currently sitting on death row, and one who is in limbo: 
Ronald Gray: Raped three women, murdered two
In 1988, former Army Specialist Ronald Gray was convicted of abducting, raping, sodomizing and murdering 18-year-old Pfc. Laura Lee Vickery-Clay near Fort Bragg, N.C. Gray, who has been on death row for 25 years, was also convicted for attempting to murder and rape Pfc. Mary Ann Lang Nameth, 20, and the rape and murder of 23-year-old civilian Kimberly Ann Ruggles. Gray was granted a stay of execution in 2008 while his appeal works its way through federal and military courts, the Fayetteville Observer reported.
Dwight Loving: Killed two taxi drivers
Death row inmate Dwight Loving, who, like Hasan, was stationed at Fort Hood, Texas, was convicted in 1989 of two counts of premeditated murder for the killing of two taxi drivers. The former Army private first class also had been convicted of two counts of robbery and other various felonies. Loving willingly provided a videotaped confession. He has been on death row for 24 years.
Hasan Akbar: Threw grenades in tents as comrades slept
In 2005, Hasan Akbar, who was born Mark Fidel Kools, was convicted on two counts of premeditated murder for the March 23, 2003, attack on fellow soldiers while serving in Kuwait. Akbar threw several hand grenades in various tents where his fellow servicemen were sleeping at Camp Pennsylvania. His attack killed Army Capt. Christopher Seifert and Air Force Maj. Gregory Stone and injured 14 others. It was determined that Akbar also fired his rifle at fellow service members in the field. Hasan's appeal to the Army Court of Criminal Appeals is pending.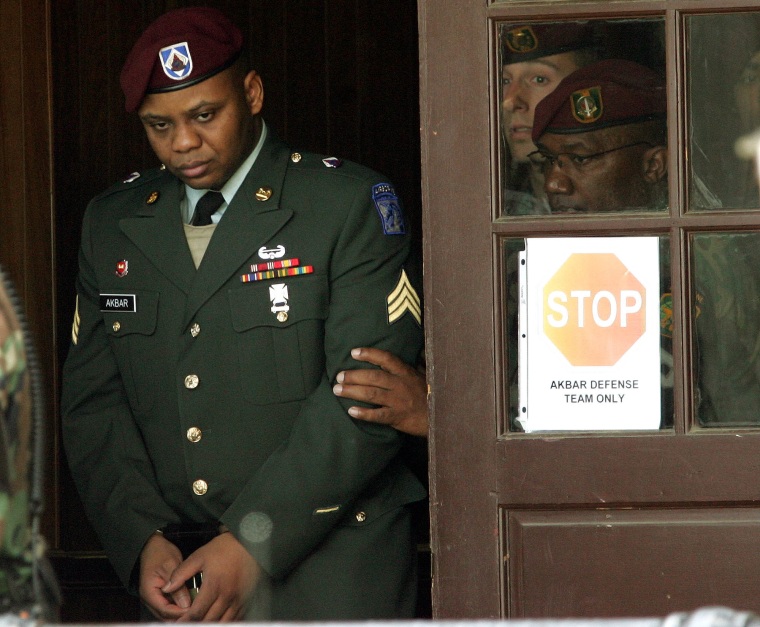 Timothy Hennis: Was twice exonerated, convicted following DNA evidence
Master Sgt. Timothy Hennis was convicted in 2010 for the murder of a woman and two children near Fort Bragg, N.C., after twice being exonerated for the murders in civilian court. Hennis was first tried and convicted in 1986 in state court, but was later acquitted due to poor evidence and incongruous statements by the prosecuting attorneys. In 1989, Hennis was retried and acquitted. Yet, in April 2010, after being recalled to active duty service, Hennis was convicted and sentenced to death for triple murder after preserved DNA proved that Hennis was the killer.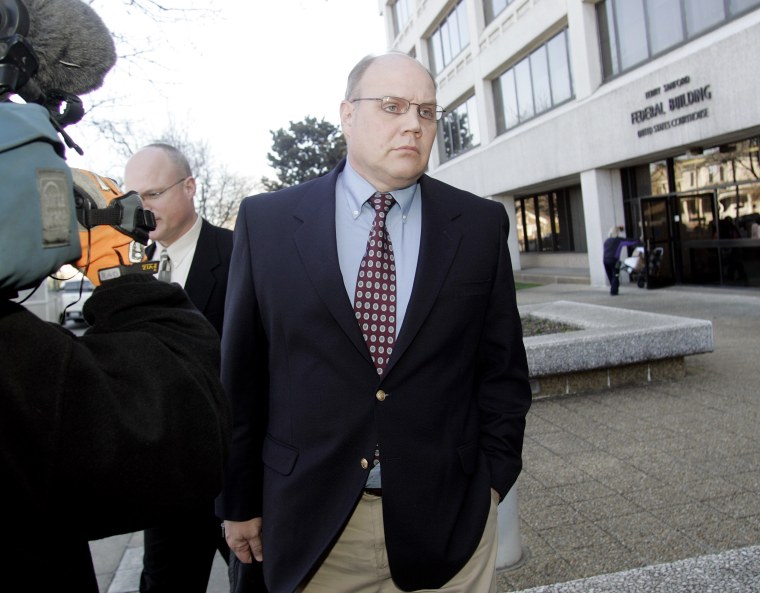 Andrew Witt's death sentence overturned due to poor counsel
Airmen Andrew Witt was sentenced to death in 2005 for the killing of senior Airmen Andy Schliepsiek and his wife at Robbins Air Force Base in Georgia, but his sentence was overturned earlier this month because a panel of judges found he had ineffective counsel, according to the Death Penalty Information Center. The military could appeal this decision, Richard Dieter, executive director of the Center, told NBC News.
NBC's Elizabeth Chuck contributed to this report.