A group of military leaders broke with President Donald Trump and rebuked the "Unite the Right" rally in Charlottesville over the weekend — a near-historic development for U.S. civil-military relations.
Since Sunday, five U.S. service chiefs — representing the Army, Air Force, Navy, Marines and National Guard — have tweeted their denunciation of the white nationalists whose rally led to the killing of a counter-protester on Saturday. Two police officers covering the rally also died when their helicopter crashed.
The joint chiefs condemnation of racism and white supremacist groups is notable because it stands in stark contrast with Trump's statements that blamed both white-nationalist marchers and counter-protesters — even though it was a Nazi sympathizer who caused all of the casualties.
It is also remarkable because American military leaders tend to stay outside of the political arena.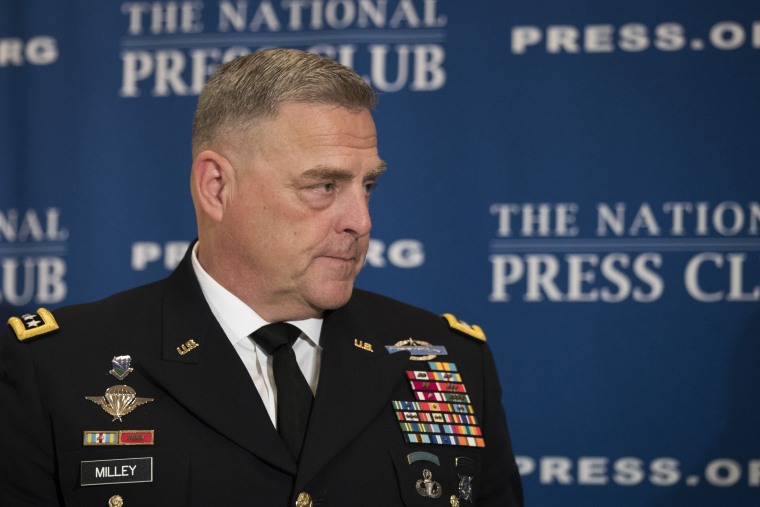 The first statement came after Trump — who oftentimes declares his admiration and love for members of the military — waffled over his condemnation of racism during a Saturday press conference for an executive order that affected veterans, blaming "many sides" for the violence in Charlottesville.
Chief of Naval Operations Adm. John Richardson's shared his admonition hours later on Saturday night.
On Monday, the 82nd Airborne's official account brought up World War II history to explain their impatience for Nazis.
Their statement came after an unidentified man appeared to make the Nazi salute in Charlottesville on Saturday while wearing an 82nd Airborne Division cap.
"Respectfully, anyone who thinks this man represents our culture and values has never worn the maroon beret...and never will," the 82nd Airborne Division wrote in response to the photo.
Gen. Robert Neller, Commandant of the Marine Corps, earned more than 25,000 retweets after he denounced the weekend's events, stating their was no room in the Marines for it.
Army Chief of Staff, Gen. Mark Milley, also rebuked racial intolerance in his statement, stating that it stood against the institution's very foundation.
Later on Wednesday, Gen. Dave Goldfein, Air Force Chief of Staff, and Gen. Joseph Lengyel, Chief of the National Guard Bureau, followed suit.
The military is one of the most integrated institutions in the federal government. According to the Department of Defense, the military is 37 percent nonwhite, which about matches the country at large.
Trump currently carries three generals in his cabinet. Former Marine four-stars John Kelly and James Mattis lead White House and Pentagon operations respectively, while Army three-star H.R. McMaster serves as Trump's national security adviser.