Now that all combat jobs are open to women, the top Army and Marine Corps officers say they should have to register for the draft — just like men.
Gen. Mark A. Milley, chief of staff of the Army, and Gen. Robert B. Neller, the Marine Corps commandant said they supported the requirement during testimony at a hearing before the Senate Armed Services Committee on Tuesday.
"Senator, it's my personal view that, based on this lifting of restrictions ... every American who's physically qualified should register for the draft," Neller said in response to a question from Sen. Claire McCaskill, D-Missouri, who favors the change.
Milley also agreed.
"Senator, I think that all eligible and qualified men and women should register for the draft," he said.
Right now only men legally residing the U.S. between the ages of 18 and 26 are required to register with the Selective Service.
The two thumbs up from the generals came a month after Defense Secretary Ash Carter announced the Pentagon's historic shift in policy.
Under the new rules, women will now be able to help fill some of the 220,000 jobs that were only open to their male counterparts, including key posts in some special operations units and the infantry.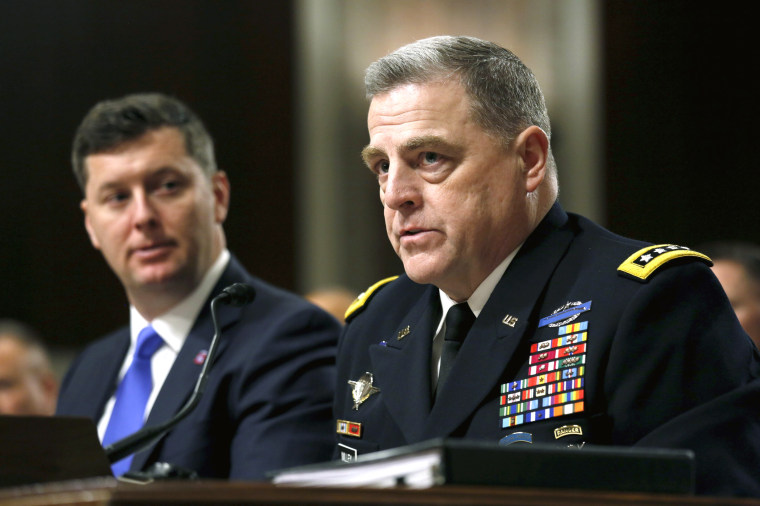 "Our force of the future must continue to benefit from the best America has to offer," Carter said. "This includes women."
Conscripts have not been drafted since 1973 when the U.S. moved to an all-volunteer military. But in 1980 then President Jimmy Carter reinstated the requirement that men register in response to the Soviet invasion of Afghanistan.