The type of military transport plane that crashed into a Mississippi field Monday afternoon, killing all 16 service members on board, has a long reputation for being a workhorse — one that has played a key role during global conflicts.
The Lockheed Martin-designed KC-130 is used to refuel other jets in mid-air and on the ground, and is also employed for cargo hauling.
"They're incredibly safe and have an impeccable safety record," said Anthony Roman, a former corporate pilot and aviation security expert with Roman & Associates.
The KC-130T was being flown by members of the Marine Aerial Refueler Transport Squadron 452 (VMGR-452) based in Newburgh, New York, officials said. It had left Marine Corps Air Station Cherry Point in North Carolina to carry personnel and equipment to Naval Air Facility El Centro in Southern California.
Just before 4 p.m. local time, after leaving North Carolina, the plane dove into a soybean field near a highway about 900 miles away in rural Leflore County, Mississippi.
The FBI, along with local and state authorities, was on scene Tuesday morning to determine what happened. There were no civilians on board, officials said.
The fiery crash left debris scattered on both sides of the highway, and investigators were looking into the possibility that an explosion occurred mid-air, reported NBC affiliate WLBT. Another NBC affiliate, WMC-TV, quoted an unnamed Mississippi state trooper who said the plane was full of ammunition.
Outside of foul play, Roman said, investigators will be looking into whether there was a failure in the flight system or some kind of catastrophic engine failure.
Such an accident is unusual, he added, because "this is a highly reliable plane and the crews are impeccably trained."
The KC-130 is an update from the Lockheed C-130 Hercules that was used during the Cold War.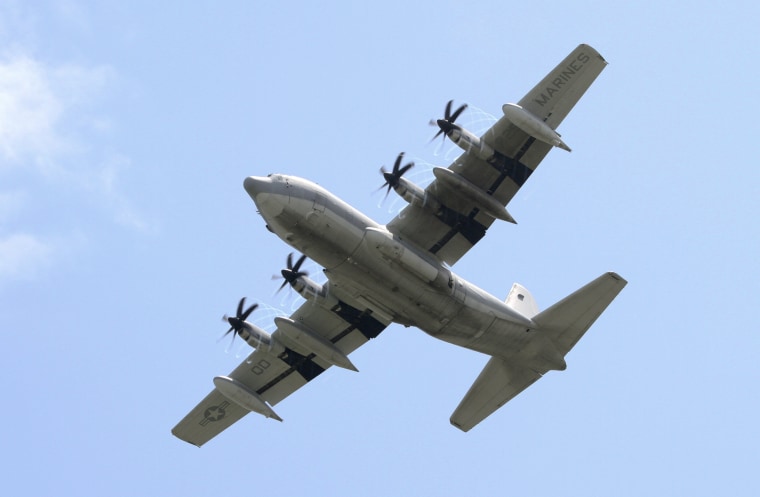 This variation is also a behemoth four-engine aircraft most noticeable for its propeller design. The plane can pump fuel mid-air into two other aircraft at the same time at a rate of about 300 gallons per minute, Roman said.
They can each carry about 60 airborne troops and manage 72,000 pounds of load, he added.
The KC-130 began operations during the Vietnam War era, and a type of it was used by Argentina during the 1982 Falklands War with Britain and by the U.S. military during the Gulf War and the War on Terror.
The revamped KC-130T launched in 1983 for use by the Marine Corps. The VMGR-452 was called into action before and during the Iraq War to assist in refueling of other aircraft in the region, transporting cargo and conducting medical evacuations.
Lockheed Martin's latest incarnation, the KC-130J, is described as "battle-tested" and was also used in Iraq and Afghanistan, specially configured for intelligence, surveillance and reconnaissance.
Under the Marine Corps, the KC-130 has been involved in at least one other deadly accident in recent years — a 2002 crash in Pakistan that claimed the lives of seven crew members.