BLY, Ore. — Darrell Jacobs has been cutting down dead trees for weeks, trying to salvage several hundred acres of forest that his family lost last summer. The Bootleg Fire — the third largest in state history — ripped through Jacobs' property near this remote town in southern Oregon, sparing his house but torching a quarter of the timber and killing more than 40 cattle. 
His family, which has ranched the same 3,000 acres since 1881, had never seen a fire so destructive.
"I haven't tried to figure out how much it cost, and I probably don't want to know," Jacobs said. "It's an 80- to 100-year setback."
A logger by trade, Jacobs had long known that his family's property in the dry Klamath Basin was at high risk. For years before the Bootleg Fire he had tried to prepare for it — thinning the forest by removing small trees and underbrush that could turn a small fire into a roaring blaze.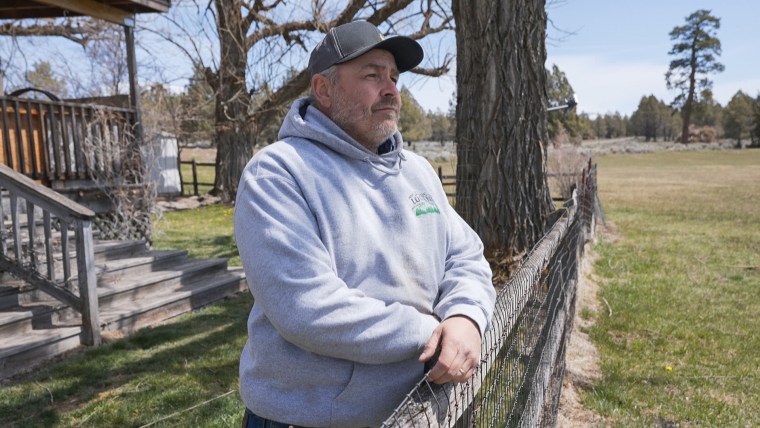 The problem, he said, was the price tag. To cut the risk on the whole property would have cost more than $1 million — something only the government could afford.
"If we'd done this thinning … and then possibly had the state come in and do underburns and stuff like that, it would have saved our ground," he said. 
Clearing flammable brush and debris from privately owned forests like Jacobs' is a key way to prevent major wildfire damage to homes, property and communities, especially in the parched West. Hundreds of millions of acres owned by more than 10 million families — nearly 40 percent of U.S. forestland — need this kind of management. But wildfire fuel reduction takes knowledge, labor and money. Small landowners need help to do it. 
The federal government does risk reduction in national forests, parks and other federally owned land, and state governments protect state lands. Both try to help private landowners do the same, but the assistance programs aren't big or well-funded enough to meet the need. The main federal forest stewardship assistance program reaches less than 10 percent of the highest-risk land annually — and the largest grant program has to turn away most applicants. 
Fire and forestry experts say even an expected influx of several billion dollars from state governments and the Biden administration won't be enough or come fast enough. As the climate warms and the number of people living in dense forests rises, a still-larger ramp-up is needed to prepare for future wildfires.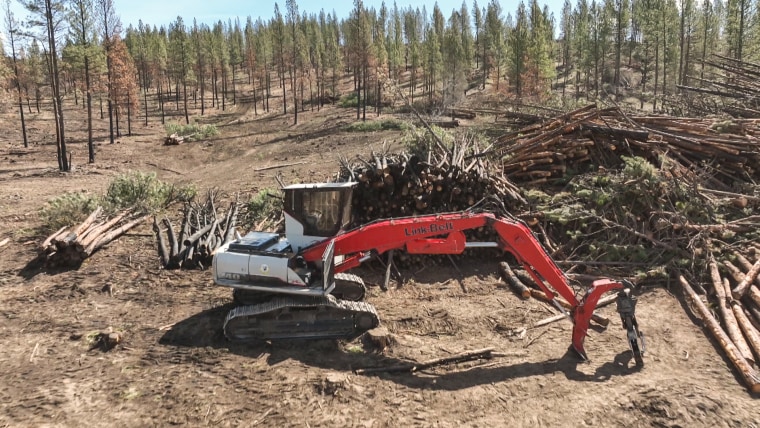 "It's a huge money issue," said Jason Pettigrew, a stewardship forester with the Oregon Department of Forestry, who's advising Jacobs on how to prepare for the next fire. "The level of intensity and equipment needed to do this kind of work is well beyond most landowners. … We're looking at $600, $800 or $1,500 per acre in some places."
But not making the investment could be disastrous. "The risk of catastrophic wildfire in this area is increasing," he said. "And without doing that work, you're faced with losing everything that you have."
Getting assistance
Roughly a century of federal policy to suppress all fires led to a huge buildup of brush, small trees and other fire fuels, making the landscape more prone to catastrophic wildfires. Climate change and drought have pushed it further into crisis.
"There's a recognition that fire needs to come back," said Scott Stephens, a University of California, Berkeley, professor of fire science. But to reintroduce it in a way where most trees survive is a complex process, he said. Landowners need to "reduce both the surface fuel load, the amount of dead and down woody material on the ground — twigs, leaves, everything else — and then to reduce the number of trees per acre."
One of the most challenging parts of combating the crisis is doing the fuel reduction work on private land. While much of the forest in the West is publicly owned, families and individuals own more than 9 million acres in high fire-risk areas, according to an assessment by the American Forest Foundation, a conservation organization. A recent study found that in the past three decades far more severe wildfires have started on private land and moved into national forests than the other way around, further underscoring the need for private owners to take action.
But small-property owners rarely have the expertise to know how to manage their land without assistance, said Connecticut State Forester Christopher Martin, the president of the National Association of State Foresters. "That's understandable. They don't own the properties for the purpose of wildfire reduction. It's usually for privacy, because they enjoy the wildlife, for investment."
Risk reduction work is also expensive, and it rarely generates income, Martin said. Even landowners who are motivated to manage their forests need help.
That's where stewardship foresters like Pettigrew come in. He does everything from enforcing fire and forest laws to educating landowners, connecting them to experts and helping them write management plans and apply for grants.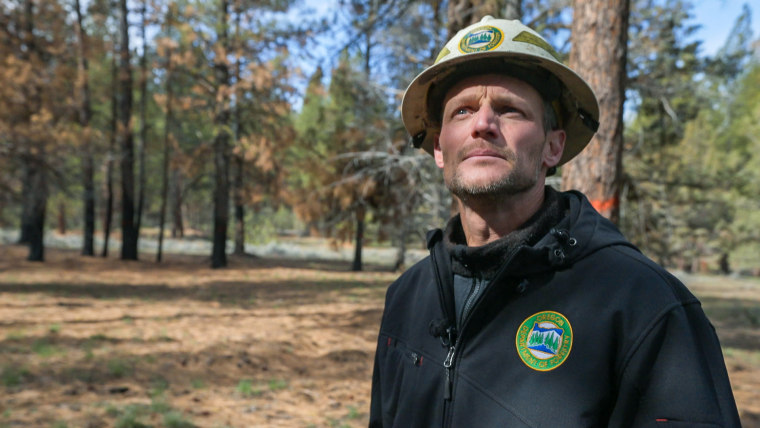 The work of foresters like Pettigrew is funded by a mix of federal and state money, with state forestry agencies matching U.S. Forest Service funding. But he's one of just two stewardship foresters in 6,000-square-mile Klamath County. 
"The main driver for our workload is the amount of funding available for landowners to do work," he said. He works with a few dozen landowners at any given time but estimates that his agency could be assisting as many as 1,500 landowners in Klamath County alone.
Oregon has about 75,000 family forest owners, and the whole country has more than 10 million. Few will do management work without government outreach and assistance. The most recent Forest Service survey of private landowners with more than 10 acres of forest found that about 25 percent don't do any management and that only 11 percent have written plans for their property. The report noted that few are even aware of assistance programs.
The budget for the federal Forest Stewardship program plunged from 2007 to 2014. The wildfire crisis has continued to worsen since then, but the program's budget stayed essentially flat. In that time, the cost of fighting fires ballooned, and needed funds were "borrowed" from Forest Stewardship and other programs. Congress put a stop to the borrowing starting with the 2020 budget, but even with that fix, the stewardship program still had just half as much money in 2020 as it did before its budget began to decrease.
While that budget languished, the amount of federal grant money available to help landowners has grown a lot in the past decade. The largest grant program, the Agriculture Department's Environmental Quality Incentives Program, gave nearly $150 million to small landowners for forest improvement in fiscal year 2021 — more than triple what it gave in 2009. 
The growth, an Agriculture Department spokesperson said in an email, "is due to state outreach efforts and increased interest by forestry landowners/managers in accessing conservation assistance." Even with such an expansion, she said, demand still far outweighs available funds and, on average, the program has to turn away more than two-thirds of all applications it receives.
There are signs in Washington and the state capitals that officials recognize the problem and that the budget shortfalls will soon ease.
The Biden administration and various state governments are investing billions of dollars in programs to reduce risk, from community preparation to ecosystem restoration and fuel reduction.
The administration's new 10-year strategy seeks to massively increase the number of acres that are treated to reduce hazardous fuel and promises to pour money into fire prevention programs.
"Combating wildfire risk and restoring forest health depends on engaging private landowners," said Jaelith Hall-Rivera, the Forest Service's deputy chief of state and private forestry. "Landowners provided with a management plan through the program are three times as likely to implement best management practices."
Increasing funding is a good start, experts say. But forest management is a slow process — most plans are designed to take 10 years — and the amount of land that needs treatment still far exceeds promised funds and workforce capacity. 
For now, while there are many sources of grants and assistance, they can be challenging for landowners to find and competitive to get. Jacobs applied unsuccessfully for two state grants this year and is now applying for a federal one. He has already started clearing brush and damaged trees himself, however, saying he doesn't want to wait for funding that might not appear.
'Absolutely essential'
When the funding does come, it can make all the difference. For Ken and Linda Dollinger, a stewardship plan was the reason their beloved family cabin survived the Bootleg Fire. Back in 1997, the couple purchased 40 acres of forestland and a log cabin just 10 miles from the Jacobs property. They have been driving the six hours from their home south of Portland to take their three-generation family to the cabin almost every summer weekend since.
When they bought the property, Ken said, they had no idea how to take care of the overgrown forest. "We thought we were doing the best we could … but we accomplished almost nothing except restoring the cabin." 
That changed in 2011, when the state Forestry Department began helping them create a stewardship plan.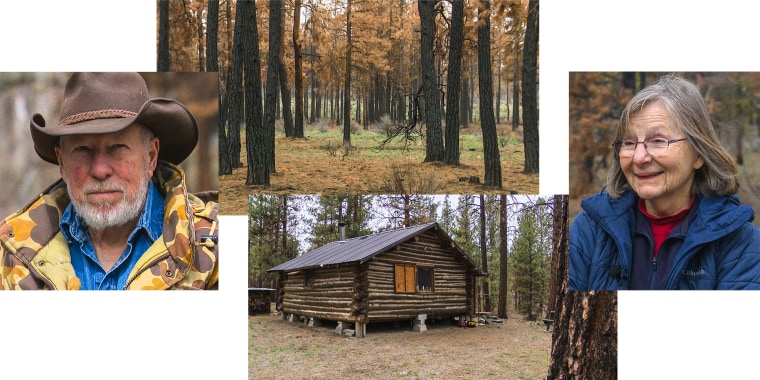 "At that point, we were introduced to a whole lot of people and resources to give us help," he said. They met with stewardship foresters like Pettigrew, county soil and water experts, the state and federal fish and wildlife services, local nonprofit organizations and more. A forestry crew from the Klamath Tribe thinned, piled and burned hundreds of small trees and tree limbs, along with 60 percent of the brush on the property. The Dollingers put their own sweat in, as well — removing sick and damaged trees, restoring their creek and burning brush.
"The money came from some matching grants that we were able to work out with I can't even recall how many different agencies," Ken said. "We didn't know that any of these people existed."
By 2021, they had accomplished almost every goal in their plan. All that was left was a prescribed fire. The Forest Service had plans to do one that would have included their property. 
But in July, the Dollingers got a call that they'd long feared — the Bootleg Fire was burning through their land. They went out to see the damage to their cabin a couple of months later.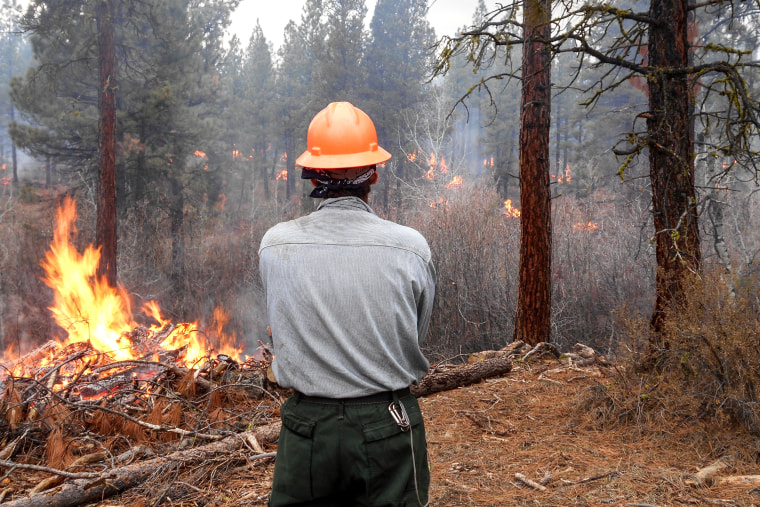 "You can't imagine how surprised we were to find it standing the first time we came back up here," Linda said. "We were hoping for the best, but we were prepared for the worst."
The property had fared well. Many trees burned, but the Dollingers expect most to survive. The cleared area immediately around the cabin, known as defensible space, had allowed firefighters to operate safely as they tried to save the cabin that mattered so much to the family.
"The Bootleg was our test, and we passed it," Ken said. "Saving this was absolutely essential."
Now there's more work to be done. Like Jacobs, the Dollingers need to clear away the trees that didn't survive so they don't become fuel for the next blaze. And as the forest grows back, other management work will follow. The Dollingers have a plan. 
That work, they say, is a job for the grandkids. One even works for the U.S. Forest Service.