Rainbow flags were in full force Sunday in many major cities across the U.S. celebrating in annual Gay Pride parades on a particularly historic weekend.
The scheduled parade's are especially significant after the U.S. Supreme Court's landmark ruling that same-sex couples have the right to marry anywhere in the United States.
In New York City, 22,000 people are expected to join the march over a 2-mile route, and more than 2 million people are expected to visit throughout the day.
"It's going to be an epic weekend," David Studinski, march director for New York City Pride told NBC New York. "I actually just wrote on Twitter that this is the most historic Pride march since the first."
New York Governor Andrew Cuomo will be walking in the parade — after officiating a same-sex wedding ceremony for the first time. (Governors in New York were just granted the right to officiate marriages of any kind earlier this month.)
"This is a proud day for America because it stands up to one of the principles that makes America so special," Cuomo said. "It says, 'today we treat equal people, equally', and that really is the fundamental promise of this country."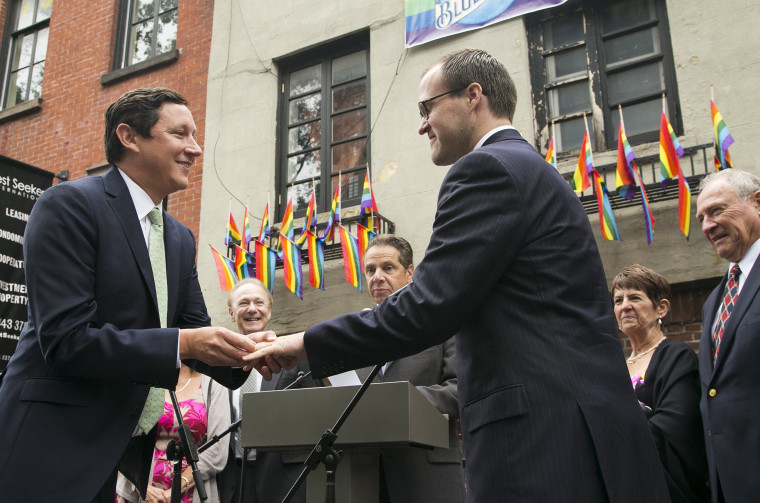 Fresh off an NBA championship win, Golden State Warriors team president Rick Welts was chosen to be the Celebrity Grand Marshal for the San Francisco celebration's 45th anniversary.
Organizers of the parade expect about 1 million revelers in this years "Equality Without Exception" themed event, the largest the Bay Area has seen.
San Francisco Pride Board President Gary Virginia told the Associated Press the exuberance was amplified given the recent SCOTUS ruling but said more still needs to be done in housing and job discrimination in the U.S.
"Today, we celebrate," Virginia said. "Tomorrow, we get back to work."
PHOTO GALLERY: Gay Pride Parades Celebrate Ruling
In the Windy City, the Chicago Transit Authority planned to provide extra service to accommodate the thousands headed to the 46th Annual Pride Parade, stretching more than four miles.
One couple will be married on a float at the parade for an audience of about 1 million people after winning a contest through the Thompson Chicago hotel.
"I think we'll always have a story to tell of the way we got married and how it all came together," Roger Knight told NBC Chicago.
Even the Stanley Cup is on the guest list set to join in Chicago's celebrations, accompanied by representatives from the champion Blackhawks.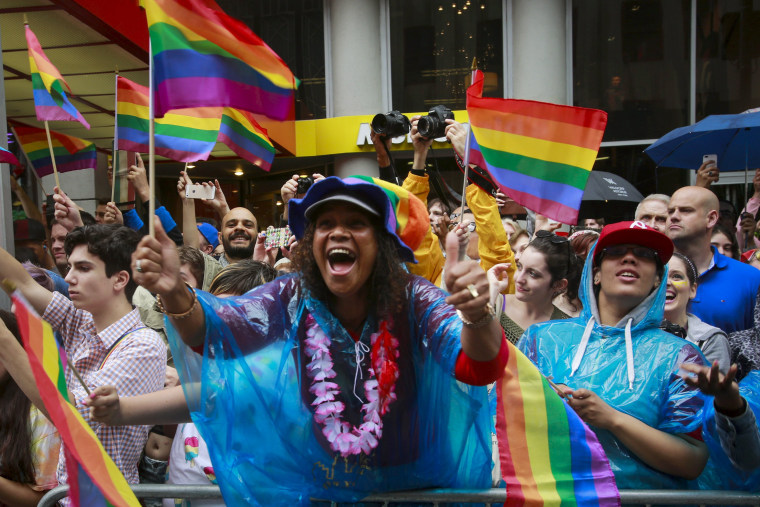 "Having The Cup at the parade is important because it shows the Blackhawks continued support of the LGBT community," team president Andrew Sobotka told ChicagoPride.com. "It's also important to have The Cup there because it's an exciting time for the city, and it should be celebrated by everyone."
Seattle's theme, A Lifetime of Pride, "serves to honor all those who serve the community — regardless of age, class, sex, ability or status. Pride exists in us all — for a lifetime."
Seattle expects to draw nearly 500,000 parade watchers, president of Seattle Pride, Eric Bennett said.
"This is definitely going to be a momentous Pride weekend all over the country," Bennett said. "It's just going to raise the celebration level of everybody who supports marriage equality."
People of all ages will attend this year's festival, some who understand the struggles of many LGBT Americans and others who will now grow up in a much different world, NBC station KING reported.
"These kids are never going to grow up with that feeling that anybody who is LGBT identified can't build a family the same way as anybody else can," David Haack, who has been coming to Pride events in Seattle for 24 years, said.
At gay pride parades in Paris and around the world, the Supreme Court's ruling was hailed by many as a watershed.
"Soon in all countries we will be able to marry," Celine Schlewitz, a 25-year-old nurse taking part in the Paris parade, said. "Finally a freedom for everyone."
The Twin Cities, in Minnesota, St. Petersburg, Florida, and St. Louis, Missouri, also have planned Pride events for Sunday.