Part of a park directly across the street from the White House went up in flames and many of America's biggest cities were under curfew orders and the watchful eyes of National Guard troops overnight as police again clashed with demonstrators protesting the death of George Floyd in Minneapolis police custody.
Many large marches and demonstrations across the country were peaceful six days after Floyd, an African American man, died pleading for his life as a white officer pinned his neck to the ground.
Former Minneapolis police Officer Derek Chauvin is charged with third-degree murder and second-degree manslaughter in Floyd's death. State Attorney General Keith Ellison will prosecute any cases, Gov. Tim Walz announced Sunday after Floyd's family and Minneapolis-area legislators asked that the case be taken out of the hands of local prosecutors.
However, violence and looting overshadowed many peaceful protests. More than 4,400 people were arrested in relation to the demonstrations across the country this weekend, according to a tally by The Associated Press. Arrests ranged from breaking curfews to blocking highways and theft.
In Washington, D.C., New York, Philadelphia and other major cities, fires raged, looters romped and police vehicles came under attack.
In Louisville, a man was shot dead overnight after police and members of the National Guard exchanged fire with people as authorities attempted to clear a large crowd in a parking lot, according to a statement by Chief of Police Steve Conrad obtained by NBC affiliate WAVE. It was not clear who fired the fatal shot.
A small National Park Service building was in flames in Lafayette Square Park in the nation's capital but was put out by the D.C. fire department.NBC News' Garrett Haake reported that the flames could easily be seen from the White House.
Video posted online showed protesters gathered around the alight building.
A blaze in the basement of the 205-year-old St. John's Episcopal Church, known as the Church of the Presidents, across from the White House, was also extinguished, NBC Washington reported citing fire officials.
Video obtained by Reuters showed clouds of tear gas being deployed just outside the White House as protesters gathered ahead of a curfew in the city, which was set to begin at 11 pm E.T.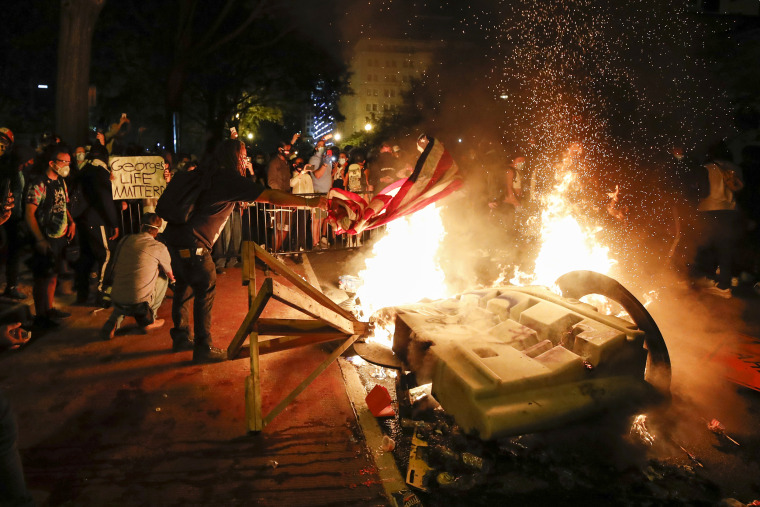 Multiple fires burned in the Union Square and Midtown areas of Manhattan, city officials told NBC News as thousands of protesters remained in the streets Sunday night. One of those arrested in New York was Chiara de Blasio, Mayor Bill de Blasio's daughter, who was taken into custody Saturday, a senior law enforcement official told NBC News. She has since been released, the official said.
Full coverage of George Floyd's death and protests around the country
New York City Police Commissioner Dermot Shea told NBC's "Today" that he thought 90 percent of Sunday went very well but that "when it got dark, it got ugly."
"The looting turned very quickly in portions of the city in Brooklyn, and primarily in Manhattan," he said.
When asked whether the National Guard should be deployed in New York City and if he believes there should be a curfew, Shea said the city didn't need the guard and that he didn't think people would pay attention to a curfew.
Protesters smashed the windshields of numerous police vehicles in West Philadelphia and at least five officers were injured Sunday after having been struck by rocks, bricks and other projectiles, NBC Philadelphia reported. Police broke up some of the crowds by firing tear gas canisters and nonlethal ammunition.
At least nine fires were also reported in Santa Monica, California, a coastal retreat west of Los Angeles, Fire Chief Judah Mitchell said. NBC News cameras captured people hauling looted merchandise out of stores in trash cans.
And in Alabama, at least one Confederate monument was damaged, according to NBC affiliate WVTM.
Washington State Gov. Jay Inslee called on the National Guard to expand its presence in the state on Sunday in response to "destructive protests and looting." The decision will allow unarmed troops to be deployed in response to requests from local governments.
The governor had already authorized at least 600 troops to help in Seattle and Bellevue earlier in the weekend.
And in Minneapolis, where the incident that sparked the week of national violence took place on May 25, a semitrailer barreled through a crowd of peaceful protesters with its horn blaring Sunday along an interstate highway through the city, witnesses and authorities said.
Authorities called the truck driver's actions "very disturbing," accusing the driver of "inciting a crowd of peaceful demonstrators" as they marched along Interstate 35, shouting "Black Lives Matter" and "Justice for George."
Chanting "no justice, no peace" and "prosecute the police," more protesters began showing up near the scene as the area's curfew went into effect at 8 p.m. Authorities began firing tear gas canisters a few minutes later. The crowd started to scatter and clear out, some of them doubled over and crying as they ran.
A short time before the truck rumbled through the crowd, Jasmine Howell, 27, told NBC News that she hoped the march would remain peaceful, but "you never know — it can turn so bad with just one thing."
"This is a peaceful protest," Howell said. "Silence can be powerful. That's the message we're trying to portray as far as unity, power and organization."
The mayor of nearby St. Paul, Melvin Carter, told "Today" that the police were investigating the looting and destruction hit the area during the protests.
"It's very clear that there are people operating in our communities who are not operating on the basis of just a heartfelt desire to build up our neighborhoods," he said.
While protests in Minneapolis have gradually become less violent in the last two days, demonstrations gathered strength elsewhere, and many of America's major cities remained under curfew orders Sunday night as National Guard forces watched and patrolled.
In Los Angeles County, guard members remained in the streets ahead of a curfew resuming at 8 p.m. as large protests continued Sunday in several cities.
Curfew orders remained Sunday in San Francisco, Miami, Indianapolis, Cleveland, Philadelphia, Pittsburgh, San Antonio, Seattle and many other cities.
In Chicago, the mayor's office said Monday access to the Central Business District and Loop area will remain temporarily reduced following multiple public safety incidents and property damage.
The Boston police department said Monday that 7 injured officers have been transported to hospital and many more treated at the scene during protests. Twenty-one police cruisers were damaged and about 40 people placed under arrest, the department added, warning that numbers may change as the situation remains active.
In Denver, Police Chief Paul Pazen said Sunday that dozens of police officers have been injured in the past week, one of whom remained in the hospital Sunday after having struck by a vehicle.
Atlanta Mayor Keisha Lance Bottoms announced Sunday that two police officers had been fired in connection with their involvement in the arrests of college students who were recorded on video being pulled from their car. Three officers were put on desk duty pending an investigation, Bottoms and Police Chief Erika Shields said at a news conference.
"I am genuinely sorry," Shields said. "This is not what we are about."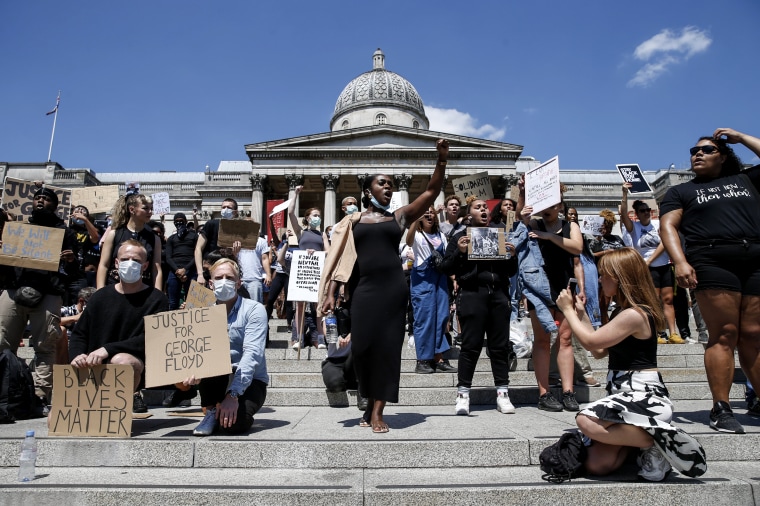 Viral video of New York police kneeling with demonstrators Sunday dramatically documented the cracks that have formed in the thin blue line of America's law enforcement agencies as some officers denounced Floyd's death and sometimes joined the protests.
Meanwhile, the demonstrations began spreading around the world over the weekend. Hundreds of people gathered Sunday in Trafalgar Square in London, where protesters shouted "Say his name" and held signs reading "I can't breathe," Floyd's last words.
Thousands of protesters gathered outside the U.S. Embassy in Berlin on Saturday, some holding signs that read "Black Lives Matter," "Justice for George Floyd" and "I Can't Breathe."