The former Minneapolis police officer shown on video putting his knee on George Floyd's neck for more than 8 1/2 minutes — as he pleaded for air and his mother — was arrested Friday and charged with murder, authorities said.
Derek Chauvin, who was fired on Tuesday along with the three other officers involved in the arrest of Floyd, was taken into custody Friday and faces charges of third-degree murder and manslaughter, Hennepin County Attorney Mike Freeman announced.
Passers-by took video of Floyd pleading "I can't breathe," as Chauvin, who is white, kneeled on Floyd's neck for exactly 8 minutes and 45 seconds on Monday night, according to state charging documents, citing footage from officers' body cameras.
That deadly time span allegedly included 2 minutes and 53 seconds after Floyd passed out. Chauvin should have known "that this type of restraint with a subject in a prone position is inherently dangerous," according to the complaint.
"Derek Michael Chauvin caused the death of George Floyd by his culpable negligence, creating an unreasonable risk and taking a chance of causing death or great bodily harm to George Floyd," the complaint said.
Floyd had been handcuffed for allegedly passing a phony $20 bill at the corner store. He refused to get into a squad car and was "intentionally falling down," saying he was claustrophobic and struggling to breathe, according to the complaint.
"While standing outside the car, Mr. Floyd began saying and repeating that he could not breathe," the document said.
When the cuffed Floyd was eventually put facedown on the pavement, the "defendant placed his left knee in the area of Mr. Floyd's head and neck," according to prosecutors.
"Mr. Floyd said, 'I can't breathe' multiple times and repeatedly said, 'Mama' and 'please,' as well."
One of Chauvin's colleagues suggested rolling Floyd on to his side but Chauvin allegedly said, "No, staying put where we got him."
When Floyd stopped moving, Officer J. Alexander Kueng "checked Mr. Floyd's right wrist for a pulse and said, 'I couldn't find one.' None of the officers moved from their positions," the complaint said.
The medical examiner found no evidence that Floyd died from traumatic asphyxia or strangulation, the complaint said.
Instead, Floyd had coronary artery and hypertensive heart disease and, "the combined effects of Mr. Floyd being restrained by the police, his underlying health conditions and any potential intoxicants in his system likely contributed to his death," according to the complaint.
Freeman said he anticipated more charges to come, possibly against some of the other three officers.
"The investigation is ongoing," Freeman said, "We felt it was appropriate to focus on the most dangerous perpetrator. This case has moved with extraordinary speed."
Just 24 hours earlier, Freeman had said the case still needed more investigation.
But by Friday, Freeman said enough evidence had been gathered.
"All of that has come together and we felt, in our professional judgement, it was time to charge," Freeman told reporters.
Download the NBC News app for breaking news and politics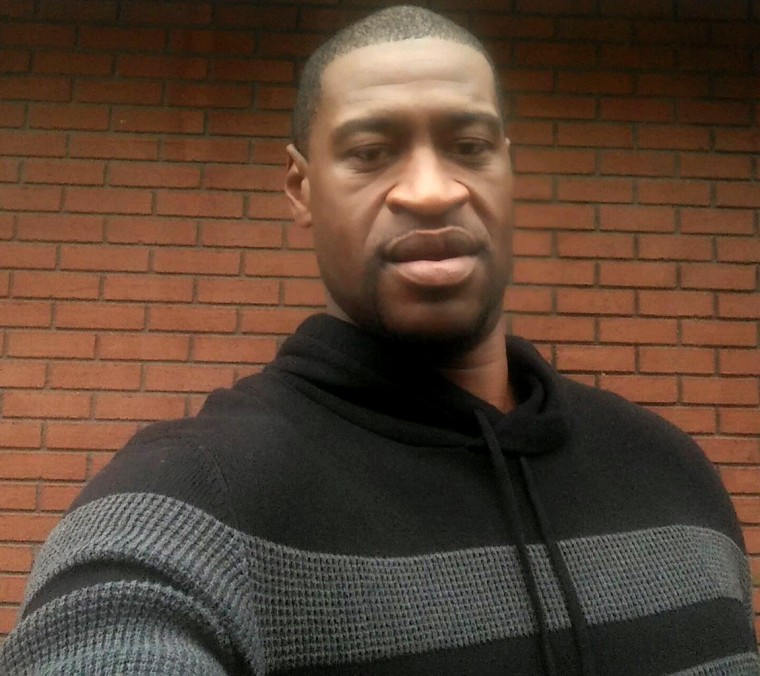 The Minnesota Bureau of Criminal Apprehension and the FBI are both investigating Floyd's death. The state bureau arrested Chauvin at 11:44 a.m. in Minneapolis, the state agency said.
A conviction for third-degree murder could land an offender in prison for up to 25 years.
Third-degree murder means an offender did not intend to kill, but that someone died "by perpetrating an act eminently dangerous to others and evincing a depraved mind, without regard for human life."
Floyd's family says these charges are not enough
Floyd's family, represented by civil rights attorney Benjamin Crump, welcomed the arrest but said the officer should be facing a first-degree murder charge.
Under Minnesota statutes, first-degree murder is defined as a slaying that includes "premeditation and with intent to effect the death of the person or of another." Second-degree murder is often applied to drive-by shootings or other killings while the offender is "intentionally inflicting or attempting to inflict bodily harm upon the victim."
"The arrest of former Minneapolis police officer Derek Chauvin for the brutal killing of George Floyd is a welcome but overdue step on the road to justice. We expected a first-degree murder charge," according to a family statement from Crump's office.
"And we want to see the other officers arrested. We call on authorities to revise the charges to reflect the true culpability of this officer."
Freeman noted that these charges mirrored the same criminal complaint filed against former Minneapolis police officer Mohamed Noor, in another high-profile local case involving excessive force.
Noor was convicted of third-degree murder for the July 15, 2017, slaying of Justine Ruszczyk Damond, a dual citizen of the United States and Australia.
Freeman said the prosecution of police officers, who act while on duty, are particularly difficult cases.
"This is by far the fastest we've ever charged a police officer," Freeman said. "Normally these cases can take nine months to a year."
Minneapolis Mayor Jacob Frey welcomed the former police officer's arrest.
"The man who killed George Floyd has been charged with murder," Frey sad in a statement. "This an essential first step on a much longer road toward justice and healing our city."
Protests rock the Twin Cities amid calls for Chauvin to be charged
Chauvin's arrest comes after three days of protests in the Twin Cities, with the unrest in some areas erupting into violence.
Minneapolis Mayor Jacob Frey had called this week for charges to be filed swiftly against the officer who pinned Floyd under his knee. "Why is the man who killed George Floyd not in jail?" Frey asked. "If you had done it or I had done it, we would be behind bars right now."
In the video, Floyd can be heard saying while he is pinned down, "Please, please, please, I can't breathe."
Onlookers urged the officer to get off him.
"You're stopping his breathing right now, you think that's cool?" a man says. "His nose is bleeding. Look at his nose!" says a woman.
After several minutes, Floyd went silent.
More people began to intervene and called one of the officers at the scene to check for a pulse. Chauvin remained on Floyd's neck, even as he was apparently unresponsive, before paramedics arrived and Floyd is placed on a stretcher.
Medics worked on an unresponsive Floyd in an ambulance, but could not find a pulse after several checks and administering at least one shock to him, according to a report from the Minneapolis Fire Department.
Security footage obtained by NBC from a nearby restaurant showed some of the events leading up to Floyd's arrest. The video captures two officers arriving at the scene around 8 p.m., removing Floyd from a car parked on the street, handcuffing and questioning him before eventually walking him across the street as another police car arrives.
Chauvin had been the subject of prior complaints
Chauvin, a 19-year department veteran, was the subject of over a dozen prior police conduct complaints unrelated to Floyd that resulted in no disciplinary action and one that led to a "letter of reprimand" during his career. A longtime police training expert for the state of Minnesota told NBC News that a dozen complaints over a two-decade career would appear "a little bit higher than normal."
The Police Officers Federation of Minneapolis said in a statement the day of the officers' termination that it was not the time to rush to judgment and that the officers were fully cooperating with the investigation.
"We must review all video. We must wait for the medical examiner's report," the statement said. "Officers' actions and training protocol will be carefully examined after the officers have provided their statements."
Attempts to reach the officers and their attorneys have been unsuccessful.
Floyd's death reinvigorated a widespread conversation on police brutality and protests around the country in addition to the Twin Cities.