A Minnesota couple has been charged in the killing and decapitation of the woman's alleged rapist, authorities said Thursday.
Joseph Christen Thoresen, 35, appeared in court on Wednesday in Grand Rapids, Minnesota, to face a charge of murder in the second degree for allegedly killing a 20-year-old man by beating him with a baseball bat and then stabbing him repeatedly on or around June 21, the Itasca County Attorney's office said in a statement.
Thoresen believed the man had raped his girlfriend, according to a criminal complaint.
On Thursday evening, Thoresen's 22-year-old girlfriend was charged with being an accomplice to second-degree murder after the fact, as well as third degree assault, according to NBC affiliate KARE.
NBC News does not identify alleged victims of sexual assault.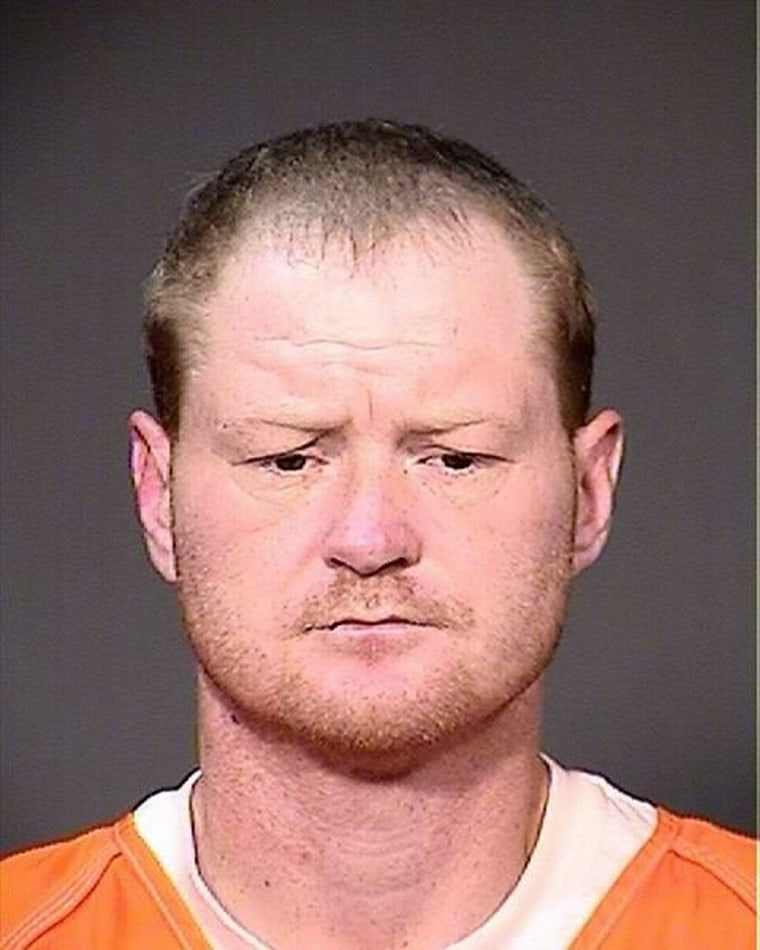 Thoresen was first stopped by police on June 24 after an officer spotted a vehicle with an obscured license plate and the driver not wearing a seat belt, according to the criminal complaint. The car sped away when the officer tried to pull it over, reaching speeds of more than 90 mph, police said.
The driver of the car eventually ran into the woods and was arrested at a nearby home, according to the complaint.
Thoresen, who was the passenger, was apprehended at gunpoint but initially released.
But when police questioned the driver — a man identified only as "T.M.C." — he said that Thoresen told him he had brutally beaten and decapitated the vehicle's owner a few days earlier.
The driver told police that Thoresen pulled a knife on him and forced him to speed away — but cops never found any knife — the complaint states.
The car was owned by a man from Hibbing, Minnesota, identified in the complaint as "D.A.H.," who had earlier been reported missing. NBC affiliate KARE and others have identified that man as David Haiman.
The driver said Thoresen told him he and his girlfriend were driving with Haiman when Thoresen attacked him.
When investigators spoke to the girlfriend, according to the complaint, she said that the incident began when Thoresen told her Haiman would be coming over. The woman said she was upset and told Thoresen that Haiman had raped her in their bedroom.
When Haiman arrived, she confronted him and punched him and he "agreed to be tied up and beat up," the complaint states. Thoresen also allegedly punched Haiman in the face and said repeatedly that "he should not have raped 'my girl.'"
The woman told investigators that the couple then drove around with Haiman, in his car — while smoking marijuana and methamphetamine.
As they were driving in the woods, Haiman allegedly began to verbally insult the couple when they ran into car trouble. When Thoresen and Haiman exited the car to investigate the problem, the woman said she heard a loud thud and saw her boyfriend stabbing Haiman, according to the complaint.
The woman said she tried to stop him but was unable to, according to the complaint, which noted she said "this was 'not my Joe.'"
Authorities eventually found Haiman's torso and head in the woods in Itasca County near where the girlfriend told investigators the crime had taken place, according to the complaint.
Thoresen was arrested at his home on Sunday, June 26, after an alibi he gave cops didn't check out. The woman was on Thursday charged with being an accomplice to murder.
Thoresen was being held on $2 million bail without conditions and $1 million with conditions, according to the Itasca County Attorney's Office. His next court date is set for July 5.