Alfa Barrie and Garrett Warren wanted to conquer the world.
Barrie, 11, aspired to be a best-in-class engineer. Warren, 13, fantasized about becoming a football champion or business titan. 
But these ambitions will never be realized. The bodies of the two boys were found in waterways on opposite sides of Manhattan last week, days after they were both reported missing.
Barrie and Warren were friends and apparently hung out together shortly before they disappeared. Authorities are now investigating their mysterious deaths, and their loved ones are desperate for answers.
Ibrahim Diallo, Barrie's older brother, wants New Yorkers who helped search for the boys to apply "the same energy" to finding out how they died. "We will need help before we get to the bottom of this," Diallo said in a phone interview Monday.
Barrie was reported missing the morning of May 14. Warren was reported missing the following afternoon. Barrie's remains were found in the Hudson River near 102nd Street and Riverside Drive on Saturday. Warren's body was found two days earlier across the island, in the Harlem River, near an area where the boys were last seen on security video.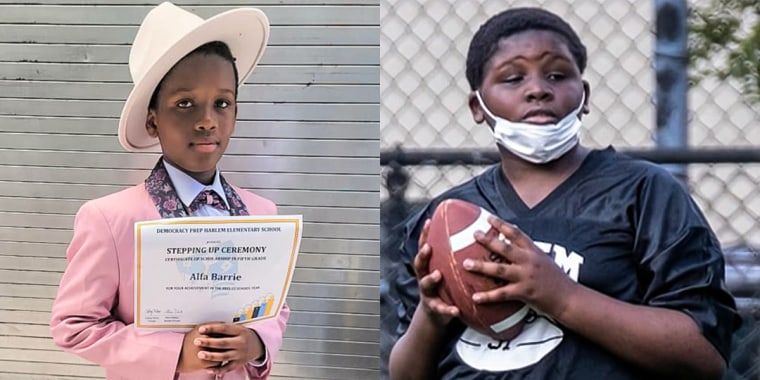 New York's Office of Chief Medical Examiner said Sunday that Warren's cause of death was drowning, and his manner of death was determined to be an accident. Barrie's cause of death was still pending, the office said in a statement.
Diallo remembered his little brother as a "people person" who seemed singularly focused on making others happy.
"He was someone who was always smiling. He was always helping others, anytime he got a chance," he said.
Barrie told Diallo that he wanted to become an engineer — "and not just any engineer," Diallo said, "but the very best engineer." 
Math was Barrie's favorite class at Democracy Prep Harlem Middle School, a charter school eight blocks north of the famed Apollo Theater. He knew that mastering the subject would boost his career prospects as he got older.
Diallo recalled that Barrie was devoted to their mother, Fatoumata Diallo, who could not be reached for an interview Monday. In the days before Barrie disappeared, according to his brother, he was hard at work on a special Mother's Day project at school.
In one photo of Barrie that Diallo shared with NBC News, the boy poses for an elementary school graduation photo in a pink suit, floral bow tie and white hat. He holds a graduation certificate up to his chest, fingers clasped.
Diallo's grief is still raw. He described the days since his brother's disappearance as the worst time period of his life to date. He hopes the wider community will find solace at a memorial for Barrie at a mosque in the Bronx on Monday night.
Warren left an equally enduring impression on those who knew him well, according to a staff member at his school, New Explorations Into Science, Technology and Math, or NEST+M, a public school on the Lower East Side.
"Garrett was a kind, funny and goofy child who loved to make his peers and his friends laugh," said the staff member, who spoke on the condition of anonymity. "He would do silly dances just to get a giggle and help people feel better."
Warren loved playing football and basketball, and he could often be found in the gym or on the courtyard with friends.
Much like Barrie, Warren was committed to academic achievement. He loved science class and, according to the staff member, "he would often beg for more science homework."
Warren's future seemed limitless. He spoke about his grand ambitions, which the staff member said were subject to change — "one day it was to be a future NFL player, the next it was to become a mogul and take over New York."
He had an enthusiasm for the world around him that could be infectious. He loved board games, especially Monopoly. ("He always kicked my butt," the staff member recalled with obvious affection.) He loved his mother and his siblings.
The school staff member, who knew Warren for about two years, said he was sometimes mistaken for an older boy because he was tall. But he remained very much a child — friendly, open-hearted, excited about what lay ahead.
"He had so many hopes and dreams," the staff member said. "What happened is a true tragedy for our community."