At least 858 people from countries that are of concern to the United States' national security were able to avoid deportation orders — and actually received citizenship — due to incomplete digital fingerprint records, according to a report released Monday.
The report from the the Department of Homeland Security Office of the Inspector General determined that records were missing from a DHS digital repository because paper-based fingerprint cards used prior to 2008 were not consistently digitized.
An FBI repository is also missing records, the report found, because immigration officials had not always forwarded fingerprints to the FBI in the past.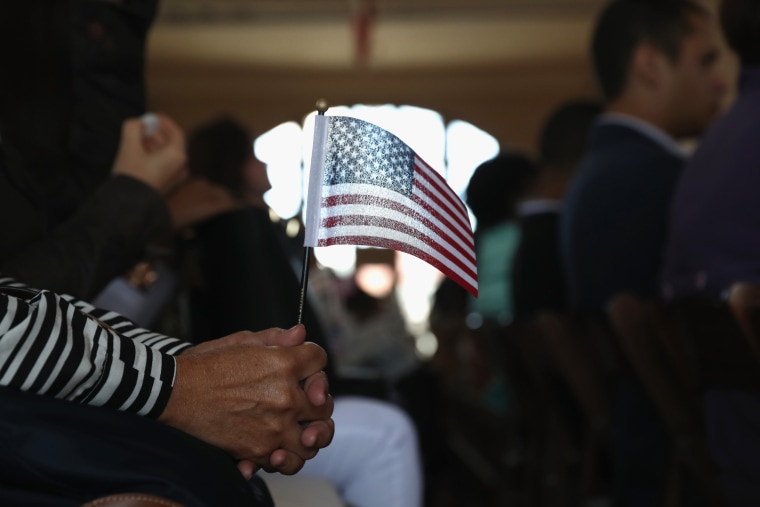 To date, U.S. Immigration and Customs Enforcement (ICE) — the largest investigative agency in DHS — has identified approximately 148,000 older fingerprint records of immigrants who have final deportation orders pending, or who are criminals or fugitives, that have yet to be digitized, according to the report.
The incomplete records present a problem because U.S. Citizenship and Immigration Services (USCIS) rely on that information, in part, when reviewing applications for U.S. citizenship. Hundreds of individuals, therefore, have been able to become naturalized U.S. citizens even after having been deported under a different identity, the report noted.
In three of those cases, the report found, individuals were able to obtain credentials to conduct security-sensitive work at commercial airports or maritime facilities and vessels.
Those credentials have since been revoked.
"This situation created opportunities for individuals to gain the rights and privileges of U.S. citizenship through fraud," said DHS Inspector General John Roth in statement. "To prevent fraud and ensure thorough review of naturalization applications, USCIS needs access to these fingerprint records."
The OIG recommended that ICE finish uploading the fingerprints it identified into the digital repository and that DHS resolve cases of naturalized citizens who may have been ineligible — proposals DHS spokesman Neema Hakim said in a statement the department was "expeditiously" embracing.
Prior to the release of the report, Hakim said, ICE had digitized nearly 315,000 records it identified as having potentially missing paper fingerprints. The remaining records will be reviewed and digitized as well, he said.
Additionally, Hakim said DHS had already established a USCIS-led review team to go over every file identified in the OIG report as a case of possible fraud.
As noted in the OIG report, DHS had already identified and prioritized for potential criminal prosecution approximately 120 naturalized citizens who appear to have committed fraud and avoided detection because their fingerprint records were not digitized at the time of their naturalization.
Importantly, he added, individuals involved in fraudulent applications make up a very small percentage of all those who have naturalized.
"It is important to note that the fact that fingerprint records in these cases may have been incomplete at the time of the naturalization interview does not necessarily mean that the applicant was in fact granted naturalization, or that the applicant obtained naturalization fraudulently," Hakim said in an emailed statement. "Preliminary results from the file reviews show that in a significant number of these cases naturalization had been denied and that, in some, naturalization was not improperly granted."
"Other cases are subject to ongoing criminal investigation or to denaturalization proceedings that are pending or completed," he continued. "Where the DHS review process finds that naturalization was obtained fraudulently, DHS will appropriately refer the case to the Department of Justice (DOJ) for civil or criminal proceedings, including for denaturalization."
The OIG report came on the heels of weekend bombings in New York and New Jersey allegedly carried out by Ahmad Khan Rahami, a 28-year-old U.S. citizen of Afghan descent. While there is no evidence to suggest that Rahami mistakenly became a citizen due to missing digital fingerprint records, Republican presidential candidate Donald Trump used the attacks, along with the OIG report, to underscore the need for his hard-line immigration proposals.
"Revelations that the Obama Administration wrongly granted citizenship to over 800 immigrants awaiting deportation from countries of concern to national security or high rates of immigration fraud puts this weekend's attacks in a broader perspective," Trump said in a statement Monday. "The safety and security of the homeland must be the overriding objective of our leaders when it comes to our immigration policy."