DNA from sandals found in the street near the site of Eliza Fletcher's disappearance led police to charge a suspect in connection with her disappearance Friday as she was running near the University of Memphis in Tennessee, police said Sunday.
Cleotha Abston, 38, "has been charged with especially aggravated kidnapping and tampering with evidence," Memphis police said in a statement.
Fletcher, 34, who disappeared on a 4 a.m. run, "has not been located at this time," police said.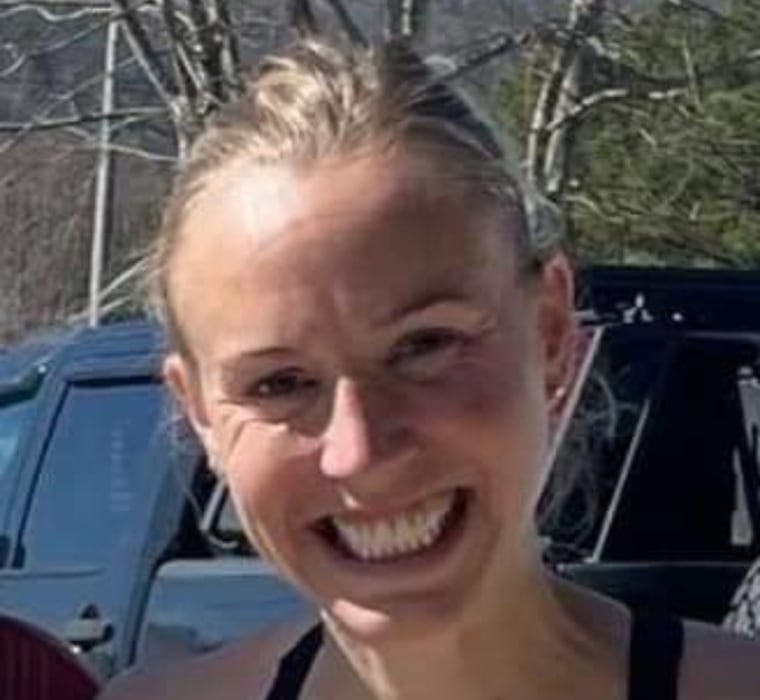 A pair of Champion slide sandals recovered from the area where Fletcher disappeared bore DNA matching that of Abston, according to an affidavit obtained by NBC News. Fletcher's phone was found with the sandals.
Security video from the scene showed "a black GMC Terrain passing and then waiting for the victim to run by," according to the document. A male then exited the car, ran aggressively toward Fletcher and forced her into the passenger's seat.
"During this abduction, there appeared to be a struggle," the document said. "The Champion slides sandals were found in this area. The vehicle then sat in the parking lot with the victim inside for approximately four minutes before it drove off."
Cellular records obtained by investigators are alleged to have determined that Abston's cellphone was near the site when Fletcher was forced into the car.
Officers arrested Abston on Saturday after they found the GMC Terrain with a matching license plate number in a parking lot by Abston's residence, the affidavit said. Abston tried to flee but was ultimately taken into custody.
Mario Abston, 36, Cleotha Abston's brother, was also arrested, but he is not believed to be connected to Fletcher's abduction, authorities said. He was charged with drug and firearms offenses, police tweeted.
Police said Abston declined to tell investigators where Fletcher was.
Investigators said they believe that Fletcher "suffered serious injury" because of the violent nature of the abduction and that based on witness statements, the injuries left evidence, like blood, in Abston's car.
Abston will be arraigned by video at 9 a.m. Tuesday. 
Investigators continue to search for Fletcher, a kindergarten teacher and mother of two, the police statement said.
"This remains to be an active and ongoing investigation," it said.
In an earlier statement, police said Fletcher's personal items had been recovered. At the time she was kidnapped, she was wearing purple jogging shorts and a pink top.
"Liza has touched the hearts of many people," Michael Keeney, Fletcher's uncle, said in a statement Saturday on behalf of the family, noting an outpouring of support and goodwill for the Fletcher, an avid runner.
"More than anything we want to see Liza returned home safely," he said.
The family has put up a $50,000 reward for information leading to her safe return, NBC affiliate WMC of Memphis reported.
CORRECTION (Sept. 4, 2022, 7:52 p.m. ET):  A headline on a previous version of this article misstated the source of DNA that led police to the arrest.  The DNA belonged to the man who was arrested, authorities said, not the kidnapping victim.