It may be generations before a missing Norman Rockwell painting sold in May for more than $1 million resurfaces, experts say.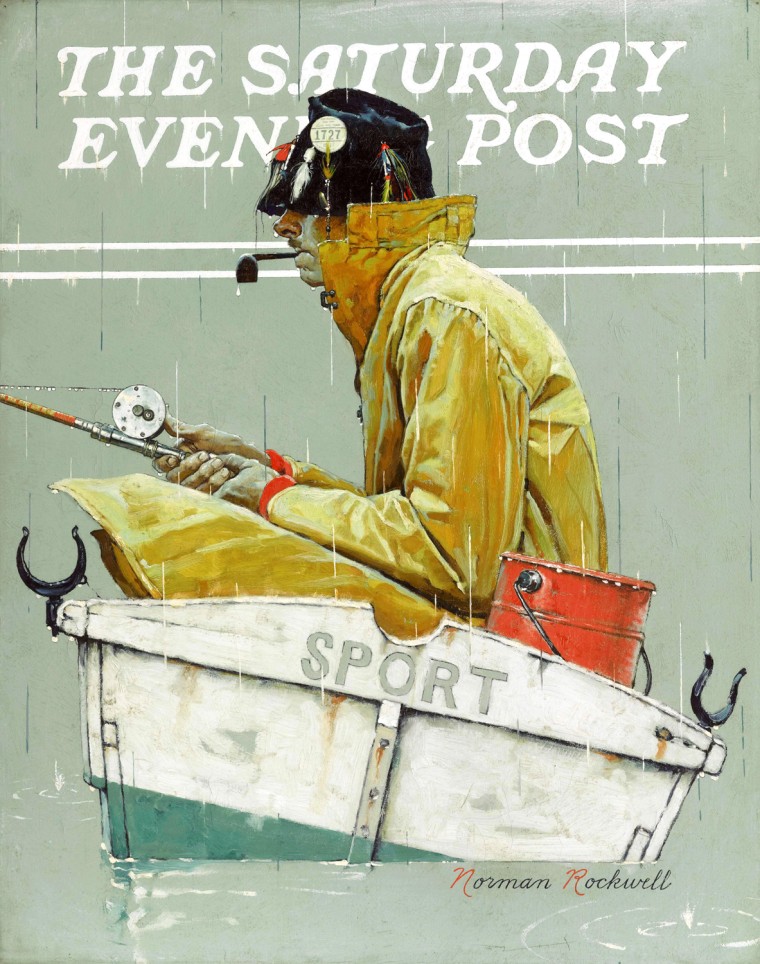 Titled "Sport," the Rockwell painting went missing Sept. 13 from a warehouse in Queens, N.Y., and became the 42nd Rockwell painting to be added to a list of his lost art pieces.
The famous painting, which was the cover art for the Saturday Evening Post on April 29, 1939, depicts a man wearing a glossy yellow rain jacket sitting in a boat fishing. The artwork was sold May 22 by the global art gallery and auctioneering company Sotheby's.
A spokesman for Sotheby's, who asked to remain anonymous, told NBC News that it would be inappropriate for him to comment due to the ongoing investigation by the New York Police Department -- but confirmed the artwork was sold for $1,085,000 to a buyer he didn't identify.
Christopher A. Marinello, director of London-based Art Recovery International, a company dedicated to locating lost and stolen art, told NBC News the painting's disappearance is an example of a booming market for stolen artwork.
"Art crime is up. There's no doubt about it," he said.
Marinello said security is being reduced at art galleries in areas affected by a blighted economy. He referred to such galleries as "security challenged."
"We're seeing more thefts from smaller museums," he said. "We've seen an increase in consignment fraud – people creating fakes and forgeries."
Sometimes, stolen art is recovered within a few days of its theft, but it can also take decades and even generations before the missing pieces are found, Marinello said.
He added that although the growth of social media has made it difficult to hide and sell stolen artwork, the desire for originals continues to grow and can be used not only for financial gain, but bargaining purposes as well.
"Criminals will look for other sources in trade – drugs, guns, get-out-of-jail-free," he said.
If a criminal knows the whereabouts of stolen artwork, Marinello said, sometimes the person will use it as leverage for a lesser sentence by turning in a fellow thief to the authorities.
"Somebody will rat out somebody else that's offering it for sale," he said.
And although Rockwell's work is popular among art thieves -- mostly because his paintings and name are well known -- there are more stolen Pablo Picasso paintings worldwide. Approximately 1,150 have been reported missing, Marinello said.
The NYPD declined to comment on the investigation. Representatives of Welpak, the warehouse where the artwork was stored, did not respond for comment.
Rockwell died Nov. 8, 1978 in Stockbridge, Mass. The town was known to inspire many of his lauded pieces.