A teenager is missing and presumed dead and six other people are injured after a boat ran aground in northwest Austin, Texas, on Sunday night, authorities said.
The boat, which had seven people on it, ran aground off Lake Austin just after 6:10 p.m. about 13 miles northwest of downtown Austin, Austin-Travis County Emergency Medical Services said on X, the platform formerly known as Twitter.
By shortly after 7 p.m. local time, the search had shifted from a rescue to recovery effort, the agency tweeted, adding that the event had been declared a "level-5 mass casualty incident," referring to the number of victims and the scale of resources required to treat them.
The missing teenager is presumed dead, a spokesperson for Austin-Travis County Emergency Medical Services confirmed.
Ken Campbell, the assistant chief of the CE-Bar Volunteer Fire Department, told NBC affiliate KXAN of Austin that the incident happened after a boat went over the wake of another boat, lost control and hit the bank of the lake, ejecting at least one person from the vessel. It is unclear whether the ejected person was the missing teen.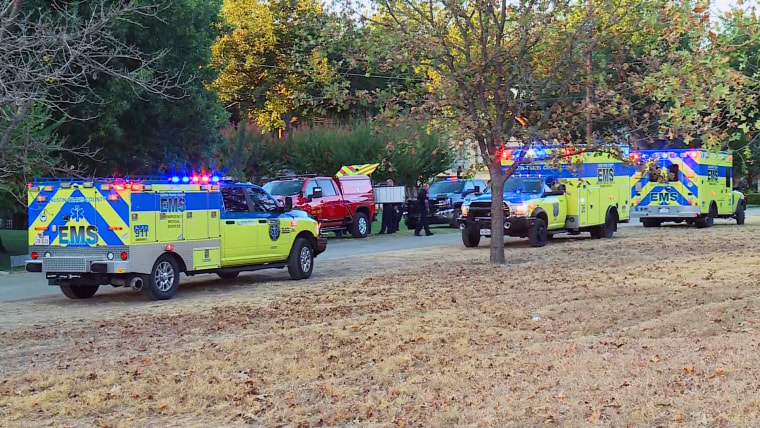 In addition to the missing teen, two passengers were taken to hospitals with serious injuries. Two others were transported with potentially serious injuries, and two refused transportation, the agency said. Three of the injured patients were taken to a hospital just south of downtown, and one was taken by helicopter to another a few miles north, the agency said.
Representatives for the hospitals could not immediately be reached for comment Monday morning.
Several agencies — including Austin police and "multiple fire departments" — responded to the incident, which the emergency medical services agency said occurred in a remote area that was difficult to access.
A spokesperson said Austin Emergency Medical Services was not planning to release more information about the victims.
In a separate incident, an adult died and five people sustained non-life threatening injuries in a collision between a boat and a jet ski earlier Sunday afternoon on Lake Travis, a reservoir northwest of Lake Austin, the agency tweeted. The deceased victim was pronounced dead on the scene "after extensive resuscitative efforts."
More information about the victims in that incident was not available.