Detectives hunting for a 9-year-old Tennessee girl allegedly kidnapped by her uncle have investigated more than 500 tips but have verified no credible sightings, officials said late Monday.
Agents and intelligence analysts worked to co-ordinate and verify the tips, but Carlie Trent's whereabouts remain unknown, the Tennessee Bureau of Investigation said in an update on the Amber Alert.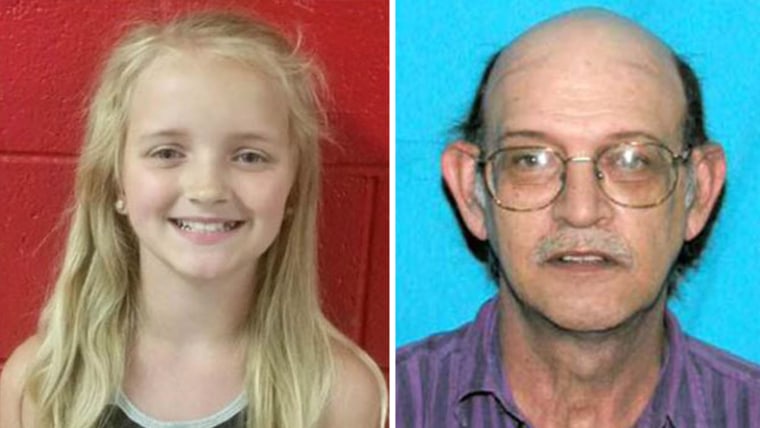 They believe the pair may be out of view in an isolated area "such as a campground or park," the TBI said, adding that the focus of the search shifted Monday to Upper East Tennessee.
Authorities say Carlie was picked up Wednesday from an elementary school in Rogersville by Gary Simpson, an uncle by marriage.
Simpson, 57, previously had custody of Carlie and her younger sister, but they had since been returned to the biological father, James Trent.
James Trent, who is a single parent, told NBC's Dateline that Simpson regularly helps out by picking his daughters up from school for appointments or events if he had to be at work. However, there were no plans for Simpson to collect Carlie on Wednesday.
Surveillance images show the pair inside a grocery store Wednesday evening stocking up on non-perishable items and treats.
"I have to be strong for my other daughter and for Carlie," Trent told Dateline. "But as the days keep passing, it's getting harder."
Carlie's pediatrician is offering a $10,000 reward for information leading to her safe recovery and the U.S. Marshals Service has also announced a $5,000 reward.
The Tennessee Highway Patrol is aiding the effort by conducting helicopter searches.
Simpson was last seen driving a white 2002 Dodge Conversion Van with Tennessee registration 173GPS.
"There are so many places he could be," Trent said. "I don't know what story he's told her, because there is no doubt she wants to be home. This whole thing has puzzled our whole family because everything about that morning was normal."
He added: "I want her to know that she's loved. That she shouldn't believe whatever he's telling her. She should get out, run, scream, do whatever she has to do to get away, because there are so many people looking for her. We'll never give up."
Carlie is described as 4'8" tall, weighing 75 lbs. with blonde hair and blue eyes. She was last seen wearing a black and grey tank top with blue jeans.
Gary Simpson was last seen wearing a brown cap, dark colored shirt and blue jeans.
Anyone with any information regarding Carlie or Simpson's whereabouts is urged to call the Rogersville Police Department at (423) 272-7555 or the Tennessee Bureau of Investigation at 1-800-TBI-FIND.