Saturated by days of heavy rain, Mississippi's Pearl River crested Monday and water levels are expected to fall later this week, the National Weather Service said, but flooding in the state and in Tennessee has affected hundreds of homes.
"It's just a helpless feeling," said Patrick Crews, whose Mississippi neighborhood was flooded. "You can't really do anything. You want to be around, but you can't stop the water."
The National Weather Service in Jackson, Mississippi, said that 1 to 2 more inches of rain is expected and that flooding — some of it flash flooding — is likely Tuesday through Tuesday night.
"It goes without saying that it has been a long weekend for Mississippi as floodwaters have continued to rise at the Pearl River and around central Mississippi," Gov. Tate Reeves said.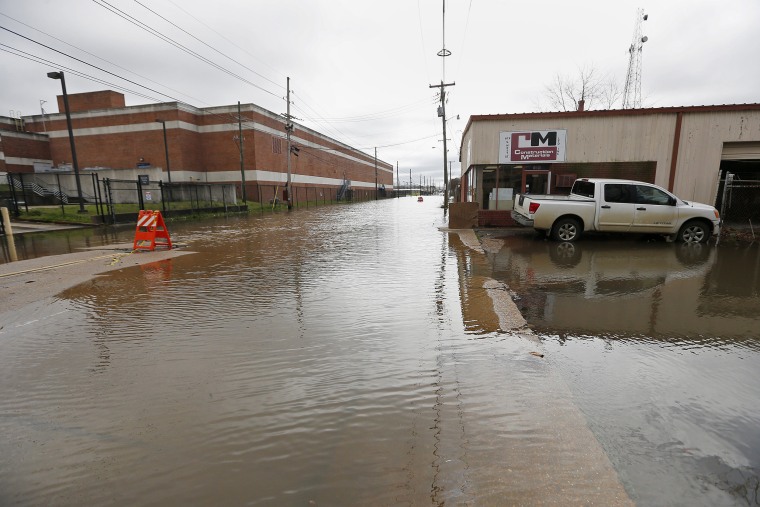 The Pearl River feeds into and continues south from the Ross R. Barnett Reservoir, which is northeast of Jackson, and snakes along the capital city's eastern side.
The river was at 36.8 feet when it was cresting Monday, which is the third-highest recorded crest. Its highest recorded crest was 43.2 feet on April 17, 1979, and the second-highest occurred May 5, 1983, when the river rose to 39.58 feet.
Hundreds of homes have been affected, and the number could grow to close to 1,000, Gregory S. Michel, executive director of the Mississippi Emergency Management Agency, said at a news conference.
Officials said Monday that they were not aware of any reports of injuries.
Law enforcement and other officers have been going door to door to tell people to evacuate, and officials have performed 16 assisted evacuations, Reeves said.
Chris Sharp had enough time to find an 18-wheeler, load it with his possessions and drive away Friday from the house his parents bought in the 1970s. The house was inundated in the previous two flood years. On Monday, he tried to go back with a boat, but a police officer turned him away.
"All you can do is just sit back and watch," Sharp told The Associated Press by phone from his brother's nearby house.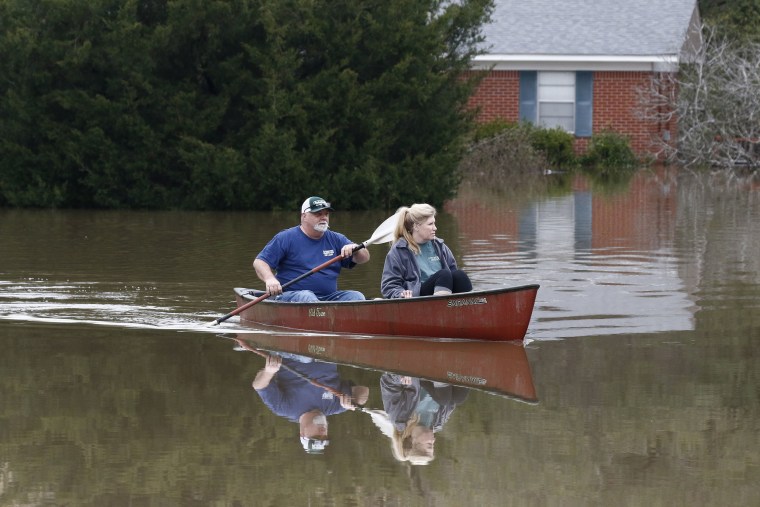 Flash flood watches and flood warnings covered parts of central Mississippi on Monday evening, and a flood warning continued along the Tennessee River in that state, according to the weather service.
Reeves said that while there was relatively good news in the Jackson and central Mississippi area, "we as a state are not in the clear yet."
He urged people not to walk or drive in floodwaters, to heed evacuation areas and to stay away until given the all clear from officials.
"We do expect the water to recede relatively quickly over the next two to three days, but as it is receding it is going to be fast-flowing water," the governor said.
Tennessee has also been dealing with flooding. The fire department in Hardin County, in the southern part of the state, posted drone video on Facebook taken Sunday showing houses destroyed after land collapsed along the Tennessee River. One of the two homes was occupied but had been evacuated.
Download the NBC News app for breaking news
The Hardin County Fire Department shared aerial video Sunday showing homes along the river inundated, some up to their rooftops. Hardin County is about 100 miles east of Memphis.
"It absolutely kills you" knowing houses are getting destroyed downstream from the dam at the Tennessee Valley Authority's Pickwick Reservoir, TVA spokesman Jim Hopson told the AP. He said February's rains have been "400 percent of normal, and we have more coming in this week. It's kind of a never-ending battle."
Reeves, Mississippi's Republican governor, said President Donald Trump called him Monday and offered assistance from the federal government. "Mississippi has a true friend in President Trump," Reeves tweeted.