One of the largest school districts in Mississippi is losing more than 200 teachers over the summer because they did not fulfill the requirements of an alternative license program — a route to qualification many states and schools have turned to as the country faces a major teacher shortage.
Jackson Public School District, which serves more than 25,000 students, found that most of the teachers who attempted to acquire a temporary three-year teaching license did not fulfill the testing requirement after the first year.
"Unfortunately, the 240-plus teachers who don't meet that hurdle of passing the Praxis Core exams — they are out of a job or we can hire them back as limited service, what's known as limited service teachers or substitute teachers," the district's superintendent, Errick Greene, told NBC News affiliate WLBT.
The loss of these teachers was first reported by Mississippi Today, a nonprofit news organization in the state, which also found that 105 of the teachers plan to return as substitutes — though they'll have to take up to a 58 percent pay cut.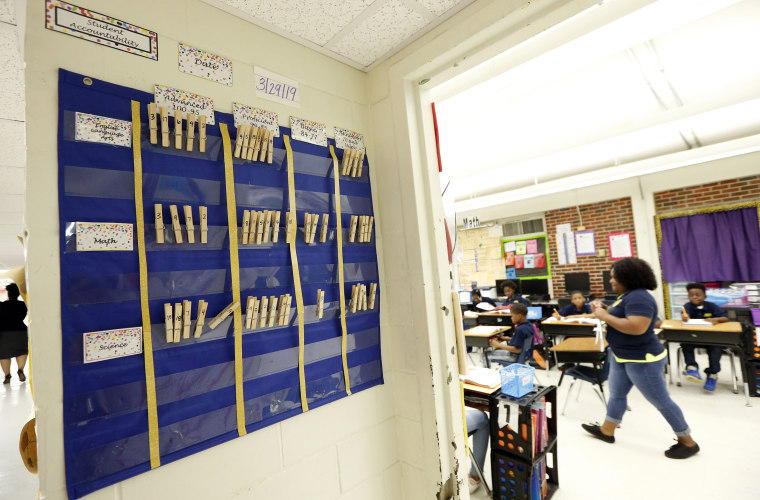 It comes as numerous states are re-examining how they license teachers as a means to fill vacant positions.
There is a shortage of about 100,000 teachers nationwide, said Tara Kini, the director of state policy for the Learning Policy Institute, and addressing that vacuum continues to be a massive drain on resources. The Economic Policy Institute found in a March report that filling a vacant position costs $21,000 on average.
Some states, like Mississippi for instance, currently allow individuals to teach with a bachelor's degree unrelated to the subject matter they would be hired to teach. While that might be necessary to fill classrooms with teachers, experts say the difficult balancing act facing schools is that they also have to maintain certain teaching standards.
"When there are shortages of teachers, districts have few options," Kini said. "They might cut classes or staff classes with temporary substitutes or explore these alternative licenses."
Experts agree that these alternate licenses are not a solution, but a Band-Aid for school districts that are overwhelmed by the number of vacant or emptying teaching positions. The best solution is to address teacher pay and district support systems for educators, they said.
But these alternative licenses are also one of the few avenues that high-poverty schools — where the teacher shortage is the most acute — feel they have.
The Mississippi Department of Education said that the requirements should not have come as a surprise to anyone, as the state agency consistently and personally engaged the school, hiring officials and teachers. This latest challenge, however, strikes at an uneasy tension that many states and schools face between filling empty teaching positions and maintaining teaching standards.
"I personally went twice this school year and stood before the entire auditorium full of these teachers and shared the requirements for year one, the requirements for year two, and for those for year three," Cory Murphy, the executive director of teaching and leading at the agency, said. "We shared information of what it takes to gain entrance to our teacher education programs. We answered any specific questions. That happened in the fall and spring of this current school year."
The Jackson Public School District did not respond to multiple requests for comment.
"Many states with alternative pathways into the classroom have requirements that you're taking your coursework and making progress for the license and doing the necessary preparation," Kini said. "That's a reasonable requirement. It's one that, of course, needs to be communicated to teachers and to districts."
Emma Garcia, who worked on the Economic Policy Institute report, said what is particularly troubling is the growing number of teachers without full certification, not pursuing a traditional route into teaching, who are considered inexperienced or novice teachers and who have no education background in their subject matter.
Her report compared the 2011-12 and 2015-16 school years, and she said the problem is that those who pursue these pathways are less likely to stay in the profession than those who undertake the traditional route.
"What we see in the research is that teachers who are entering without completing their full licenses are two to three more times more likely to leave than teachers fully prepared," Garcia said. "This just adds to this ongoing churn that undermines kids' learning."
Garcia and Kini agreed, however, that the biggest problem facing districts like Jackson Public School District is that many public schools remain underfunded — an issue raised by 2020 Democratic candidates for president such as South Bend, Indiana, Mayor Pete Buttigieg and Sen. Kamala Harris of California.
"This is all happening in the middle of severe funding cuts and severe disinvestment," Garcia said of the expanded number of teaching licenses. "There's a large number of states that are still spending less per student than they were prior to the recession. While we can parcel out and examine these individual pieces, there's something that glues them together and that's the need to fund our schools."