JEFFERSON CITY, Mo. — The spokesman for the Missouri auditor's office has died from a self-inflicted gunshot wound in what police described Monday as an apparent suicide. The death comes about a month after the state auditor also killed himself.
Robert "Spence" Jackson was found dead Sunday evening in his home in Jefferson City after police responded to a well-being check, the Jefferson City Police Department said in a written statement. Police said they are investigating the case as a suicide.
Jackson's boss, Auditor Tom Schweich, fatally shot himself on Feb. 26 at his home in the St. Louis suburb of Clayton in what police also have described as a suicide.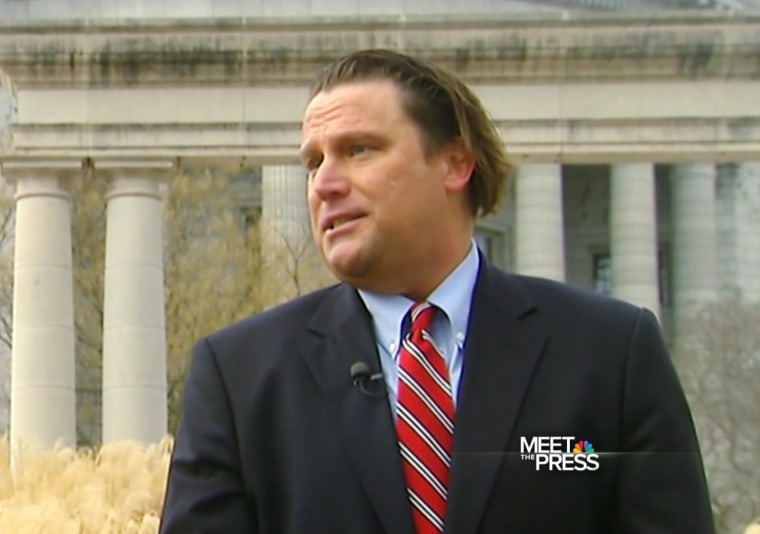 Jackson, 45, had remained as the auditor's office spokesman after Schweich's death. He also previously had served as a spokesman for former Missouri Gov. Matt Blunt.
Blunt issued a written statement Monday saying he was saddened to learn of his friend's death.
"Spence was a gifted communicator who dedicated his talents in public affairs to public service," Blunt said. "Spence was hard-working, well-liked and quick-witted."
"We are very aware of the political issues," Jefferson City police Capt. Doug Shoemaker said at a news conference. But "our agency won't comment or really entertain questions that might link Mr. Jackson to any type of political issue, whether it's perceived or real," he said.
Police said they responded to a call to Jackson's apartment a little after 7 p.m. Sunday after one of Jackson's family members said he had been unresponsive to phone calls.
A property manager provided a key to police officers, who found Jackson dead in his bedroom from an apparent self-inflicted gunshot wound, according to police. Police said there was no physical evidence of a forced entry or struggle, but that an autopsy is planned for Monday and detectives are continuing to investigate the case.
IN-DEPTH
— NBC News and The Associated Press