The parents of two college students who took their own lives in a Missouri fraternity house have filed a wrongful death lawsuit against Truman State University, the fraternity and a fraternity member they claim "encouraged" their children and three others to kill themselves within the same year.
Brandon Grossheim, 22, an Alpha Kappa Lambda member, had close ties to the five and was either the last to speak to them or found their bodies, according to the lawsuit filed Wednesday in Adair County Circuit Court in Missouri.
The case shines new light on the power of influence when it comes to vulnerable and at-risk individuals, especially coming from people in positions of trust, suicide prevention experts said.
"When you're in a Greek organization, your fraternity brothers are in a unique position of influence and trust with each other," said April Foreman, a psychologist and board member of the American Association of Suicidology, a nonprofit that advocates for suicide prevention. "So it's different than another peer you know."
The lawsuit claims the manner of death was similar in the suicides, and that Grossheim had keys and access to the rooms of at least four of the victims.
The students, Alex Mullins, 21, Joshua Thomas, 18, and the three other unnamed males died between August 2016 and August 2017 with two deaths occurring just three weeks apart.
Three of the victims were members of the fraternity, and the two others were acquaintances of the group, according to the lawsuit.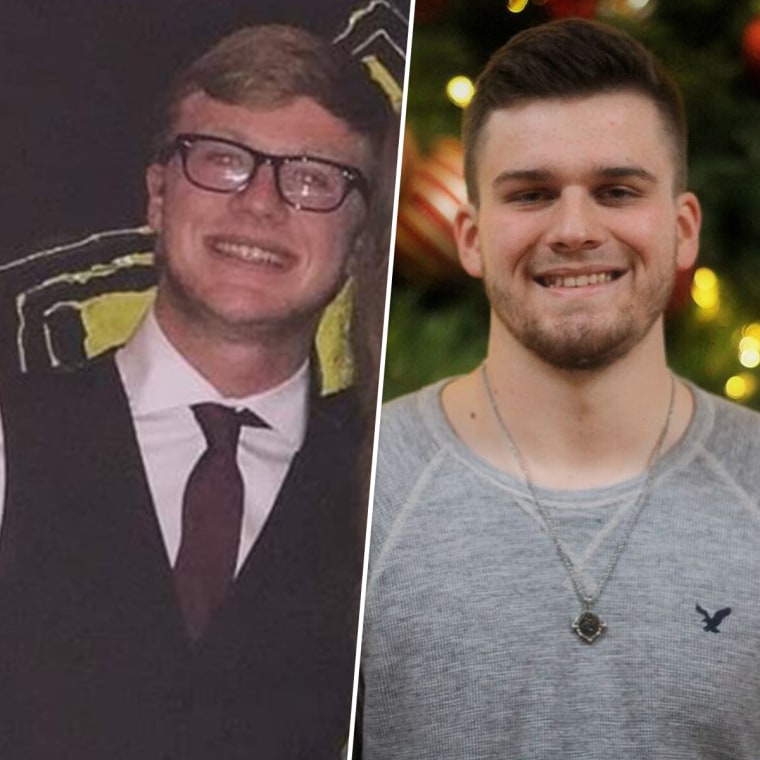 Four of the victims had struggled with depression and expressed prior suicidal thoughts, the lawsuit stated, adding that the victims' mental health issues were "common knowledge" among fraternity members, including Grossheim, who was house manager when two of the victims lived there.
He was aware of their vulnerabilities and called himself a "superhero" and "peacemaker" who gravitated toward "these [depressed] people," the lawsuit stated.
He also gave "advice" and "step by step" directions on how to deal with issues such as depression, including "advice on how to commit suicide," according to the lawsuit.
Grossheim also allegedly began wearing one of the victim's clothes and started dating his girlfriend shortly after his death, the parents said .
"There were too many similarities, one person in common and so many questions... It's time for answers," Mullins' mother, Melissa Bottorff-Arey, said in a statement.
Truman State University and Alpha Kappa Lambda were aware the students suffered from depression and were "vulnerable" because the university's counseling service was in contact with the some of the victims over missed therapy appointments, the parents claim in the document.
Truman State University denied having any involvement in the students' death.
"We strongly disagree with the allegations as stated in the lawsuit and will defend the suit vigorously," school officials said in a statement. "As the litigation proceeds, it will become clear that the university is not responsible for the deaths of these students."
Alpha Kappa Lambda said it could not comment because it had not yet reviewed the suit, and no attorney was listed for Grossheim in the court documents.
In 2017, Massachusetts teen Michelle Carter was convicted of involuntary manslaughter for encouraging her boyfriend via text to kill himself. The high-profile case sparked a national conversation about the culpability of words in someone's suicide, especially among young people.
"Anytime you take someone really vulnerable and really at risk and they are connected to someone and that person starts to lead them down the wrong path, their vulnerability and risk goes up, particularly if that person presents themselves as a 'helper' or 'healer' or something similar," Dan Reidenberg, executive director of SAVE, a suicide prevention organization, said.
"People need to understand that it is okay to have conversations around suicide as long as you're doing it a way that provides support, encouragement, seeking resources, and not support to die," he added.
If you or someone you know is in crisis, call the National Suicide Prevention Lifeline at 800-273-8255, text HOME to 741741 or visit SpeakingOfSuicide.com/resources for additional resources.