Missouri's governor warned Tuesday of flooding and swollen river levels that could exceed levels seen in a devastating flood in 1993, and he pleaded with drivers to stay off inundated roadways.
Thirteen people in Missouri have died in floods caused by severe storms over the weekend, and although the rain has moved on, swollen rivers are still rising and won't crest for days, Gov. Jay Nixon said.
"It's very clear that Missouri is in the midst of a very historic and dangerous flooding event," Nixon told reporters Tuesday. "The amount of rain we've received, in some places in excess of a foot, has caused river levels to not only rise rapidly, but to go to places they've never been before."
Related: Deadly Storm Threatens Northeast, Central U.S. With Snow Floods
Nixon declared a state of emergency Monday, and on Tuesday he activated the National Guard to assist first responders and to secure areas evacuated because of the winter storms.
Several roads were blocked into the tourist mecca of Branson, where nearly 200 families were asked to evacuate voluntarily and the Red Cross opened a shelter on the Branson Strip.
At Rockaway Beach near Branson, residents said the flooding, which peaked Monday night, was the worst they'd ever seen.
Photos: Missouri Braces for More Flooding
"I'm usually pretty good about coming up with a game plan, and yesterday, literally my mind shut down, because I didn't know what to do," Rick Pickren, owner of White River Trading Co., an antique store, told NBC station KYTV of Springfield on Tuesday.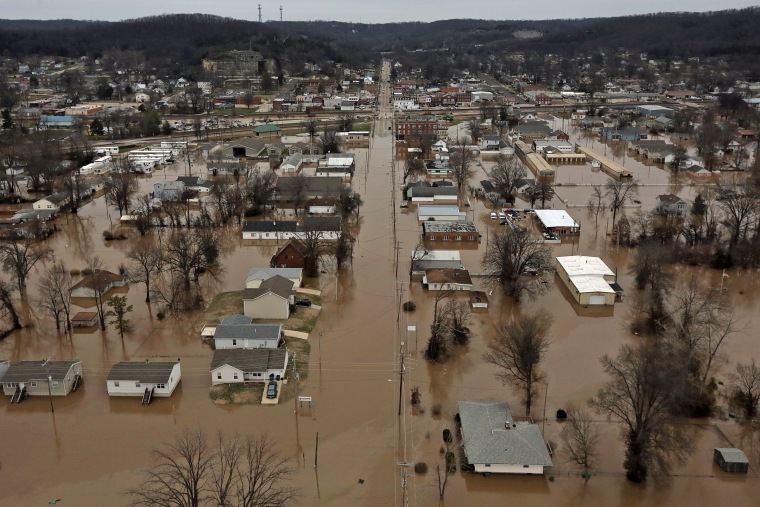 Mayor Don Smith, who went door to door with other volunteers to evacuate residents, said the tourist town of 800 "has just been demolished."
"It's devastating, and we are all so exhausted," Smith told the station.
Meanwhile, in Chester, Illinois, just over the state line from Perry County, Missouri, Menard Correctional Center began transferring prisoners to other facilities because of flooding behind the walls in lower-level cell houses and basements.
Authorities didn't say how many of the prison's 3,700 inmates were forced to move. Five people have been confirmed to have been killed statewide in Illinois.
The Mississippi River spilled over a levee in the Missouri town of West Alton, prompting the mayor to urge everyone in the town of 520 people to evacuate. Interstate 44 was closed near the central Missouri town of Rolla, and a section of Interstate 70 was shut down in southern Illinois.
In some parts of the MIssouri, rivers are expected to crest as high as they did during devastating flooding in 1993, which is known as the "great flood," Nixon said.
The National Weather Service predicted that the Mississippi River at Chester, Illinois, would crest at 49.7 feet Friday, matching the 1993 record, the governor's office said. The Mississippi at Thebes was expected to crest Saturday at a record-breaking 47.5 feet.
The Mississippi River is expected to reach nearly 15 feet above flood stage on Thursday at St. Louis, which would be the second-worst flood on record, behind only the devastating 1993 flood.
In the 1993 flood, about 50,000 homes were destroyed across nine states, and losses were estimated at $15 billion to $20 billion, according to the National Oceanic and Atmospheric Administration. Forty-seven people died.
"All of us remember the devastating impact of the Great Flood of 1993. and that's why we have been working proactively with our local and federal partners to prepare and respond," Nixon said.
Twelve of the thirteen people who died in recent storms in Missouri were killed after their vehicles were swept from flooded roadways, Nixon said.
"Please do not drive into water. We've had 12 preventable deaths here already. Twelve of the 13 deaths happened when folks drove into water," Nixon said.
On Tuesday, searchers recovered the body of a fifth international soldier who died after the vehicle they were in was swept away in floodwaters Saturday night, the Pulaski County Sheriff's Office said. The soldiers were temporarily stationed at Fort Leonard Wood.
No more rain is expected, Nixon said, but flooding is expected to continue for days as swollen rivers crest.
"This event is not over," National Weather Service coordination meteorologist Jim Kramper said. "We've got a lot of water that we have to get out of the state."
Kramper said the NWS would be looking at whether it could have done anything differently in announcing warnings and alerts that could have kept people from driving on flooded roads.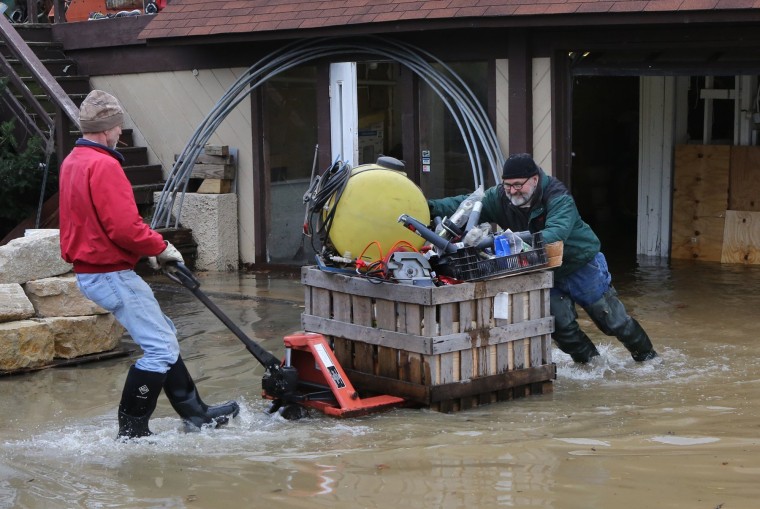 Tornadoes, blizzards, ice and heavy rains have pounded large parts of the middle of the country and the southeast, from Texas to Alabama, killing at least 53 people in all.
The Northeast, meanwhile, faced a slippery commute thanks to plunging temperatures and a messy mix of freezing rain and sleet. Upstate New York and much of New England remained under winter storm warnings and winter weather advisories Tuesday afternoon.
About 4,000 flights scheduled for Tuesday were delayed or canceled by the afternoon, with the Newark, Dallas and Chicago airports hardest hit.
In Vermont, three people were killed in a crash on a snow-covered road and state police believe weather played a role in the accident. A semi truck collided with a sport-utility type vehicle in Killington on U.S. Route 4 just west about a mile from the access road to Killington Ski Resort, state police said. The crash occurred on one of the steeper sections of the road east of the "Sherburne Pass."