Missouri prosecutors are re-examing the 2017 death of a man shot and killed by a deputy during an altercation outside of a Walmart after she was charged this week with shooting another person.
The Jackson County Prosecutor's Office said it decided to take another look at the death of Donald Sneed "because of the similarities" to the August shooting of Brittany Simek, a spokesperson said.
Simek was shot in the back and injured in August 2019 as Jackson County Sheriff Deputy Lauren Michael tried to arrest her. Prosecutors announced on Wednesday that the deputy faces charges of first-degree assault and armed criminal action.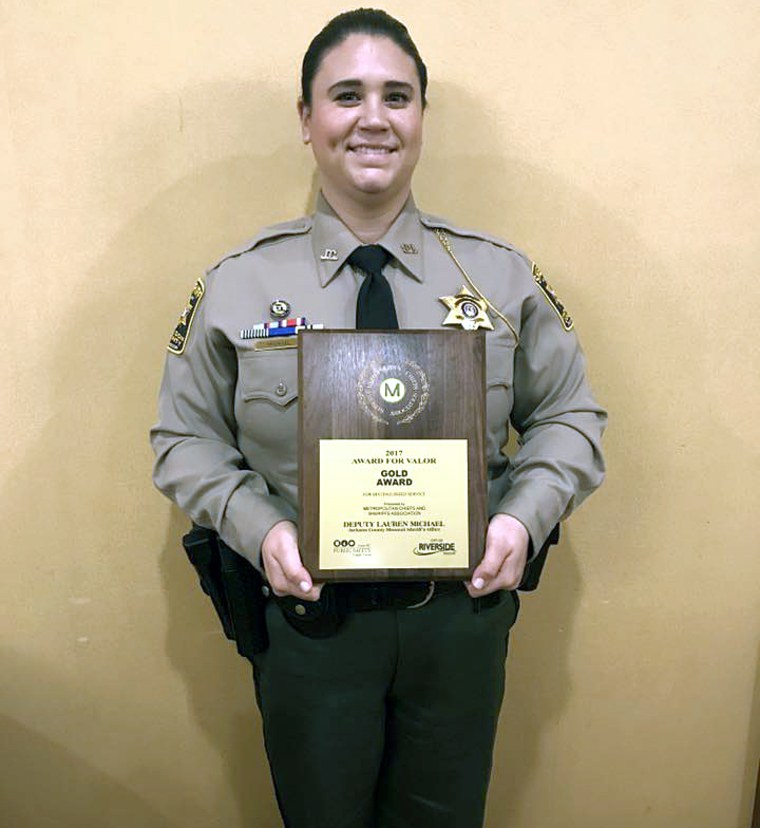 Sneed, who was a married father of two children, was killed outside a Walmart in Raytown in May 2017 after Michael tackled him to the ground and fired multiple shots at him as she stood feet away. She was awarded a Medal of Valor from the sheriff's department and also a Gold Award for Valor from the Metropolitan Chiefs and Sheriffs Association for her actions on the night Sneed died.
In both incidents, Michael said she had to fire her gun because Simek and Sneed resisted arrest, tried to use her Taser against her and she feared for her safety.
Michael attempted to arrest Simek on Aug. 8 after she and another person were stopped by deputies for riding a scooter southbound in a northbound lane, according to a press release by the prosecutor's office.
Part of the arrest was caught on a police dashcam and showed Michael grab Simek by the hair and pull her to the ground, according to prosecutors. Michael then tased Simek, who jumped up and ran away. Seconds later, Michael fired her gun hitting Simek in the back.
According to prosecutors, Michael stated that as she was attempting to place Simek, 25, in handcuffs the woman "fought" for Michael's Taser and used it on the deputy.
Prosecutors said an analysis of the Taser "did not support Michael's statement" and a review of the crime scene showed that Simek was running way when she was shot.
Jackson County Prosecutor Jean Peters Baker said Michael's actions were not "reasonable or lawful."
Michael was off-duty but working at a Walmart as a security officer in May 2017 when she recognized Sneed from an earlier incident involving deputies, according to authorities.
The deputy knew Sneed had outstanding felony warrants and saw him stealing from the Walmart on surveillance video, officials said. As he was leaving the store, Michael tackled Sneed to the ground and then tased him but it did not stop him. The two struggled and Michael said Sneed grabbed her Taser and used it on a security guard who was offering assistance.
That's when Sneed fired.
Jermaine Wooten, an attorney for the family, told NBC News on Friday that they are satisfied prosecutors are re-examing Sneed's death and they knew right away after looking at evidence that "she had murdered Donald Sneed."
"It was clear to us that she was a bad police officer and bad for the department in general," Wooten said.
The Jackson County Sheriff's Office said in a statement Wednesday that per its policy, Michael was placed on unpaid leave pending the outcome of the criminal case related to the Simek shooting.