A suburban St. Louis teenager who slipped through an icy lake last month and had no pulse for nearly 45 minutes after he was rescued has made a "miraculous" recovery, doctors said. In fact, 14-year-old John Smith's health has improved so much since the Jan. 19 accident that doctors allowed him to go home Wednesday, NBC affiliate KSDK reported. "I knew there were a lot of people in my corner praying for me," John, an eighth-grader from St. Charles, told the station.
John and two friends were walking over ice-covered Lake St. Louise when the trio fell through. One of the teens managed to swim back to shore while another clung to ice. By the time paramedics arrived, John had been submerged for more than 15 minutes. Crews attempted CPR for 15 minutes before doctors at SSM St. Joseph Hospital West continued the procedure for another 27 minutes, KSDK reported. During that time, he showed no signs of life. But just then, John's mother, Joyce, entered the trauma room and started praying loudly, said Dr. Kent Sutterer. "Within a matter of a minute or two, his heart started again," the doctor told KSDK.
The 5-foot-3 teen's body temperature was at 88 degrees, and doctors were still worried that he could die within days if not hours. But not only did he survive — his brain functions returned to normal. "The only factors medically that were really in John's favor is that this was a cold-water drowning," Dr. Jeremy Garrett told the station. Still, doctors remain baffled that his brain function was preserved. The tenacious teen, who loves playing basketball, must undergo several weeks of outpatient therapy after his brush with death. But Dr. Garrett said John's recovery remains like nothing he has ever seen: "It's a bonafide miracle."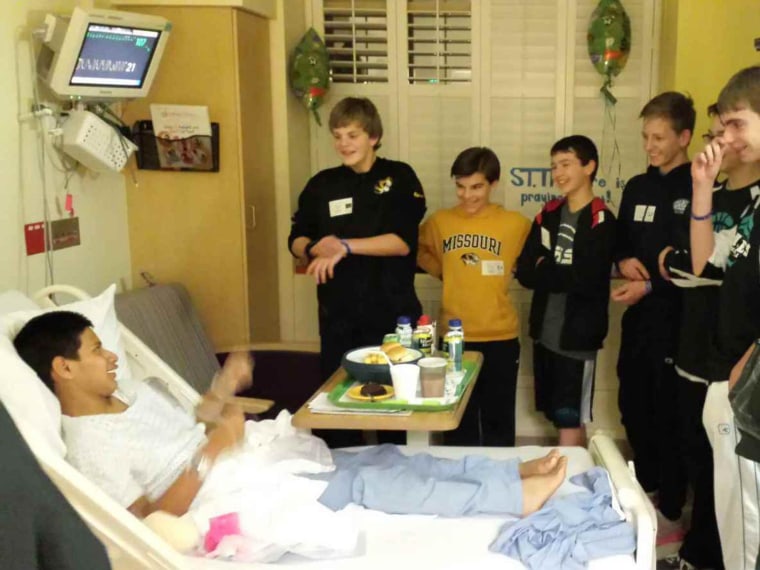 SOCIAL
— Erik Ortiz