A University of Missouri star projected to be drafted into the NFL looks set to become the first publicly gay pro football player.
All-American defensive lineman Michael Sam said he told his teammates and coaches last year, "I'm gay," according to interviews with The New York Times and on ESPN's "Outside the Lines" program on Sunday.
"I am an openly, proud gay man," Sam told ESPN.
He recounted telling his teammates at Missouri at a preseason practice. "I looked in their eyes, and they just started shaking their heads — like, finally, he came out," he told The New York Times.
The 6-foot-2, 260-pound senior was the defensive player of the year in the Southeastern Conference, widely regarded as the top league in college football. He is projected to be a high draft pick in May's NFL draft.
"I understand how big this is," Sam told ESPN. "It's a big deal. No one has done this before. And it's kind of a nervous process, but I know what I want to be.... I want to be a football player in the NFL."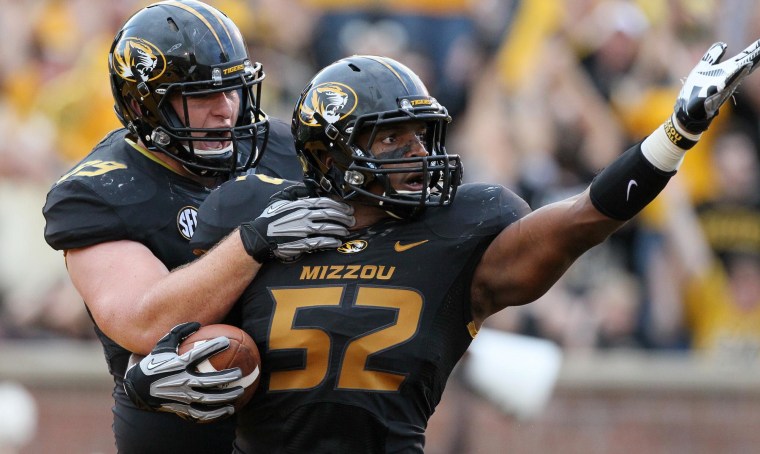 Other pro athletes who have said they are gay include Jason Collins, a veteran of 12 NBA seasons who came out last year but has not played on a team since. Robbie Rogers, a Major League Soccer midfielder with the Los Angeles Galaxy, also has said he was gay.
But Sam would be the first active openly gay NFL player.
Sam told ESPN the trial ahead pales against those he faced growing up in Texas.
"I endured so much in my past: seeing my older brother killed from a gunshot wound, not knowing that my oldest sister died when she was a baby and I never got the chance to meet her. My second oldest brother went missing in 1998, and me and my little sister were the last ones to see him ... my other two brothers have been in and out of jail since 8th grade, currently both in jail.
"Telling the world I'm gay is nothing compared to that."
Support for Sam's public announcement came swiftly from several quarters.
GLAAD, a national lesbian, gay, bisexual, and transgender advocacy group responded to the news Sunday night.
"By rewriting the script for countless young athletes, Michael has demonstrated the leadership that, along with his impressive skills on the field, makes him a natural fit for the NFL," GLAAD president Sarah Kate Ellis said in a statement. "With acceptance of LGBT people rising across our coasts — in our schools, churches, and workplaces — it's clear that America is ready for an openly gay football star."
"We're really happy for Michael that he's made the decision to announce this, and we're proud of him and how he represents Mizzou," Missouri head football coach Gary Pinkel said in a statement. "Michael is a great example of just how important it is to be respectful of others, he's taught a lot of people here first-hand that it doesn't matter what your background is, or your personal orientation, we're all on the same team and we all support each other."
"With Michael Sam's brave step, he emboldens LGBT athletes and straight allies everywhere," added Hudson Taylor, the founder and executive director of Athlete Ally, a nonprofit group focused on ending homophobia in sports. "We are in the midst of incredible transformation in American professional sports. In a very short period of time, athletics has gone from being known as 'the last closet in America' to being in a position to lead on this issue. This is the power of sports."
A statement from the NFL said: "We admire Michael Sam's honesty and courage. Michael is a football player. Any player with ability and determination can succeed in the NFL. We look forward to welcoming and supporting Michael Sam in 2014."
The NFL also noted the league's policy forbidding discrimination or harassment based on race, sex, religion or sexual orientation.
However, Dallas Cowboys and San Diego Chargers wide receiver Patrick Crayton posted on Twitter that "a lot of players and execs will get asked about playing with a gay guy and they are going to have to lie about how they really feel."