/ Source: Associated Press
FLAGSTAFF, Ariz. — A murder case against a former Northern Arizona University student in a 2015 shooting that killed one person and wounded three others ended in mistrial Tuesday after the jury deadlocked on the charges.
Steven Jones, 20, was charged with first-degree murder and lesser counts in a shooting that rattled the normally serene campus and forested city of Flagstaff. The shooting came days after a rampage at an Oregon community college left nine victims dead and brought heightened anxiety nationwide over campus violence.
The Arizona shooting ended up being a drunken late-night brawl between members of two fraternities that escalated into violence.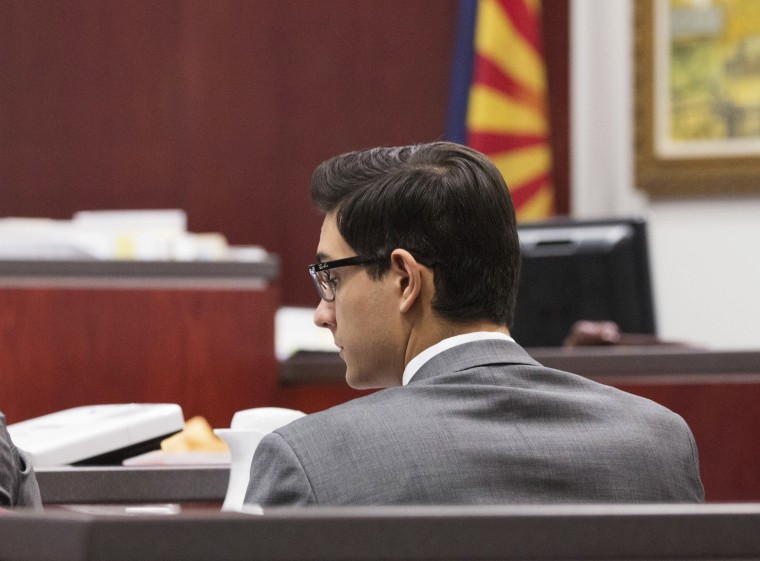 Prosecutors brought a first-degree murder case against Jones, but the jury also had to weigh the possibility of second-degree murder, manslaughter and negligent homicide, in addition to assault charges related to the three students who were wounded.
Jurors could not come to a consensus on the verdict. They sent word earlier Tuesday that they were deadlocked but resumed deliberations. They reported back to the judge later that they were still at an impasse.
"This court is therefore going to declare a mistrial in this case," Judge Dan Slayton said.
The fight started after Jones and two pledges from his fraternity carried out a prank by ringing the doorbell of an apartment and running away. The prank set off a fight between Jones and students in the apartment from a rival fraternity, and Jones got punched in the face.
Jones went to his car, retrieved a .40-caliber handgun and opened fire. Jones, who was a freshman in the opening weeks of his first semester in college, said he was acting in self-defense when he shot Colin Brough, 20, in the chest and shoulder.
Prosecutors portrayed him as the aggressor and said he simply could have walked away without resorting to gunfire.
Jones had said he went back toward the group and fired his gun, but he didn't mean to hurt anyone. He testified he fired several shots "to stop the immediate threat that was coming at me."
Nicholas Piring, Nicholas Prato and Kyle Zeintek were wounded. None of the victims was armed.
Prosecutors now will have to decide whether to try Jones again for the October 2015 shooting. If prosecutors move forward, the judge says there will be a hearing in June and jury selection could start again in early August.
Brough, the victim, attended a high school in Annapolis, Maryland, where he played lacrosse, and graduated from a high school in Castle Rock, Colorado, in 2013.