Former Republican presidential nominee Mitt Romney stepped into the ring to take on Evander Holyfield, the former heavyweight champion of the world, Friday night during a charity fight in Salt Lake City.
A shirtless Romney, 68, lasted just two rounds against Holyfield, 52, before throwing in the towel (well, actually a baseball cap-clad Ann Romney threw it in). The pair got in a few gentle jabs, and the first round even went to Romney after the five-time champ kindly hit the mat for dramatic effect.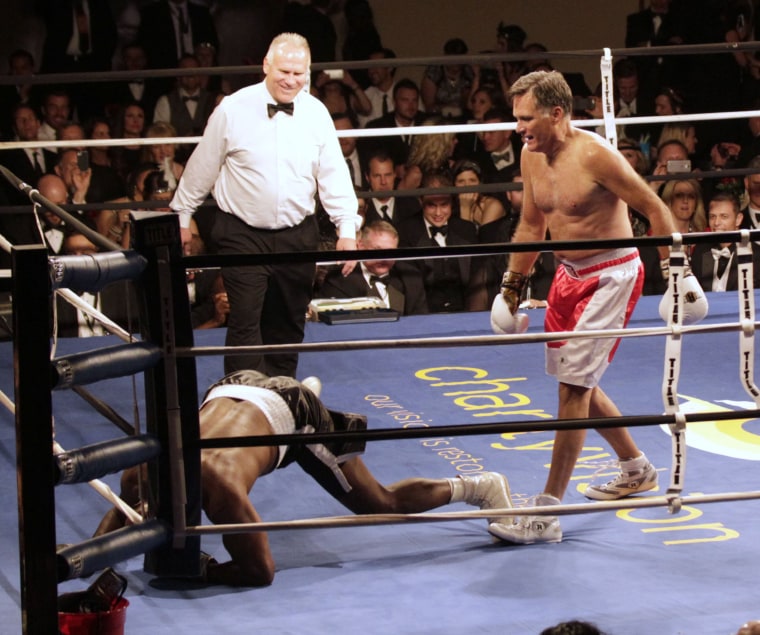 A day before the fight, Romney weighed in at 179 pounds against Holyfield's 236.
The bout was to raise money for Charity Vision, which fights blindness in some of the poorest countries in the world. Corporate sponsorships ranged from $25,000 to $250,000. The event ended up raising $1 million for the charity, Romney announced on Twitter after the fight.
Earlier this month, the pair released a promotional video to hype the fight.
"You've heard my critics say that I'm out of touch. That I'm stiff. That I just don't relate to people," Romney deadpans in the video. "For years I've been listening to garbage like that. And I've decided to fight back."
"Mitt you can't run, you can't hide. Come get your whoopin'," Holyfield said in the video.
SOCIAL
— Jillian Sederholm