Environmentalists lost high-profile ballot fights this week to combat climate change and promote conservation. But they took heart that new Democratic control of the U.S. House of Representatives and several governorships could pave the way for future victories against fossil fuels and global warming.
The biggest loss came in Washington state, where a measure to tax carbon dioxide emissions lost 56 percent to 44 percent, despite backing from a broad coalition of Democratic, environmental, union and Native American groups. The measure's lopsided defeat squashed hopes that the tax would become a model for other states to raise the cost, and reduce the desirability, of fuels that produce Earth-warming greenhouse gases.
The environmental movement lost on three other ballot measures Tuesday, but there were victories, too. And Democrats are counting on a decided edge in House and gubernatorial contests to increase the pushback against President Donald Trump's support of oil, gas and coal interests.
"There was more progress than not," said National Wildlife Federation President Collin O'Mara. "But it's still miles to go before we sleep."
The defeats for environmentalists:
Arizona voters overwhelmingly defeated a measure that would have required the state to get half its power from renewable energy sources like wind and solar power by 2030. That's a fairly modest goal, in an era when some states have set 100 percent green energy goals. (California's deadline for that threshold is 2045.) But the campaign against Proposition 127, funded heavily by a major utility company, said it would force up the cost of electricity and prematurely close coal plants and the state's lone nuclear plant.
Colorado voted 57 percent to 43 percent to reject rules that would have pushed oil and gas drilling substantially farther from homes, businesses, streams and rivers. The "fracking setbacks" measure might have blocked new wells on as much as 95 percent of the land in fossil fuel-rich counties. A major campaign by the industry said it would cost the state jobs and slow the booming economy.
Alaska's "Stand for Salmon" initiative would have toughened the review of mining, oil and other development to protect the state's favorite game fish. But Measure 1 lost 64 percent to 36 percent. Proponents said the habitat protection would have had the added benefit of controlling greenhouse gas emissions.
The victories:
Nevada voters approved a measure much like the one Arizona rejected, requiring the state to get 50 percent of its electricity from green sources by 2030. Question 6 got more than 59 percent of the vote, though the measure must be approved again in 2020 to take effect. That double-approval process can be problematic, as proven on Tuesday when the state's voters reversed their verdict of two years ago and rejected a measure that would have eliminated the monopoly for the state's lone electric utility, NV Energy.
Georgia passed Amendment 1, to put 90 percent of sales taxes on sporting goods toward conservation efforts. The estimated $200 million collected over a decade would help create parks and protect wildlife habitat.
In a phone call Wednesday, a half dozen environmental groups called the midterm election a success, mostly because of the increased focus they expect their issues to get from a House that will now be controlled by Democrats.
They expect the Democrats to hold hearings and potentially subpoena evidence on Trump administration policies — particularly at the Interior Department, Energy Department and the Environmental Protection Agency — that have encouraged the burning of coal, oil and gas.
"We need intensive oversight," said Gene Karpinski, president of the League of Conservation Voters. "We have seen the Trump administration try to repeal [President Barack Obama's] Clean Power Plan, try to repeal the clean car rules... So we need intense oversight of the executive actions at Interior, EPA and other places."
The green organizations also said they hoped that Congress moves ahead with long-stalled plans to build new infrastructure and that Democrats insist the work include expansion of forests and clean energy facilities. "Any infrastructure package could have a lot of clean energy attached to it. That would have bipartisan legs," said the wildlife federation's O'Mara.
Advocates also had high hopes for continued progress on the state and local level. Democrats won seven governor's races in states where Republicans had been in power, while Republicans gained control only in Alaska. And some Republican elected governors — like Charlie Baker in Massachusetts and Larry Hogan in Maryland — support policies to combat climate change. Baker in August signed a $2.4 billion package of global warming adaptation measures, and Hogan said Maryland would join states supporting the Paris Climate Accord, which Trump said the U.S. would abandon.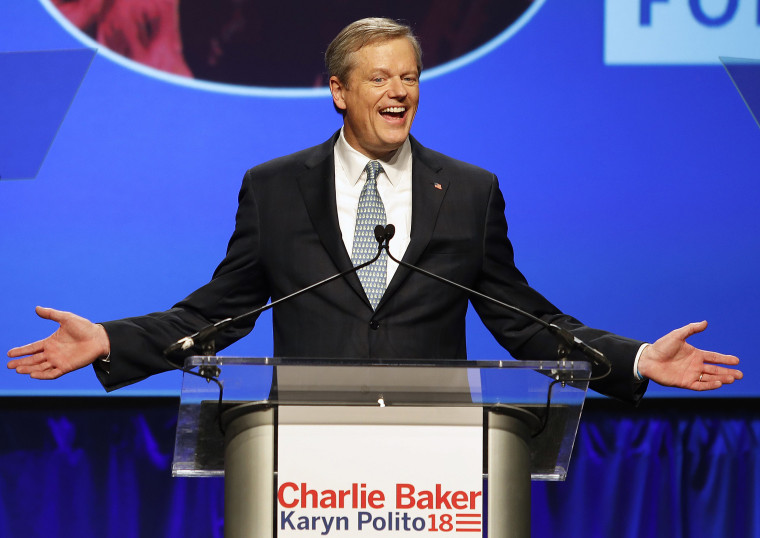 The election results will accelerate action in the states, said Michael Brune, executive director of the Sierra Club. Brune said that could mean the shutdown of more coal-fired power plants and tougher regulation of the oil, gas and coal industries. "Governors play a big role in all that," Brune said.
The environmental leaders said little about the loss of the Washington carbon tax. Two years ago, the last time Washington voted on a carbon tax, proponents tried to lure conservatives and moderates by promising to give the money back to taxpayers by cutting sales and other taxes. This time, they said they would spend the money on environmental cleanup measures. Neither approach worked.
A supporter of the ballot campaign said that, despite the loss, polls still showed that Washingtonians "agree that we must address global warming by weaning our state off of fossil fuels." Now that campaign will turn to getting 100 percent of the state's electricity from green sources and "electrifying" cars and trucks, the No. 1 source of global warming pollution, said Bruce Speight, director of Environment Washington, an environmental research and advocacy group.
The head of a pro-fossil fuel group praised voters for rejecting the state ballot measures. Robert Dillon of the American Council for Capital Formation acknowledged in a statement that the Democratic House victories could slow permitting of fossil fuel projects.
But at the state level, he found cause for optimism below the governor's mansions in the office of attorney general, where four states flipped from Democrat to Republican. Wrote Dillon: "This is positive for the outlook for pipelines and other energy projects."