COLUMBIA, Mo. — A man accused of making online threats to shoot blacks on the University of Missouri's Columbia campus said he mimicked postings that preceded a deadly college shooting spree in Oregon last month, according to a probable cause statement obtained by The Associated Press on Thursday.
Hunter M. Park, a 19-year-old sophomore at one of the other University of Missouri System campuses in Rolla, is charged with making a terroristic threat, which is punishable by up to seven years in prison. He was expected to make his first court appearance Thursday afternoon via a video feed from jail, where he's being held without bond.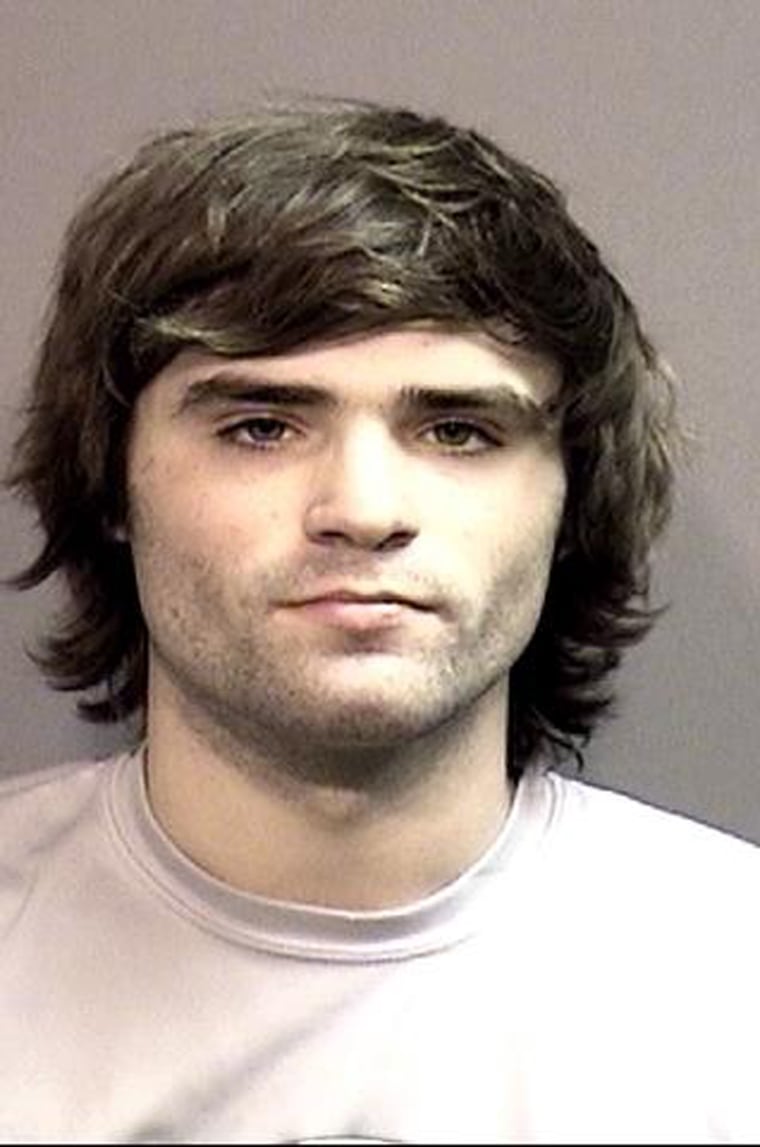 The threatening posts showed up Tuesday on the anonymous location-based messaging app Yik Yak, and were concerning enough that some classes were canceled and some Columbia businesses closed for the day. They were made during a time of racial unrest on campus that resulted in the resignations Monday of the university system president and the Columbia campus chancellor.
One of the threats said: "Some of you are alright. Don't go to campus tomorrow" — a warning campus police Officer Dustin Heckmaster said in a probable cause statement that he recognized as one that appeared ahead of last month's shooting at Umpqua Community College in Oregon involving a gunman who killed nine people and himself.
Heckmaster wrote that Yik Yak willingly gave him the cellphone number that Tuesday's poster had used to create the account from which the threats originated. AT&T later told investigators that the number was Park's and that cellphone towers showed that the postings came from the Rolla area, the officer wrote.
University of Missouri-Columbia police records show the department had contact with Park last January, Heckmaster wrote without elaborating. Those records noted that Park was a student at Missouri University of Science and Technology in Rolla, where Heckmaster confronted Park early Wednesday in the sophomore computer science major's dorm room.
Heckmaster wrote that Park admitted the posts were "inappropriate." He said he asked if the threats amounted to "saber rattling," and Park responded, "pretty much."
Related: University of Missouri Board of Curators Set to Name New Interim President
When questioned specifically what he meant by the phrase, "Some of you are alright. Don't go to campus tomorrow," Park "smiled and stated, 'I was quoting something,'" Heckmaster wrote. When pressed whether it was mimicking the Oregon shooting's posting, Park replied, "Mmhmm."
When asked why, Park said, "I don't know. I just ... deep interest," Heckmaster wrote.
A message left on Park's mother's cellphone was not returned, and there was no response to knocks on the door of the family's home in the affluent St. Louis suburb of Lake St. Louis.
A second student was arrested at Northwest Missouri State University in Maryville for allegedly posting a threat on Yik Yak that read, "I'm gonna shoot any black people tomorrow, so be ready." Northwest Missouri State spokesman Mark Hornickel told several media outlets that authorities hadn't linked the incident to threats at the University of Missouri's Columbia campus.
Related: Inspired by Mizzou Protests, Students Across Country Focus on Being #BlackonCampus
Authorities also are investigating another threat on Yik Yak, this one leveled at the Rolla campus by someone saying, "I'm gonna shoot up this school." And police at the Columbia campus say someone spray-painted over part of a sign early Thursday at the black culture center. They were reviewing video surveillance from the area, a school spokesman said.
On Wednesday, the university said an employee who was among those who clashed with a student photographer during campus protests was placed on administrative leave while her actions are investigated.
Janna Basler is the school's director of Greek life. The videotaped clash helped fan a debate about the free press. Basler did not return a message seeking comment.
A communication professor also drew criticism for trying to stop a photographer from taking pictures. Melissa Click apologized Tuesday.