LOS ANGELES — A reverse mortgage lending company that was previously connected to Treasury Secretary Steve Mnuchin has agreed to pay $89 million to settle claims that it abused a federal home insurance program. Federal officials had been investigating the company's failed home loans to a mostly-elderly clientele.
The company, Financial Freedom of Austin, Texas, agreed to make the payment to close a U.S. government investigation into its practice of allegedly speeding home foreclosures without following Department of Housing and Urban Development requirements. Mnuchin led a group of investors that bought IndyMac Bank and its Financial Freedom unit in 2009. The investors realized a large profit when they reorganized IndyMac, based in Pasadena, Calif., as OneWest Bank.
An Oxnard, Calif., consumer advocate, who helped blow the whistle on the reverse mortgage tactics, will collect $1.6 million of the settlement, according to the U.S. Department of Justice, which announced the settlement Tuesday.
In an interview Tuesday, the whistleblower, Sandra Jolley, recalled how Financial Freedom relentlessly pursued her terminally ill father to get him to sign a reverse mortgage on his modest ranch home, shortly before his death. Jolley went on to counsel many other families that faced foreclosures by the company. After getting word of the settlement Tuesday, Jolley told NBC News: "The human toll is indescribable."
"It was seven years after my father's death before I could even grieve his loss, because all my attention was focused on saving our family's home," said Financial Freedom whistleblower Sandra Jolley.
Jolley's attorney, David Scher, said the foreclosures by Financial Freedom amounted to a "fraud" against homeowners that Mnuchin needs to own up to.
"He is representing an administration that claims it's protecting middle America, even as he stole the future from middle America," said Scher, of the Employment Law Group in Washington.
Mnuchin could not be reached Tuesday through a Treasury Department spokesman. The one-time Wall Street banker and Hollywood film financier has previously denied claims that he was part of a "foreclosure machine." Mnuchin said he inherited the problems of bad mortgages when he and the investors bought out IndyMac.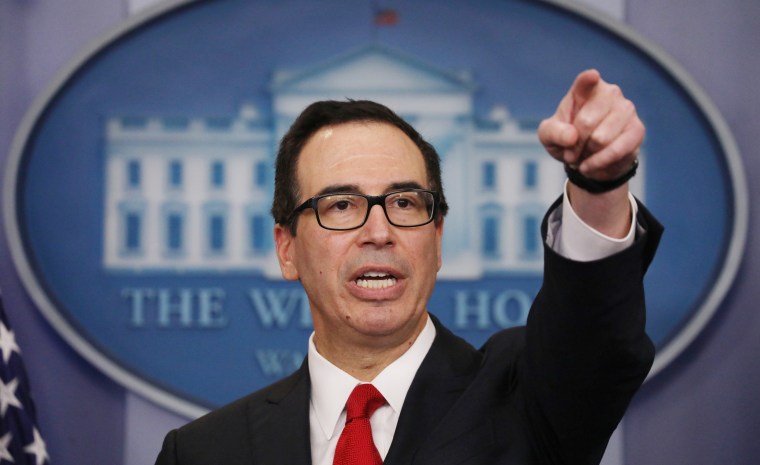 "I was committed to loan modifications intended to stop foreclosures," Mnuchin said during his Senate confirmation hearing in January, adding that his actions helped consumers. "I ran a 'loan modification machine.'"
But the California Reinvestment Coalition, a consumer interest group, examining public records, found that Financial Freedom foreclosed on more than 16,000 reverse mortgages during the first six years that Mnuchin ran the bank. That made up a huge chunk of all reverse-mortgage failures nationally, according to the coalition.
Financial Freedom's aggressive moves to recover losses from the Federal Housing Administration (FHA) insurance program became one focus of the federal investigation. The lender attempted to recover FHA payments even though proper deadlines for appraisals, claims and foreclosure had not been met, the Justice Department alleged.
The prosecutors and housing officials behind the investigation said Tuesday that the settlement was important in helping to preserve the FHA insurance program.
"This settlement represents our office's continued commitment to protecting the financial solvency of vital financial programs designed to benefit America's seniors," said Stephen Muldrow, acting U.S. Attorney for the Middle District of Florida.
David Montoya, inspector general for HUD, said the settlement resolved the allegations that Financial Freedom "sought to receive financial gains that it was not legally entitled to." He said he hoped the settlement would buttress public trust in the federal housing agency and its programs.
Mnuchin and his fellow investors turned a profit of more than $1.5 billion in the IndyMac deal, the Los Angeles Times reported in 2010. The investors, in turn, sold to New York-based CIT Bank in 2015 for $3.4 billion.
A CIT spokeswoman said Tuesday that the bank was pleased to resolve the HUD case and would be able to make the $89 million payment out of its reserves.
CIT's Gina Proia said Financial Freedom "had not originated any new reverse mortgage loans since 2011," even before it was acquired by CIT. The bank "continues to evaluate strategic options for the Financial Freedom business," Proia said, via email.
For Jolley, the settlement caps a more than decade-long ordeal that began when her father, on pain medication and diagnosed with terminal cancer, signed the reverse mortgage. His daughter said Tuesday that a Financial Freedom salesman came to the Thousand Oaks home to pressure her father into signing the loan.
He died about a month after making the deal, the daughter recalled, adding that she had to fight foreclosure, even as she cared for her mother, who suffered from Alzheimer's disease. The Texas company sent repeated default notices, refused to accept repayment and claimed the home had gone vacant, even as Jolley and her mother continued to live there, the plaintiff said.
"They used every tactic, legal, and otherwise, to get our home," Jolley said. "They were bound and determined they were going to take it." She said the stress and pressure became unbearable. Concluded Jolley: "It was seven years after my father's death before I could even grieve his loss, because all my attention was focused on saving our family's home."
CORRECTION: A previous version of this article misstated the name of Sandra Jolley's attorney. He is David Scher, not David Sher.