Right around the time Rep. Jim Jordan, R-Ohio, was shedding his suit jacket and preparing to grill witnesses Tuesday at the impeachment hearing, a mobile billboard truck began circling the U.S. Capitol and calling for a congressional investigation into a sex abuse scandal that has been dogging him back home.
The video playing on the billboard took Ohio State University to task for failing to stop staff physician Dr. Richard Strauss from molesting hundreds of male athletes and other students at a time when Jordan was an assistant wrestling coach at the school.
"Ohio State officials knew about Richard Strauss for nearly two decades," the message flashed on the screen. "20 years later, sexual abuse still is unreported. This isn't just a Strauss problem, this is a problem at The Ohio State University. Congress, it's time to investigate."
The truck was put on the road by the Ohio State Accountability Project, which has been advocating on behalf of former OSU students who say their alma mater failed to protect them from a sexual predator.
"Ohio State University has failed to take meaningful action in dealing with a 20-year scandal where hundreds of teenage students were sexually abused while the university turned a blind eye, " OSAP spokesman Ian Prior said in a statement. "Meanwhile, sexual assaults are still going unreported and rapes on the OSU campus are on the rise. If Ohio State can't figure out how to create a safe environment for students on campus, then Congress should step in."
NBC News reached out to Ohio State for comment about OSAP taking its campaign to Washington at a time when the national media is focused on the ongoing impeachment inquiry that has endangered President Donald Trump.
In response, Ohio State spokesman Ben Johnson repeated what he said previously, namely that the university "has led the effort to investigate and expose the misdeeds of Richard Strauss and the systemic failures to respond, and the university is committed to a fair resolution."
Ohio State, he added, is "covering the cost of professionally certified counseling services and treatment for anyone affected, as well as reimbursing costs for counseling already received."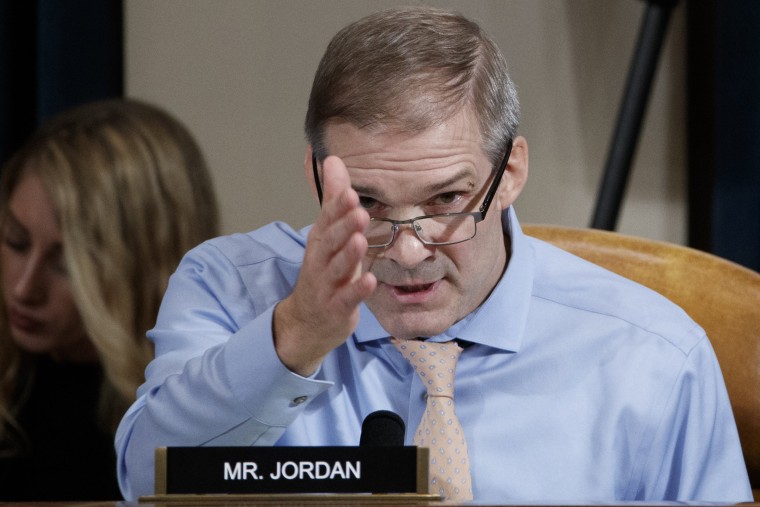 The group deployed the truck last month when the Ohio State Buckeyes took on the Northwestern University Wildcats football team in Evanston, Illinois, and the truck has become a familiar sight in Columbus, Ohio as well.
OSAP has not specifically targeted Jordan, who is a Republican and one of Trump's staunchest defenders.
But OSAP launched the awareness campaign after independent investigators released a damning report in May which concluded that coaches and athletic administrators at Ohio State knew for two decades that Strauss molested at least 177 male athletes and students but did not sound the alarm or try to stop him.
Strauss, who died in 2005, worked at OSU from 1978 through 1998. Jordan coached at the school from 1986 to 1994.
Jordan became ensnared in the Strauss scandal in July 2018 when three former wrestlers told NBC News that the future congressman was aware that the doctor was preying on them but failed to protect them.
An arch-conservative and leading member of the House Freedom Caucus, Jordan has repeatedly denied any knowledge of what Strauss was doing. He has called the allegations against him politically motivated.
Jordan recently repeated that denial after NBC News reported that a former referee said in a lawsuit against Ohio State that Strauss masturbated in front of him in a shower after a wrestling match and that he reported the encounter directly to Jordan and then-head coach Russ Hellickson. Jordan is not named as a defendant in the lawsuit.
NBC News has not heard back from a request for comment about the OSAP campaign from a spokesperson for Jordan.
OSAP is a tax-exempt organization that was registered with the Ohio secretary of state by a Cincinnati-area lawyer named David R. Langdon, the Columbus Dispatch and other Ohio news outlets have reported.
Langdon has been linked to a number of conservative causes, as well as attack ads targeting Democratic presidential candidates like Sen. Elizabeth Warren and others. He could not be immediately reached for comment to explain why he was involved with a group whose campaign is drawing attention to a scandal that has caused Jordan political damage.
Prior, who is a Republican activist, declined to comment when asked by NBC News about Langdon's involvement with OSAP.