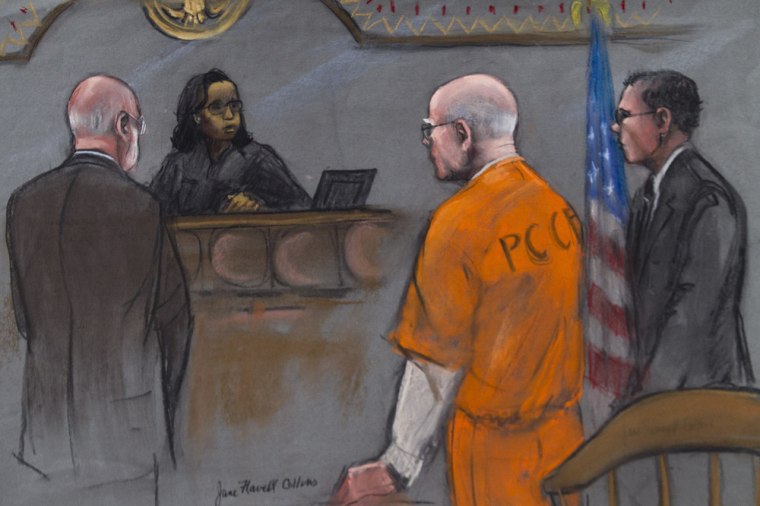 BOSTON -- Lawyers for mobster James "Whitey" Bulger said Wednesday they plan to appeal his August conviction on charges including 11 murders, less than a week after a judge sentenced the former leader of Boston's "Winter Hill" gang to two consecutive life terms in prison. 
In a brief, two-page filing in U.S. District Court in Boston, Bulger said he was appealing the jury's verdict that found him guilty of 31 of 32 criminal counts, including racketeering, extortion and drug dealing. 
The filing does not detail the 84-year-old gangster's specific objections, but U.S. District Judge Denise Casper before the trial prevented his lawyers from mounting the case that Bulger had been granted immunity for his crimes. Casper reasoned that no immunity deal would allow a person to commit murder. 
During the two-month trial, Bulger's lawyers said that their client had been an "organized criminal" and spent much of their energy arguing that he had never served as an informant to the Federal Bureau of Investigation. 
Prosecutors and government witnesses said during the trial that corrupt FBI agents who shared Bulger's Irish ancestry turned a blind eye to his crimes as he ruled over Boston's criminal underworld in the 1970s and 80s, in exchange for information they could use against the Italian-American Mafia. 
Bulger declined to testify in his own defense during his trial, telling the judge he regarded the proceedings as "a sham." 
Prior to the trial, Bulger's attorneys were successful in appeals court in getting the judge originally assigned to the case, Richard Stearns, pulled off it. They challenged Stearns' impartiality, noting that he had worked for the U.S. Attorneys' office in Boston when prosecutors were developing the case against Bulger. 
Bulger fled Boston in 1994 on a tip that arrest was imminent and spent 16 years on the lam before the FBI caught up with him in June 2011, living in a seaside apartment in Santa Monica, California. His story inspired Martin Scorsese's 2006 Academy Award-winning film "The Departed". 
Related: