From British GQ to U.S. Vogue, Melania Trump appeared on many magazine covers as a professional model. But since she became first lady, few editors have dared to put her out front.
Her absence is notable, particularly as the wife of a president who rarely spends a day out of the media spotlight. While cable news outlets have dedicated near wall-to-wall attention to the president and his administration, it's a different story in the magazine world.
There's a clear reluctance among editors to put themselves in the cross-hairs of the culture wars. Mostly New York-based editors may fear having to face unhappy readers or advertisers if they go with a choice so closely tied to President Donald Trump.
And there's also a sense that editors could be taking a political stand.
"Some magazine editors may be putting politics ahead of money and vice versa," said Samir Husni, director of the Magazine Innovation Center at the University of Mississippi.
First ladies are usually a popular choice for magazine editors. Michelle Obama appeared on the cover of Vogue three times while first lady, and Laura Bush was on the cover of the Ladies' Home Journal and People among other titles.
Mrs. Trump's absence from high-profile magazine covers has mirrored her broader lack of public appearances or comments, a silence that has taken on major importance after numerous claims of infidelity by the president. The New Yorker recently detailed claims that Karen McDougal, a former Playboy model, had an affair with the president. The White House has denied all the claims.
One major magazine editor, who asked not to be named, said that it's hard to keep everyone happy when covering the Trumps. The editor said all politicians are divisive for readers, but the Trumps are especially so.
"For some people, it's a moral issue," said the editor, explaining that some readers view the president's comments and actions as evidence of racism. "There is no way to do the Trumps without infuriating either the base or the resistance. It is a no-win."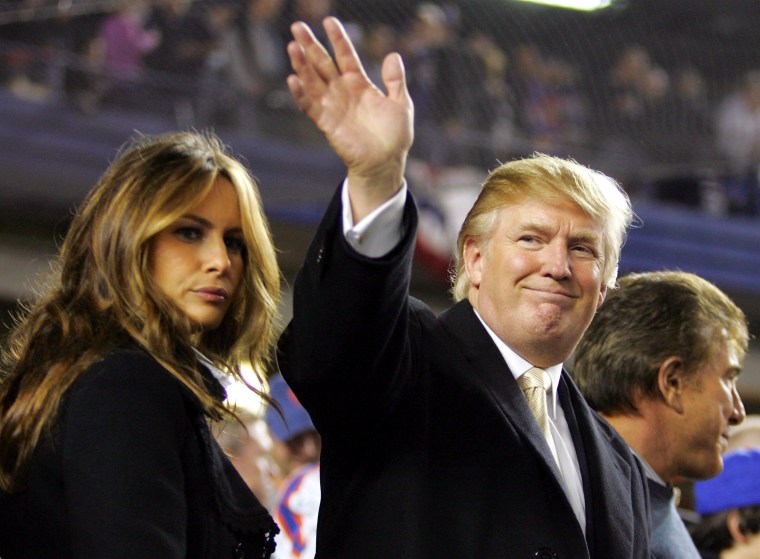 People magazine experienced first-hand the negative attention that comes with giving President Trump the cover treatment. It first featured him on the cover early in 2016 and then again just after Trump's election win. A host of readers were incensed that the magazine would feature the president on its cover, especially given that one of its writers, Natasha Stoynoff, accused the president of trying to kiss her when she was on a reporting trip.
The magazine said that it stood by Stoynoff's account, even while it put the president on the cover.
It's not just readers who put pressure on editors. Vogue's editor-in-chief, Anna Wintour, was the subject of a negative tweet by Trump after Vanity Fair, a Condé Nast sister title of Vogue, apologized for making fun of Hillary Clinton in a video. He suggested Wintour had asked to become ambassador to London, which a spokeswoman for Vogue denied.
When asked if Vogue had made a request for Mrs. Trump to be on its cover, Zara Rahim, a Vogue spokeswoman, pointed to an interview Wintour gave to The Wall Street Journal in February 2017 and declined to comment further.
In the interview, Wintour, who has known the Trumps for some time, made no secret of having supported Hillary Clinton. "Obviously, we felt it was a moment in history for women," she told the paper. "At times like that you need to take a leadership position. ... To me, it was in support of women."
On the subject of Melania Trump, Wintour told the Journal: "We have a tradition of always covering whoever is the first lady at Vogue, and I can't imagine that this time would be any different." A slide show of first ladies who have appeared in Vogue does not include Mrs. Trump.
While Mrs. Trump's fashion choices are catalogued at length at Vogue.com, the print magazine has not interviewed her since she became first lady. She did appear on Vogue's cover in 2005 in a Christian Dior wedding dress — for her marriage to Donald Trump.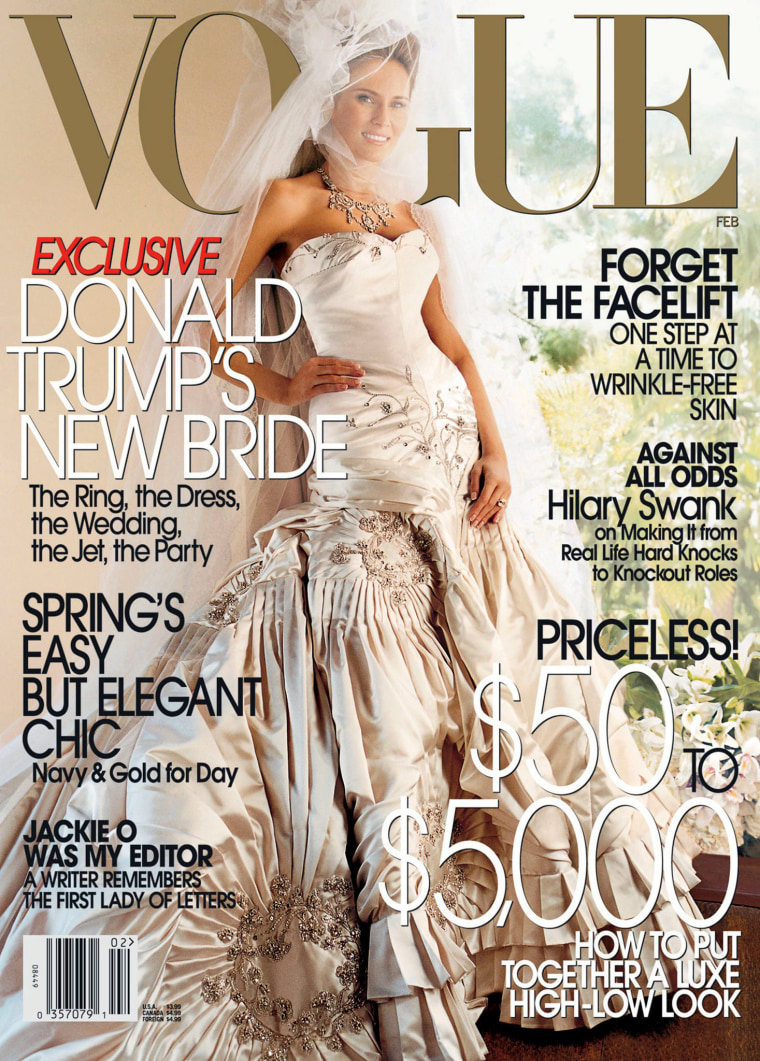 It's not that Mrs. Trump is unpopular. A Gallup poll in December noted that she had a 54 percent favorable rating, up 17 points since January 2017. The supermarket tabloids have not ignored the first lady in the same way general entertainment editors have.
James Heidenry is editorial director of Bauer Publishing Entertainment Group, and oversees In Touch. He was most recently editor-in-chief of American Media's US Weekly. He said there was initial interest in Mrs. Trump when she became first lady, but single-copy sales for issues featuring her on the cover had declined by the end of last year.
Editors can't write about what they don't know. Mrs. Trump has avoided requests for interviews, as questions would likely pertain to her marriage. That has led editors to shy away from her because so little is known about her. The first lady's inner circle is small, and associates say very little.
The magazine editor said there simply isn't anything to say about Melania Trump.
"Is she leaving him? Is she pregnant, starting a new job, any of that stuff?" the editor said. "She's very locked down so we don't really try. It's difficult to get real information on her."
Journalists close to the White House have reported a similar distance between Mrs. Trump and the public eye.
While Mrs. Trump has made speeches about cyber bullying and has tweeted about kindness, Black History Month and the Florida school shooting victims, her relative silence has made her all the more enigmatic.
Stellene Volandes, editor-in-chief at Town and Country, a society magazine, said that Mrs. Trump has recently become a much more sympathetic character.
"Her silence only makes her more intriguing, of course, especially when she couples it with what seem like secret messages, like the white pantsuit she wore to the State of the Union," she said.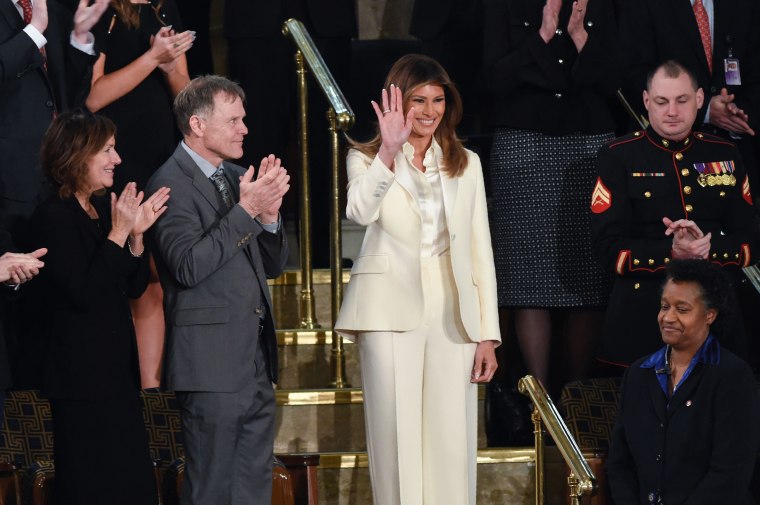 Volandes believes there's been a sea change of opinion since reports emerged about Stormy Daniels — a porn star who has claimed to have had an affair with Trump before he became president — and thinks women have started discussing Mrs. Trump with "a mix of both fascination but also compassion." Whether that change in sentiment will result in more general interest magazines opting to make her a cover lady remains to be seen.
"Suddenly, 'What is Melania thinking?' and 'What will Melania do?' became the center of the conversation again," Volandes said. "When she does decide to speak it's clear everyone will be listening."
The first lady's press secretary, Stephanie Grisham, did not return emails seeking comment for this article. But she did provide this comment to Vogue.com when asked about Mrs. Trump's future role: "The first lady looks forward to announcing her formal platform in the coming months. … For now it's safe to say that her focus is the overall well-being of children."