An undocumented immigrant has been charged with the murder of a University of Iowa college student who was last seen during an evening jog over a month ago, authorities said Tuesday.
Cristhian Bahena Rivera, 24, was charged with first-degree murder in the death of Mollie Tibbetts, 20, according to the Iowa Division of Criminal Investigation.
Officials announced the charge just hours after they discovered what they believed to be Tibbetts' body in a farm field east of her hometown of Brooklyn, Iowa.
"Our hearts go out to the Tibbetts family and to the Brooklyn community. It is a loss for all of us," Poweshiek County Sheriff Tom Kriegel said in a news release.
Investigators said they used surveillance video to track down Rivera. The video showed Tibbetts jogging in a rural area near her hometown as well as Rivera's car.
"I can't speak about the motive. I can just tell you that it seemed that he followed her, seemed to be drawn to her on that particular day, for whatever reason he chose to abduct her," DCI Special Agent Rick Rahn told reporters at a news conference on Tuesday.
"He told us he had seen Mollie in the past and on that particular day, July 18, 2018, he happened to see her, he was drawn to her, and as a result, kind of followed her around a little bit and ultimately confronted her," Rahn said. "And ended up tackling her and ultimately abducting her."
He said when investigators interviewed Rivera — and later when he led police to her body — he was calm and didn't show much emotion.
Rahn said Tibbetts' family has struggled with the news of her death.
"It's a difficult time for them, but they feel having Mollie back home helps," he said. "It's been a difficult time but we're going to try and help them through that process."
On Wednesday, Tibbetts' family released a statement, expressing gratitude to those who helped in the search.
"Our hearts are broken. On behalf of Mollie's entire family, we thank all of those from around the world who have sent their thoughts and prayers for our girl," the statement read. "We know that many of you will join us as we continue to carry Mollie in our hearts forever."
Rivera was an employee of Yarrabee Farms, a "small family farm" owned by Dane Lang and Craig Lang, a prominent Iowa farmer and former GOP candidate for the state's agriculture secretary, according to the Associated Press.
Rivera is originally from Mexico, according to Immigration and Customs Enforcement spokesman Shawn Neudauer.
A massive search had been underway for Tibbetts, who vanished on July 18 and whose disappearance sparked national attention.
"I tried so hard not to think the worst about this whole situation. This entire time it just has been me having this gut feeling that she was gonna be found," Tibbetts' friend Breck Goodman said on Tuesday. "That she was gonna come back and everything was fine."
Goodman said she awoke on Tuesday to dozens of text messages and tweets about Tibbetts' body being found.
"It's upsetting that someone would take advantage of her. Upsetting that anyone would do that to anybody," Goodman said. "Any person would feel the need to physically take another person is just beyond me and I have no idea why. No idea what they were thinking."
Dozens of volunteers in the town of Brooklyn, Iowa, which has a population of about 1,500, had been searching fields around her house and the house where she was staying. Searches were also conducted by ground and air, and the use of dogs.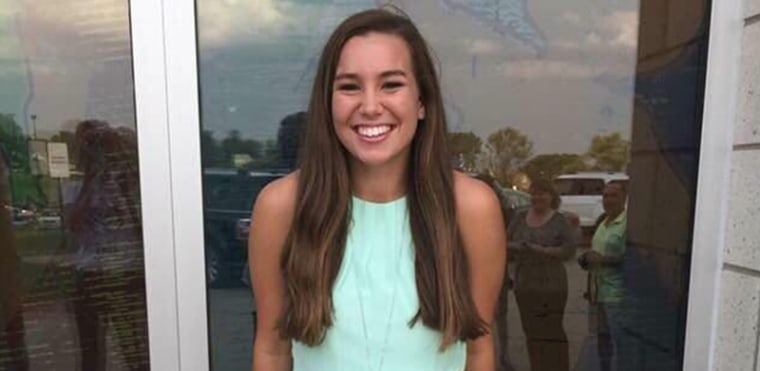 Crime Stoppers of Central Iowa had offered a reward of nearly $400,000 for any tip that led to her safe return.
The surrounding area had been covered with missing person posters, T-shirts and billboards pleading for help in finding the missing woman.
Police had scanned Tibbetts' digital footprint, Iowa Division of Criminal Investigation spokesman Mitch Mortvedt said last month. Tibbetts, an avid runner, often wore a Fitbit, according to her family.
Tibbetts' boyfriend, Dalton Jack, said he received a Snapchat message from her the night she disappeared after she would have returned from her run. She was reported missing the following day after she failed to show up for work.
Jack is not a suspect in the investigation. He was working a construction job about 100 miles northeast in Dubuque when Tibbetts went missing. Tibbetts was staying at Jack's home, where she was watching his dogs, before she vanished.
Iowa's two Republican senators, Sens. Chuck Grassley and Joni Ernst, said in a joint statement that their hearts go out to the young woman's family. "Too many Iowans have been lost at the hands of criminals who broke our immigration laws," they added. "We cannot allow these tragedies to continue."
"Yarrabee Farms follows all laws related to verifying employees are legal to work in the United States."
President Donald Trump also mentioned the killing at a campaign-style rally in West Virginia Tuesday night, calling Tibbetts an "incredible, beautiful young woman," and saying that the murder "should have never happened."
"The laws are so bad. The immigration laws are such a disgrace," Trump said.
The University of Iowa said it was "deeply saddened" by Tibbetts' death, and that its thoughts are with her family, friends and classmates. The university announced numbers that students can call to get counseling or other services.
Rivera worked for Yarrabee Farms for four years, the company said. It said in a statement that he "was vetted through the government's E-Verify system, and was an employee in good standing."
"Yarrabee Farms follows all laws related to verifying employees are legal to work in the United States, and we regularly seek outside counsel to ensure we stay up-to-date on employment law matters. We keep records on all employees and have shared that information with authorities," the company said.
Yarrabee Farms said that on Monday authorities visited the company and talked to its employees and that "we have cooperated fully with their investigation" and would do so in the future.