A woman grieving the death of her 4-year-old daughter was pinned to the ground, handcuffed and put in a police car in Arkansas on Sunday outside a motel, according to her family and a police dashcam video.
Shawnda Brookshire, 33, was with her family at a motel in West Memphis, Arkansas, near the Tennessee border, making arrangements after the death of her daughter, Nia, following a crash the day before on an area interstate.
"We were exhausted, had just left the funeral home where my sister and I had seen my niece's body for the first time and had come to the hotel to get some rest," Shawnda's brother, Richard Brookshire, 32, wrote in a Nov. 18 Facebook post.
He told NBC News on Friday that his sister needed fresh air after such an emotional day, so she went outside the motel and was on the phone with her daughter's father about 20 feet from the premises when officers rolled up and shone flashlights in her face.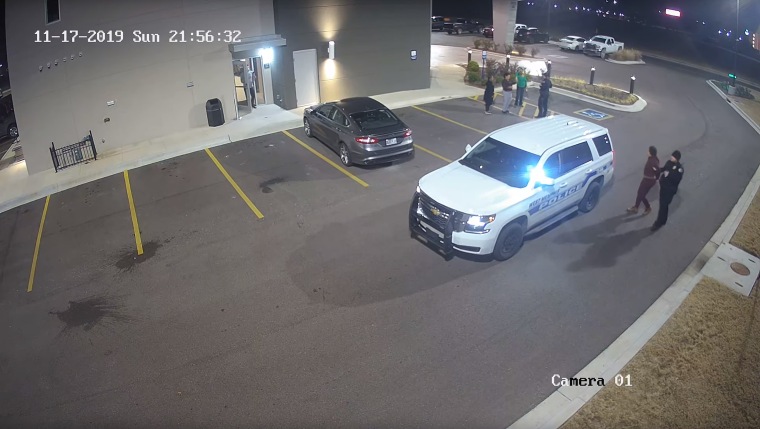 Richard Brookshire, in describing the events as relayed by his sister, said she showed police her motel room key, and they got out of the car and asked her for identification, which she told them was inside the hotel.
"She asked the police what she was doing wrong, they surrounded her," Richard wrote on Facebook. "She immediately called me and my mother on the phone and yelled that she needed help."
He said he, his mother and aunt ran downstairs as fast as they could.
When they got outside, his sister was face down on the ground with cops kneeling in her back, he said.
"I screamed, 'What are you doing to my sister?'," Richard recounted in the Facebook post. "Another officer turned around and immediately pulled out his Taser, pointed it at me and yelled that he was going to arrest me, too."
Richard Brookshire said he, his mother and aunt pleaded with the officers and attempted to explain that his sister was staying at the motel and that her daughter had died the day before.
"They ignored us," he said. He said he felt a mix of emotions, chief among them anger, so he went back inside the motel room.
Audio from a dashcam video released Monday by West Memphis police begins partway through a conversation between the officers and Shawnda. The police tell her to stop yelling, as she calls for her mother and brother to come down from their hotel room. She tells police her daughter died the day before and that she has showed them her room key. They ask her for her name, and she yells for her family to come downstairs.
A woman who identifies herself as Shawnda's mother can be heard telling police about the daughter's death a day earlier and asking where their compassion is. An officer responds that they explained to Shawnda multiple times that they needed to "make sure she is supposed to be here." He says there had been 15 to 20 car break-ins the past two weekends at area motels. "All she had to do was show us her room key and some identification to make sure she was supposed to be here," he says.
Richard also says in his Facebook post that officers told his mother and aunt that there had been car burglaries in the area days earlier and that they were arresting Shawnda under suspicion because she had been pacing outside.
In the audio, Shawnda's mother says, "This is Trayvon Martin all over," to which an officer responds, "No, it's not. No, it's not. How?" The woman says: "Yes it is." The officer asks her if she is serious, and she says, "Yes." He then says, "OK, we're done talking."
After 30 or so minutes of back and forth, Shawnda was released, her brother told NBC News.
He said the family plans to file a lawsuit.
The West Memphis Police Department told NBC News Friday that there have been rumors of a possible lawsuit so it cannot comment on the incident at this time. The Arkansas Democrat-Gazette reported West Memphis police released a statement Monday on its Facebook page that has since been removed.
NBC News also reached out to the motel where the family stayed. A motel manager declined to comment Friday.
Shawnda is black. Her brother says he believes the incident reflects as much on how the poor are harassed by authorities as on the treatment of African Americans. "How they approached her was definitely defined by what they think her class was," the woman's brother said. "It's something we don't talk enough about: how the police treat the poor."
He said he is advocating on behalf of his sister because she is too distraught by her daughter's death to talk about what happened with police.