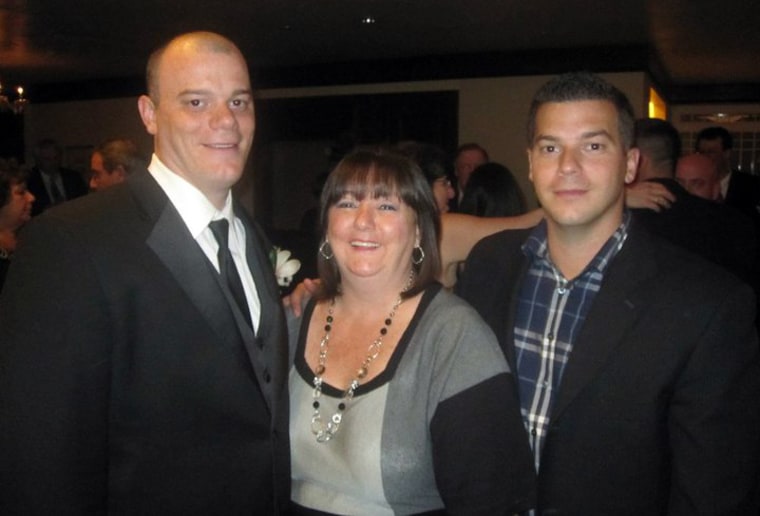 In one room at a Boston hospital, the marathon bombing suspect was under heavy guard. In another, one of the victims was opening his eyes for the first time since losing his leg.
"Oh my God, it's the best day of my life," said Liz Norden, keeping vigil at her son Paul's bedside in the intensive care unit at Beth Israel Deaconess Medical Center, on Saturday morning.
"I can't even tell you...I was ecstatic."
The 31-year-old roofer was rushed to Beth Israel after Monday's bombing in grave condition. His older brother, J.P., 33, who also lost a leg, was at Brigham & Women's Hospital.
All week, their mother had been shuttling back and forth between the two as they underwent multiple surgeries to repair the traumatic injuries.
She had barely registered the fast-breaking developments in the hunt for brothers Dzhokhar and Tamerlan Tsarnaev: the release of their photos, the execution of a campus police officer, a wild bomb-tossing chase, the death of one suspect in a firefight, and the discovery of the second hours later.
But one detail about Dzhokhar Tsarnaev weighed heavily on her: he was now in the same building as her son, who was still fighting for his life.
"I don't understand why they would bring him where my son is," she said, then acknowledged that there was hardly a hospital in the area that didn't have a victim from the two blasts that killed three and injured 176.
The mother of five was unloading groceries at her Wakefield, Mass., home on Monday when Paul called her from an ambulance to say he was "hurt real bad."
Then came the second dose of horrific news: J.P., who had gone with Paul to cheer on a friend running the race, also had a leg amputated.
"I can't even tell you how devastating it's been," she said. "Those two [the bombers] shattered my world."
Since arriving at Beth Israel, Paul had suffered some setbacks, she said without going into specifics. J.P. was in better shape, though he was back in surgery on Saturday.
"All J.P. has done is ask for Paul. He just wants to know if his brother is OK," she said. "We had to be careful about what we told him. And when you'e trying to talk to him and he's sad and crying and just keep asking for Paul, you're dying inside."
But Saturday brought a glimmer of hope. Liz Norden was able to look Paul's eyes and speak to him.
"It was the best," she said, her voice breaking.
When Tsarnaev was brought to the hospital Friday night, wounded from a gun-battle with cops, Norden said she was "angry." The improvement in Paul's condition had calmed her fury.
"As long as my son is alive...," she said. "And today he opened his eyes."
Born just 14 months apart, Paul and J.P. are extremely close. She said her daughter Caitlin called them "tough kids with soft hearts."
"They're amazing boys. "J.P. is preppy and witty and Paul is laid back. Both of them, they would do anything for anybody."
The mom said she didn't want to think about the two other brothers, who were born in Kyrgyzstan and moved to the Boston area with their family a decade ago. She said nothing she learned about them or their motive would change her new reality.
Her goal, she said, was to stay focused on her kids and remain positive. Family and friends had rallied around, and she was confident Paul and J.P. would pull through.
"They will have each other," she said.
Related:
What's next: The interrogation of the Boston bombing suspect
Secret weapon: How thermal imaging helped catch bomb suspect
Parents of suspects say their children were framed
Family of dead suspect's wife: 'Our hearts are sickened'
On social media, Tsarnaev's mixed religious fervor, whimsy
Slain MIT officer's family mourns: 'Our only solace is Sean died bravely'
Obama: 'We've closed an important chapter in this tragedy'
A nation cheers arrest of Boston bombing suspect
Slideshow: Timeline of terror hunt and capture