Fire crews were called in to retrieve two activists who rappelled from the press box of Bank of America Stadium in Charlotte, North Carolina, and unfurled a protest banner Monday night during the nationally televised National Football League game between the Carolina Panthers and the Indianapolis Colts.
The odd spectacle highlighted opposition to a liquefied natural gas project in Lusby, Maryland — a state in which neither of the two teams plays. The project makes use of a controversial production technique called hydraulic fracturing, or "fracking," which opponents say is inadequately regulated and environmentally hazardous.
NBC News Investigations: Danger Beneath: 'Fracking' Gas, Oil Pipes Threaten Rural Residents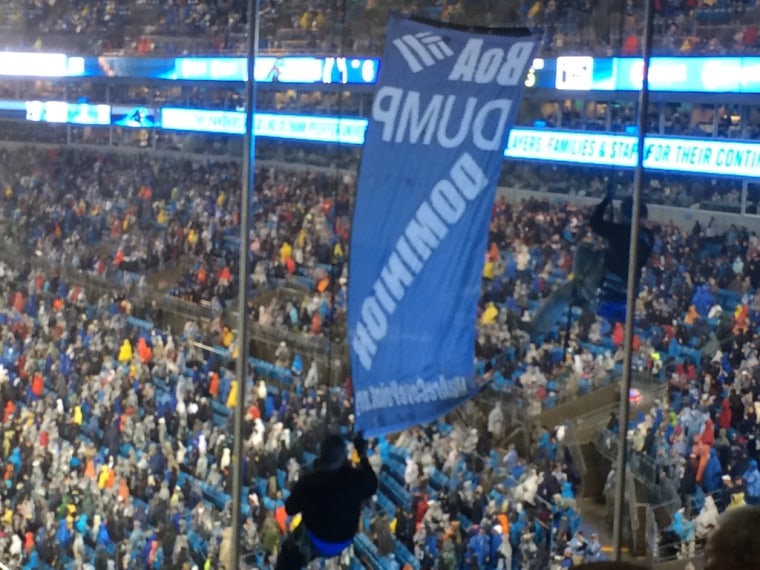 But Charlotte is home to Bank of America — the target of the banner, which read "BOA Dump Dominion." It was the work of We Are Cove Point, a Maryland activist group that since 2013 has fought construction of the Cove Point liquefied natural gas export terminal in Lusby by Dominion Midstream Partners of Richmond, Virginia, which has received financing from Bank of America and other institutions.
Kelly Caravan of We Are Cove Point told NBC News on Monday night that the project "will create a lot of environmental problems and also a lot of financial problems that will hit American consumers very hard."
The protesters, a man and a woman, are "highly skilled" rappellers, Caravan said.
The protesters refused to cooperate with police, leading officers to call in the Charlotte Fire Department to "bring the incident under control," fire Capt. Jackie Gilmore said. No injuries were reported in the incident, which involved 14 firefighters, Gilmore said.
Dominion's project includes seven liquefied natural gas storage tanks with a total storage capacity of 695,000 cubic meters of gas. It has federal approval to export the equivalent of up to 770 million cubic feet of gas once the $3.4 billion project is completed.
Caravan said protesters had pursued traditional avenues to oppose the project, including a series of lawsuits, but hadn't gotten widespread national attention until Monday night.
In response to hundreds of social media posts wondering how the activists managed to get climbing gear and a large banner past security at the stadium, Caravan said she didn't know how it was accomplished.
Dominion, Bank of America, the NFL and the Panthers' front office didn't answer multiple calls for comment Monday night.