Toting a Bible, disgraced gymnastics doctor Larry Nassar appeared in court Thursday to plead not guilty to molesting young girls — the latest in a string of charges that led Michigan's top prosecutor to call him "a monster."
Nassar was ordered held without bond — a moot point since he is already locked up without bail on federal child pornography charges and a state charge that he repeatedly molested a family friend starting when she was 6 years old.
Wearing orange jail garb with his left hand shackled to his waist, Nassar gave only brief answers to the judge's questions at an arraignment in Ingham County. He appeared at a second arraignment in Eaton County later in the day via video-conference.
A day earlier, Michigan Attorney General Bill Schuette charged Nassar with 22 counts of criminal sexual conduct in the first-degree and outlined allegations that the doctor preyed on nine girls who were between the ages of 10 and 15 at the time, penetrating them with his fingers under the guise of pelvic treatments for athletic injuries.
"This guy is disgusting. This guy is despicable," Schuette said. "He is a monster."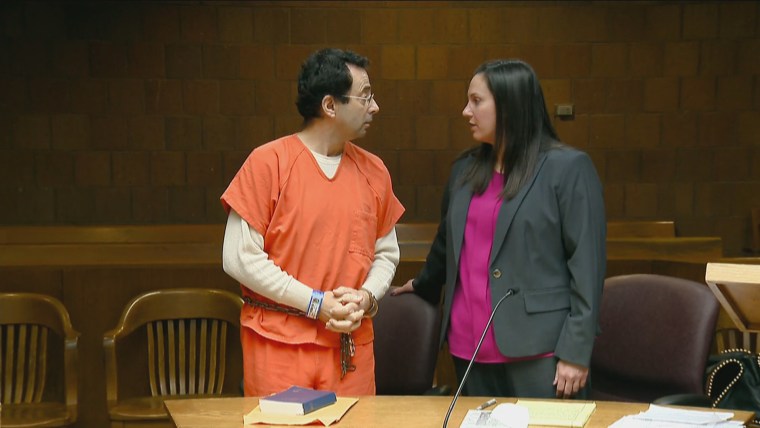 Affidavits catalog the girls' statements to Michigan State University police — including how Nassar's "exams" became more invasive and aggressive over time, how he gave some of the girls little gifts, and how they were so young they did not realize it wasn't a normal medical procedure.
"On her last appointment with Nassar, he gave her a green MSU leotard," the detective write about one girl. "Victim B believes it was because Nassar 'felt guilty.'"
Another victim told police "she never had any pain relief from her sessions with Nassar. Nassar would ask if she felt better and she would respond 'yes,' just so he would stop the penetration," the affidavit said.
Schuette has said Nassar — who was the longtime team doctor for USA Gymnastics until he was fired in 2015 — is certain to face more charges with more than 80 ex-patients having filed complaints with the Michigan State University police.
Nassar, a doctor of osteopathic medicine, had a sports medicine practice at MSU until this fall, when he was fired for violating rules put in place after a 2014 complaint from a patient that prosecutors declined to take up.
He has denied all charges and his attorneys say his procedures were medically sound.