With Montecito still looking for the final victims of the Jan. 9 floods and worrying about a future deluge, a top official in the California community said Monday that residents ultimately determine whether they will adopt the attitude of "a victim or a survivor."
Robert Lewin, director of the Santa Barbara County Office of Emergency Management, spoke about the importance of striking the right frame of mind during an afternoon press briefing.
Lewin's remarks came during a question-and-answer session with the community about recovery efforts and the evacuation messages his office issued before the flooding that left 21 people dead and two missing and presumed dead.
The emergency management official stressed that voluntary and mandatory evacuation notices had gone out widely — with 226,000 contacts made via phone, voice mail, text, email and other avenues. He said that emergency workers had directed residents to an interactive map online to learn whether they were in a mandatory or voluntary evacuation area.
Lewin said that "regrettably" there were "discrepancies" in the description of the evacuation zone that were transmitted via a press release and a Facebook posting about 30 hours before the storm. He did not give any more details about the errors or say what impact they might have had on the evacuation.
County officials have previously rebuffed questions about their evacuation orders and whether the mandatory evacuation zone should have been larger. One emergency official told a local reporter after the deluge swept away dozens of homes that, even in the mandatory evacuation zone, only about 20 percent of Montecito residents left their homes.
Santa Barbara County Sheriff Bill Brown said during a news conference Sunday that just six of the confirmed dead lived in the voluntary evacuation zone, while another 11 lived "right on the border" between the mandatory zone — higher in the hills — and the voluntary zone closer to the 101 Freeway. But The Santa Barbara Independent reported Monday that 17 of the 21 dead, and the two still missing, lived in the voluntary evacuation zone.
Lewin said Monday that the county is working with experts to come up with evacuation maps for flood threats during future rains. But he also suggested that residents must bear some responsibility for their safety.
"Let me just say, when you return home, we of course want everyone to have a sense of safety [and] part of the sense of safety you are going to have to enjoy is knowing when to leave," said Lewin. "We are going to do everything we can to have that."
Lewin then mentioned that he had talked to a friend who had survived a wildfire. "And she imparted to me that we get to choose whether we want to be a victim or a survivor," Lewin said, apparently speaking to the mindset disaster victims adopt.
In future storms, people can focus on the "harm and difficulty and confusion" of evacuation or take on the "survivor attitude" of making the best of a difficult situation, the emergency management chief said. He concluded, "Pretty soon the brush is going to grow back and the grass is going to grow back and our hills are going to be safe again."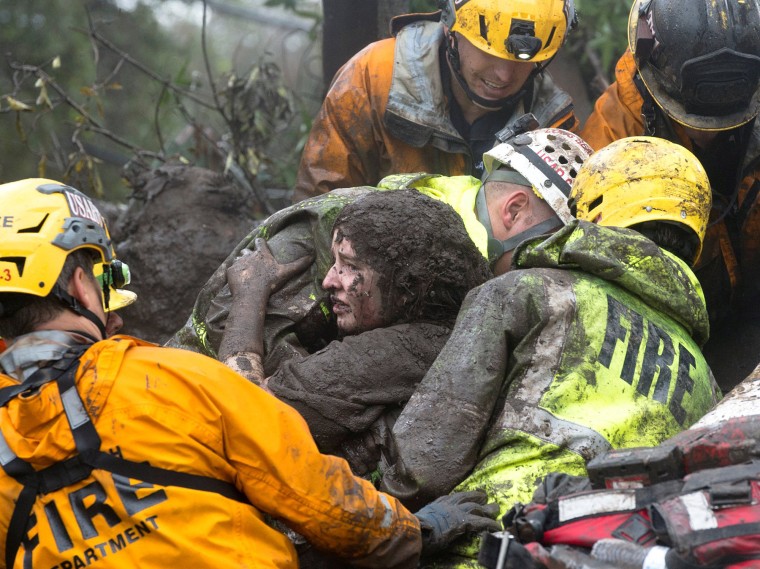 Sheriff Brown said that authorities would begin to allow residents back into some evacuated neighborhoods on Tuesday, beginning with an area near Coast Village Road and Highway 101. There are about 725 properties in the first zone to be "repopulated," Brown said.
He said that other neighborhoods will reopen soon, but that officials are moving cautiously to make sure roads and work crews aren't overwhelmed. He also said that some bridges leading into the evacuated neighborhoods will have to be reinforced, a process that could take months. Alternative routes will be designated in the meantime.
The county said it hopes to have all the evacuated areas reopened by the end of January.