NATO welcomed the tiny country of Montenegro, as its 29th member Monday — the first new member in nearly ten years and a move that comes on the heels of President Trump's visit to NATO's headquarters.
The State Department affirmed the U.S. commitment to North Atlantic Treaty Organization's chief principle to come to the defense of U.S. European allies.
"Montenegro's accession sends a strong message of strength to the region and makes clear to our allies," Under Sec. of State for Political Affairs Tom Shannon declared, "the U.S. remains as committed as ever to the principle of collective defense as enshrined in article five of the Washington Treaty."
President Trump declined to offer the same assurances while at the NATO headquarters less than two weeks ago unnerving many members of the security alliance.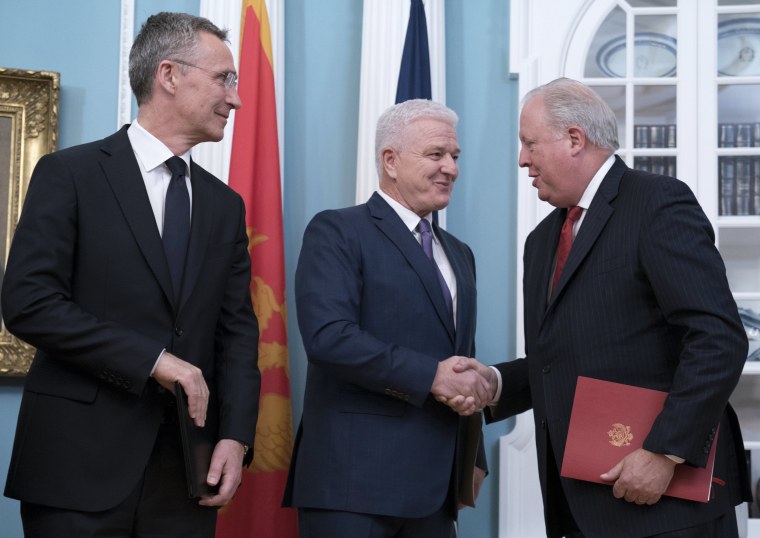 NATO's Secretary General Jens Stoltenberg acknowledged that member nations were not always on the same page.
"We are an alliance of democracies and we have at time different political perspectives, but together we rise above those differences and unite around a common purpose," Stoltenberg said. "To stand with each other, to protect each other, and if necessary to fight to defend each other."
The mood at the ceremony was celebratory as the small former Yugoslav republic of Montenegro, once considered a Russian stronghold, was formally inducted as the newest member of the security alliance.
"Montenegro should be commended in particular for asserting its sovereign right to choose its alliances even of the face of concerted foreign pressure," said Shannon. "America respects the right of all nations to chart their own path."
Related: Little Montenegro Muscles Way Into NATO, Despite Trump Shove
"[This] is a historic event for a country and a nation which endured enormous sacrifices in the 19th and 20th centuries in order to defend their right to a free life, the right to decide on our own future, the right to be recognized by the world under our own name, and with our national symbols," said Montenegrin Prime Minister Dusko Markovic. "This is also confirmation of something that has never been questioned – that Americans remain committed to the stability and security of the Western Balkans and Europe."
Still, it is unclear what the alliance's recent victory will do to sooth the concerns of U.S. European allies after the President's recent performance in Brussels.
President Trump is the only U.S. President since the alliance was formed almost seven decades to not explicitly state the U.S. commitment to "Article five" the core tenet of NATO's charter: "an attack against one ally is considered as an attack against all."
"The times in which we could rely fully on others, they are somewhat over," German Chancellor Angela Merkel declared earlier this month following President Trump's remarks in Brussels. "We have to know that we must fight for our future on our own, for our destiny as Europeans."
Anxiety over the administration's position on international agreements was only compounded by the recent decision to withdraw from the Paris Climate Accord, a landmark global agreement meant to curb emissions that cause climate change.
"I condemn this brutal act against #ParisAccord @realDonaldTrump Leadership means fighting climate change together. Not forsaking commitment," Belgian Prime Minister Charles Michel tweeted following the announcement.
Secretary of State Tillerson unable to attend today's ceremony in Washington, was asked during a press conference in Sydney with his Australian allies to explain the administration's seeming move towards isolationism.
"I hope – the fact that we are here demonstrates that that is certainly not this administration's view or intention to somehow put at arm's length those important allies and partners in the world," said the Secretary of State.