More than 100 aftershocks — including a 4.1 tremor — were reported following a 5.1 earthquake that hit the Los Angeles area Friday night – causing rockslides, water main breaks and thousands of power outages that persisted into Saturday.
The main temblor, initially measured at 5.3 magnitude then raised to 5.4 before being revised downward, hit at 9:09 p.m. (12:09 a.m. ET), the U.S. Geological Survey reported. It was centered between the cities of La Habra and Brea in Orange County, about 20 miles southeast of downtown Los Angeles.
The police in Brea reported that a rockslide closed a canyon road. The slide forced a car to overturn and one person suffered minor injuries, police told NBC Los Angeles.
More than 2,000 customers were still without power on Saturday as a result of the quake, according to Southern California Edison.
About 83 people in Fullerton were evacuated due to safety concerns and six homes were deemed unsafe to occupy, police Lt. Mike Chlebowski told Reuters.
The American Red Cross opened a shelter in La Habra for impacted residents and 38 people stayed there overnight, spokeswoman Meredith Mills told the Associated Press.
Fire officials reported several small water main breaks, which caused street flooding and closures, and gas leaks in La Habra, Fullerton and La Mirada, NBC Los Angeles reported.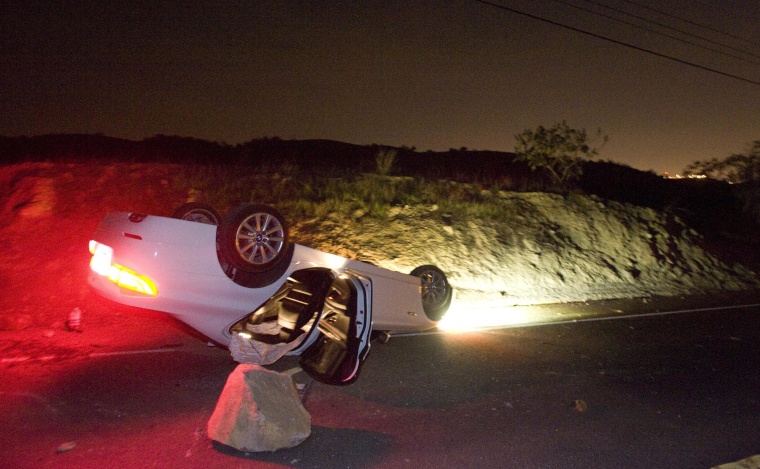 "Just about everything in the city that could go wrong is going wrong," a La Habra Police Department spokesperson told NBC Los Angeles.
The rumble was preceded about an hour earlier by a magnitude-3.6 quake and was followed by 115 aftershocks in about the same area, according to the USGS website.
The strongest aftershock registered 4.1 and hit the region at 2:32 p.m. (5:32 ET) Saturday, USGS reported.
Aftershocks are "very common for a quake of Friday's scale," said Paul Caruso, a USGS geophysicist. As time goes on, the aftershocks will become less frequent and powerful, Caruso said.
NBC Los Angeles reported that residents across Southern California reported feeling the quake.
Los Angeles Mayor Eric Garcetti said in a news release that no damage had been found by police or firefighters within that city.
"Tonight's earthquake is the second in two weeks, and reminds us to be prepared," Garcetti said in the statement.
Meanwhile, rides at Disneyland in Anaheim were shut down following the quake after visitors reported getting stuck on the Matterhorn ride.
The USGS said the quake was 5 miles deep.
— Gil Aegerter and Elisha Fieldstadt