A grand jury has indicted more than 100 Inauguration Day protesters on rioting charges in Washington, D.C. In total, 209 people have now been indicted.
The indictment, handed up D.C. Superior Court on Wednesday, charged 146 additional protesters with felony rioting — meaning they face a fine of up to $25,000 and a maximum of 10 years in prison.
Photos: As Trump Takes Oath, Protesters Pledge to Keep Fighting
On Inauguration Day — Jan. 20 — 230 people were arrested and charged with felony rioting. Twelve cases have been dismissed.
Local, state and federal law enforcement agencies provided 3,000 officers and were supported by 5,000 National Guard members and police officers in patrolling the streets during President Donald Trump's inauguration ceremony.
Nevertheless, protesters clashed with cops in various locations throughout the day. The final confrontation led to the arrests of more than 200 people near Franklin Square, about a mile and a half from Capitol Hill.
As a result, four businesses were vandalized and sustained "significant damage," demonstrators lighted a limousine on fire, and six police office suffered minor injuries after protesters set fires and threw rocks, bricks, trash cans and other small objects, according to Acting Police Chief Peter Newsham.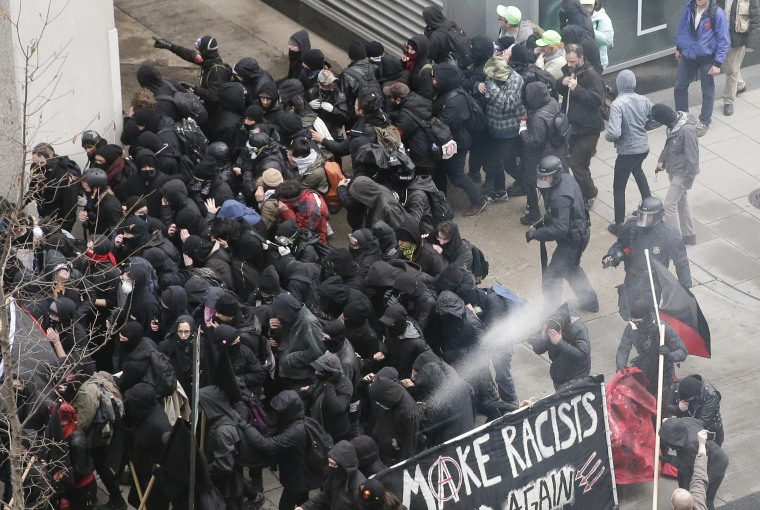 In response, Newsham confirmed, law enforcement officers used flash-bangs and pepper spray to suppress the crowds.
The U.S. attorney's office is continuing to investigate.