More than 2,000 fetal remains found last year in Illinois were laid to rest at an Indiana cemetery Wednesday.
The discovery was made after the death of a doctor who performed abortions.
"The shocking discovery of 2,411 medically preserved fetal remains in Illinois, left in a garage and in the trunk of a car, was horrifying to anyone with normal sensibilities," Indiana Attorney General Curtis Hill said at the ceremony Wednesday at Southlawn Cemetery in South Bend.
Hill has said that because of the poor condition of the remains and the unreliable nature of the accompanying medical records, they could not be identified and were interred according to state law.
The remains were found on property that belonged to Dr. Ulrich Klopfer. More were later found in the trunk of one of his vehicles, which was parked in the Chicago suburb of Dolton. Klopfer performed abortions in Indiana and had clinics in South Bend, Fort Wayne and Gary.
Klopfer died Sept. 3, and an attorney representing him notified the Will County Coroner's Office in Illinois that the doctor's family discovered 2,246 preserved remains, according to reports and Hill's office. Later, another 165 remains were found in the trunk of one of his vehicles.
The remains are thought to be from early 2000 to 2003 and originated from Klopfer's Indiana clinics, Hill has said.
"We brought them home, back to Indiana," Hill said at Wednesday's ceremony.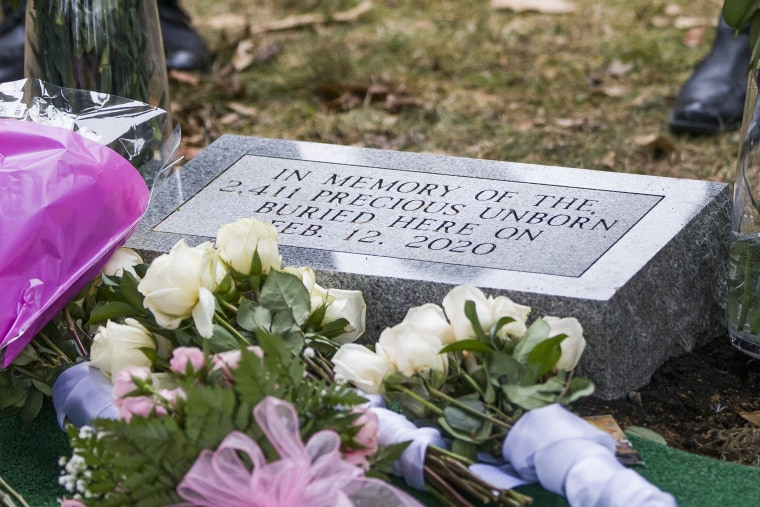 Klopfer, who was 79, performed tens of thousands of abortions over 40 years, mainly in Indiana — a state with some of the nation's toughest anti-abortion laws — and often as the only abortion doctor serving South Bend, Gary and Fort Wayne.
He was a reviled figure among anti-abortion activists, who held weekly demonstrations outside his now-shuttered clinics.
Serena Dyksen of Elkhart, Indiana, said she was a patient of Klopfer after she was assaulted as a 13-year-old, NBC affiliate WNDU of South Bend reported.
"You know, for me, this is just another part of the healing process. My daughter's life was ended before — she had a purpose, and it was ended," Dyksen said, according to the station.
Jackie Appleman, executive director of Right to Life Michiana, said that "We are not burying clumps of cells. We are not burying pregnancy tissue. These are human bodies," according to the station.
Hill said Wednesday that while "it would have been preferable" to return the remains to each city where the procedures took place, that wasn't possible because of the unreliability of the records. He said the site was chosen to memorialize them.
Hill, a conservative Republican, is seeking a second term as Indiana's attorney general. He has been under scrutiny in recent months over allegations that he drunkenly groped a female state legislator and three other women at an Indianapolis bar in 2018. He has denied the accusations and put his defense of state laws tightening abortion restrictions at the forefront of his campaign for another term, the news agency reported.
Hill said in a preliminary report issued in December that the investigation was still ongoing, and his office would release a final report at its conclusion.