Early one evening in February 2014, a man in his 40s walked into Rowdy's Range & Shooter Supply in St. George, Utah, and asked to rent a gun for target practice. He was sociable and seemed calm as he handed over his driver's license, went to his assigned lane and began shooting at the target, stopping every so often to chat with off-duty police officers in the lane next to his.
Just before his hour was up, an employee alerted him. The man thanked him, and the worker left. Then, still standing in the practice lane, the man turned the gun on himself and took his own life.
After paramedics took his body away and customers were escorted from the range, the company's owner, Rowdy Reeve — who opened the range three months earlier with two partners in an industrial park at the edge of the Mojave Desert — began asking himself questions: Was there anything his staff should have noticed about the customer before handing him a gun? Could they have helped him?
"It was like a punch in the gut," Reeve said.
That reckoning led Reeve and the two other co-owners to join a growing movement that aims to reduce gun suicides by spreading prevention techniques among firearm owners and sellers. It's an effort that is slowly sweeping through gun country ─ states with high rates of firearm ownership, like Utah, that have shouldered a disproportionate weight of America's rise in suicides. The endeavor has brought together longtime adversaries: the medical community, which typically sees guns as a public health threat, and the firearms industry, which distrusts most efforts to restrict access to guns.
Gun dealers, range owners and firearms instructors have found that suicide prevention fits into their mission to promote the safe use of guns. Hundreds of them around the country now share suicide-prevention literature, emphasize prevention techniques in their concealed-carry classes, teach workers to recognize distress among customers and welcome prevention advocates to firearm trade shows.
This seemingly unlikely partnership has unfolded quietly, in contrast to the public divisiveness that typically characterizes the debate over gun violence. It originated from mental health researchers and advocates, who see curbing firearm suicides ─ which make up more than half of all suicides in America, or nearly 23,000 in 2016 ─ as integral to reducing the number of firearm deaths.
"This is a new way to go about reducing suicidal persons' access to guns ─ not by promoting an anti-gun agenda but by asking gun owners to be part of the solution," said Catherine Barber, who directs the Means Matter Campaign to prevent suicide at the Harvard School of Public Health's Injury Control Research Center. "Vilifying them isn't going to work."
'WE WANT TO WORK WITH THE GUN OWNERS'
The new public-health emphasis on gun suicides is driven in part by statistics showing that they are far more prevalent than homicides committed with a firearm. That is particularly so in rural areas and the intermountain West. Utah, Colorado, Nevada, Idaho and New Mexico all rank in the top 10 for suicide rates, with more than 20 deaths per year per 100,000 people (the national rate is 13.5 deaths and rising).
Unlike "red flag" laws that allow police officers to temporarily confiscate guns from people deemed a danger to themselves or others, the partnership of the gun industry and the suicide-prevention community requires no new legislation. It is voluntary, focusing on public-education campaigns to make people more comfortable talking about guns and suicide, and encouraging gun owners who feel suicidal to hand their weapons over to someone they trust. While there are no studies yet measuring the campaigns' effect on death rates, advocates gauge success by the growing interest in the gun industry.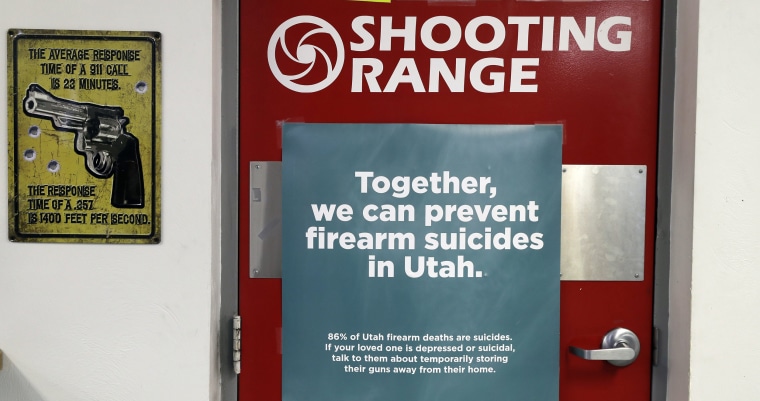 "At first I was very skeptical, because we have been trained to think when people talk about suicide that it's nothing more than a veiled attempt to take away our guns," said Clark Aposhian, chairman of the Utah Shooting Sports Council, the state's biggest gun-rights lobbying group. "Then I checked the data."
Aposhian was drawn into the issue in 2013, when Steve Eliason, a Republican member of the Utah House of Representatives, asked for his support on a campaign to curb suicides. The pitch included some alarming statistics: Utah had one of the country's highest suicide rates, and half of them were by firearm. Of all of the state's firearm-related deaths, 86 percent were suicides.
Aposhian joined the Utah Suicide Prevention Coalition, which has developed literature to distribute at gun shops, produced videos and created a suicide-prevention training module for concealed-carry training courses.
"We're to the point now where we felt it would be a disservice and inappropriate to our membership to not let them know what's going on in Utah and across the nation," Aposhian said.
The Utah partnership has trickled down to communities all over the state, including Washington County, where Rowdy Reeve's range is and where nearly half of all households own at least one firearm and many children grow up handling them. The suicide rate there is twice the national rate.
"We want to work with the gun owners instead of against them," said Teresa Willie, the county's suicide prevention coordinator. She oversees a campaign that includes public-education efforts at churches, schools and law enforcement agencies and running public service announcements on firearms and suicide before films at the local theater. "We don't want to polarize the community at all," she said.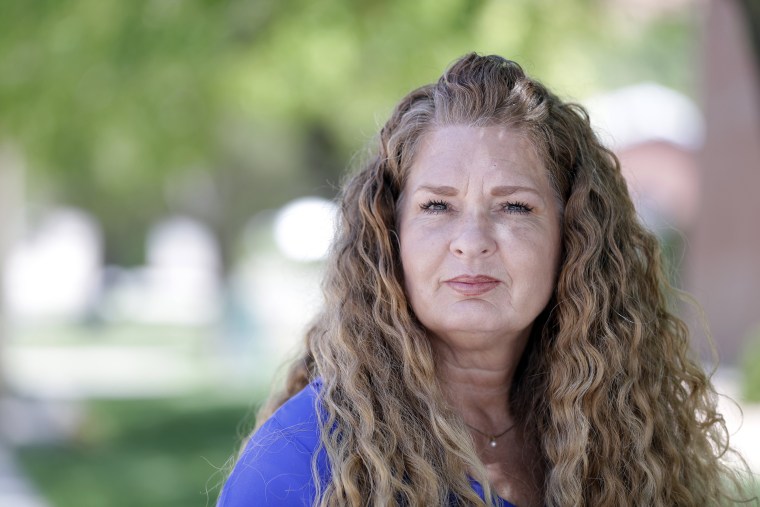 Reeve sought Willie out after the suicide at his range in early 2014. She visited the range, and taught his workers how to identify warning signs from customers who could be suicidal — and how to help them.
As Reeve listened, he felt a deepening sense of responsibility.
"If we are going to be selling these things, then we should also offer people help if they have any problems," he said.
HOW THE MOVEMENT SPREAD
The affiliation between the gun industry and public health advocates has its roots in New Hampshire, where in April 2009 a gun shop owner named Ralph Demicco found out that three people in one week had killed themselves using guns bought at his store. The news shook him; he considered himself a socially responsible business owner, and was cautious about selling firearms to people who seemed risky ─ drunk, on drugs, agitated, inexperienced. He was already a member of the New Hampshire Firearms Safety Coalition, which pressed gun-safety issues. "I was bewildered. I didn't know what to do," Demicco recalled.
One of his colleagues from the coalition asked if he would help in a new suicide prevention effort, driven by research that identified guns as a major risk factor ─ not because gun owners were more suicidal than anyone else, but because suicide is often impulsive, and guns are an effective means of death. Suicide prevention advocates needed Demicco because they knew gun owners would trust him more than they would public health officials. Demicco agreed, and together they created The Gun Shop Project, distributing posters to retailers with tips on how to spot and help people who appear suicidal.
The Gun Shop Project has since spread to 10 more states, including Utah, and there are similar partnerships in about 10 others, according to the Harvard Injury Control Research Center. Some are homegrown. Others are the result of a joint venture by the American Foundation for Suicide Prevention and the National Shooting Sports Foundation, an industry trade group that distributes suicide prevention "toolkits" to retailers and ranges.
"It's a chance to overturn myths about suicide in the gun-owning community," said Bill Brassard Jr., a National Shooting Sports Foundation spokesman.
'DIFFICULT CONVERSATIONS, BUT YOU'VE GOT TO HAVE THEM'
Among those myths, according to researchers, is that if someone wants to end his or her life but doesn't have access to a gun, the person will find another way. Researchers say that making it more difficult for someone who is suicidal to access a planned means of death can buy time until the suicidal thoughts subside.
That is particularly important in the case of guns, which, they say, are present in about a third of American homes and are the most lethal method of suicide. About 85 percent of suicide attempts with a firearm end in death, while drug overdoses — the most common method of suicide attempts — are fatal in less than 3 percent of cases, according to researchers at the Harvard Injury Research Control Center.
"The importance of education in talking to gun owners is not saying they shouldn't own guns, and it has nothing to do with the Second Amendment," said Marian Betz, an associate professor of emergency medicine at the University of Colorado School of Medicine and co-founder of the Colorado Firearm Safety Coalition, which has adopted the Gun Shop Project and National Shooting Sports Foundation programs. "It's saying, 'Sometimes we get so sad we can't think straight, so how can we make things safer for you?'"
Jacquelyn Clark, owner of the Bristlecone Shooting, Training and Retail Center in Denver and a member of Colorado's firearm safety coalition, redoubled her efforts after a first-time customer shot himself at her range two years ago.
Clark revamped her staff training and offered more customer-education literature, from suicide hotlines to gun-storage tips. She sought advice from other gun shops, adopting some of their rules, including a prohibition against new customers using the range alone without a recommendation from a family member, colleague or friend. The staff now looks more closely at new customers — and regulars — by examining eye contact, attention to safety briefings, and whether they seem in a rush.
Clark's staff turns away more people now. Employees once asked a regular customer, upset because his wife had left him, to come back another day. They once asked a new customer, who was alone and seemed to want to rush through a handgun purchase, for a personal reference; instead, he left.
Some of these people leave angry. Some may not be dangerous to themselves or anyone else. But the cost of lost business is a price Clark said she's willing to pay.
"These can be difficult conversations, but you've got to have them," Clark said.
A GUN INSTRUCTOR'S MISSION
In the city of Loretto, in rural central-south Tennessee, firearms instructor Matt Holt sees those uncomfortable conversations as a personal crusade.
Four years ago, Holt learned that one of his closest friends had taken his own life with a gun. That motivated Holt to work with the Tennessee Suicide Prevention Network to persuade the state to require a suicide module in the state curriculum for handgun carry-permit training. The change went into effect July 1.
When Holt teaches the 10-hour course, he starts the suicide section by telling his students about his friend — and other friends and family members, including his mother, who have tried to kill themselves. "I try to engage them, to get them talking about it. Really talking," Holt said.
He tells them about the signs of suicide, what to say to someone who exhibits them, and how to find a safe place for their guns.
He knows his openness makes him an exception in the gun community. He wants the curriculum to include videos on suicide prevention, he says, because "a lot of instructors still don't feel comfortable with suicide, either."
'IT'S GOT TO HELP'
Last year, a man in his 40s walked into Rowdy's Range & Shooter Supply and asked to speak with someone in charge. Reeve and his two co-owners came to the desk and began chatting with him. "I'm suicidal," the man said. He wanted help in keeping himself away from guns. He asked them to take his picture, share it with their staff and tell them that if he returned and inquired about renting a gun, to refuse.
By then, Reeve had become trained to teach a suicide prevention course and was no longer unnerved by such conversations. He and his partners quickly agreed to the man's request.
They kept chatting for about 45 minutes before the man shook their hands and thanked them. He said he hoped he wouldn't see them again.
He hasn't. Last Reeve heard, the man was doing fine.
"We tell our staff not to see our customers as customers but as a person. Spend time to talk to them, what brings them in today, get to know them," Reeve said. "I'm a firm believer that if we can get out there and teach these classes and spread the firearms safety word, it's got to help."
If you or someone you know is in crisis, call the National Suicide Prevention Lifeline at 800-273-8255, text TALK to 741741 or visit SpeakingOfSuicide.com/resources for additional resources.