Tens of thousands of service workers, nurses and technical workers at the University of California plan to go on strike Monday for three days to fight against growing income disparity at the school, their unions said. The strike could cause a major slowdown at the school's hospitals this week.
The labor action includes three unions in the university system — which altogether represent approximately 53,000 employees — but the movement is led by the American Federation of State, County and Municipal Employees (AFSCME) Local 3299. That union works on behalf of service workers who operate as security guards, custodians, truck drivers and gardeners, as well as technical workers such as respiratory therapists, nursing aides, surgical technicians and more.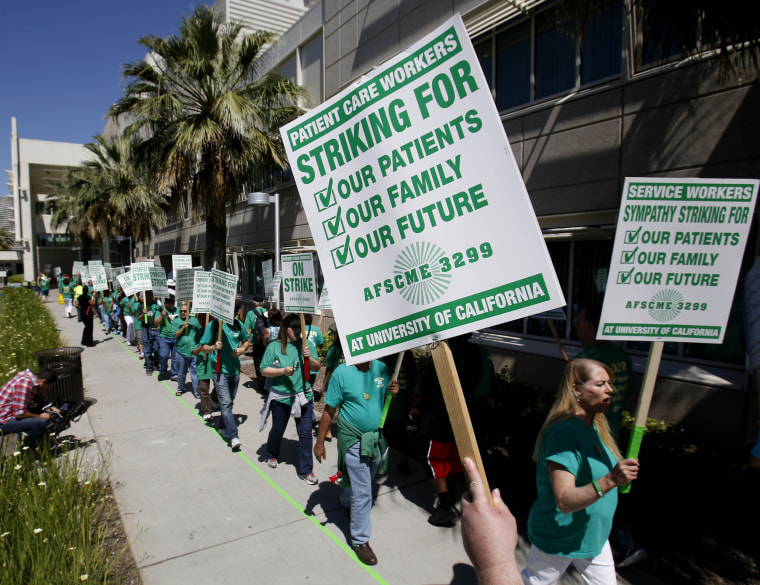 "The big picture here is that there's growing inequality at the University of California, and we're going out because they have not even attempted to address it," AFSCME Local 3299 President Kathryn Lybarger told NBC News.
The union cites growing income disparity, higher health care premiums, outsourcing of low-paying service worker jobs and an internal union research document that they say proves that women and minorities at the university are regularly paid less than white men.
The university denies the allegations, stating said that it "cannot justify to taxpayers such an excessive raise" as the one that AFSCME is demanding. The two parties have been negotiating for more than a year, and last month the school chose to give workers a 2 percent raise without the consent of the union.
The unions say the raise is not enough, as it does not change the growing inequality between service workers at the bottom and the school's top administrators, and they still plan to walk off the job on Monday.
A UC spokesperson said that this action won't change anything and may only serve to harm those who participate.
"A strike is only hurting the union's own members who will lose pay for joining this ill-advised three-day walkout, while negatively affecting services to patients and students," the spokesperson said. "A disruptive demonstration will change neither UC's economic situation nor the university's position on AFSCME's unreasonable demands."
The University of California attempted to stop approximately 700 workers from participating in the strike via a court order last week, but a California court denied their request.
The state school system took another hit when two unions chose to strike with AFSCME Local 3299: University Professional and Technical Employees and California Nurses Association. Their addition meant tens of thousands more people standing on the picket line and greater disruption in the university system.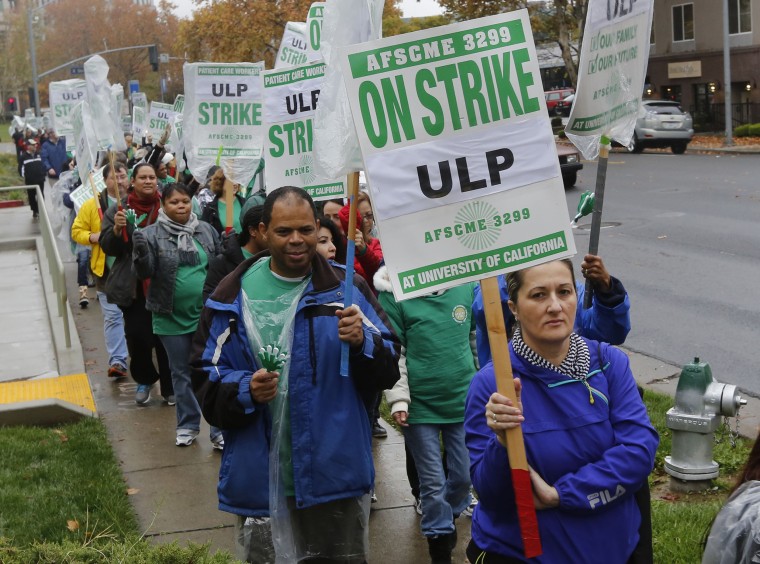 "Numbers, solidarity and speaking in unity really amplifies the urgency and the seriousness of what we're talking about at the university," Lybarger said.
The California Nurses Association said they strongly support the union's efforts.
"Nurses work side by side with them every day," said Benjamin Elliott, a California Nurses Association union representative for the northern part of the state. "When AFSCME called a strike, the nurses voted whether or not to go on sympathy strike with them. Ninety-eight percent of nurses voted to go on that strike with them in support of their issues."
It remains to be seen how much of an effect this will have on day-to-day operations, but NBC San Diego reported that the impending strike has forced two UC hospitals in San Diego to postpone all nonemergency procedures.
"UC is doing everything in its power to limit the strike's impact on our campuses and medical centers, while working hard to ensure patients and students receive the services they deserve," a UC spokesperson said, adding that individual campuses and medical centers would have more information about their individual contingency plans.
The three unions said they have organized a "patient protection task force" who would be "ready to respond in any emergency life-threatening" scenarios.
"Our members really feel a responsibility for the work they do every day," Lybarger said. "Striking for us is a measure of last resort because we work for the public and the public's health and safety is a top priority for our workers."