A rise in shootings on college campuses has added a new front in the gun debate, centering on this question: does it hurt, or help, to have more armed people at school?
Eight states allow people to carry concealed weapons on the grounds of public colleges and universities, based on the belief that criminals will be less likely to open fire if they know they might be confronted by someone else with a gun. Texas became the latest this year, and there is a growing movement to expand the list.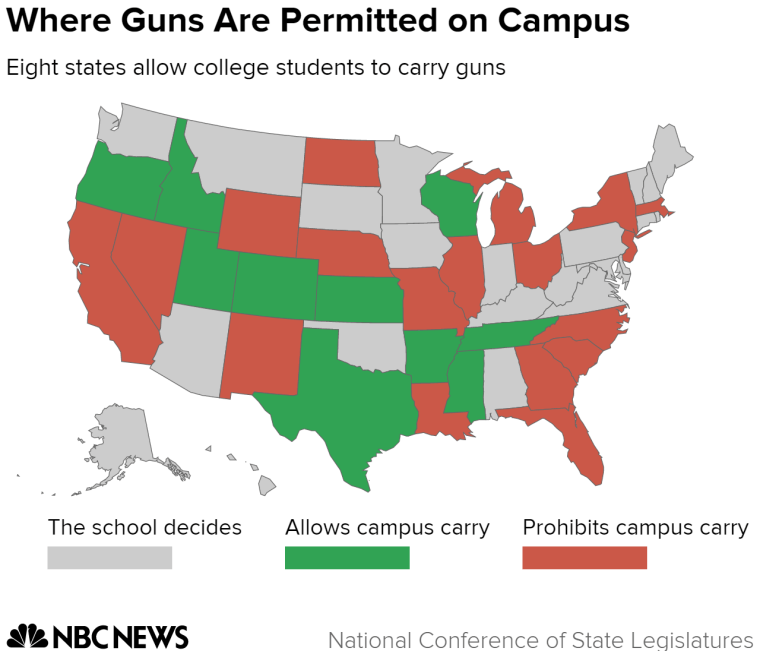 But many believe that having more firearms around makes gun crime more likely. They oppose the campus-carry campaign as an extension of broader efforts to allow people to carry concealed weapons in other public areas, which they say raises the risk of violence.
Those gun-control advocates are now being backed by researchers at Johns Hopkins University, who just released a study that argues the campus-carry movement is based on flawed assumptions about the relationship between civilian gun use, violent crime and mass shootings, including several killings on college campuses.
The higher likelihood for college-aged people to engage in reckless behavior — binge drinking, drug use, fighting, suicide — heightens the danger, they said.
"Increasing gun availability in campus environments could make far more common acts of aggression, recklessness or self-harm more deadly and, thus, have a deleterious impact on the safety of students, faculty and staff," they wrote in a report published Friday by the university's Bloomberg School of Public Health.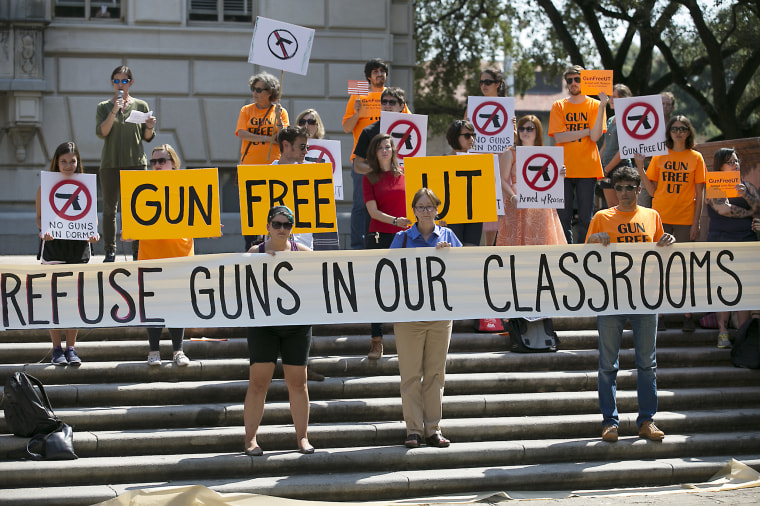 In the matrix of American mass shootings, campus attacks figure prominently. They include a gunman's killing of 32 people at Virginia Tech in 2007, the killing of six at Northern Illinois University in 2008 and the killing of 10 at Umpqua Community College in Oregon last year.
One of the modern era's first mass shootings occurred 50 years ago, when gunman Charles Whitman shot 49 people, killing 16, from his roost in the clock tower at the University of Texas at Austin. That same campus erupted in demonstrations when the new Texas law went into effect this year.
Related: Beginning of an Era: The 1966 University of Texas Clock Tower Shooting
A report by the Citizens Crime Commission of New York City released this month documented an increase in the number of shootings, and victims, on college campuses since 2001, with the combined number of wounded and dead peaking last school year.
The response, in many states, has been a campaign to allow people to carry guns on campus. Dozens of bills have been taken up by state legislatures around the country.
As it stands now, eight states — Colorado, Idaho, Kansas, Mississippi, Oregon, Texas, Utah and Wisconsin — allow the carrying of concealed weapons on college campuses, according to the National Conference of State Legislatures. Another two, Arkansas and Tennessee, allow certain faculty members to carry guns, but not students or the general public.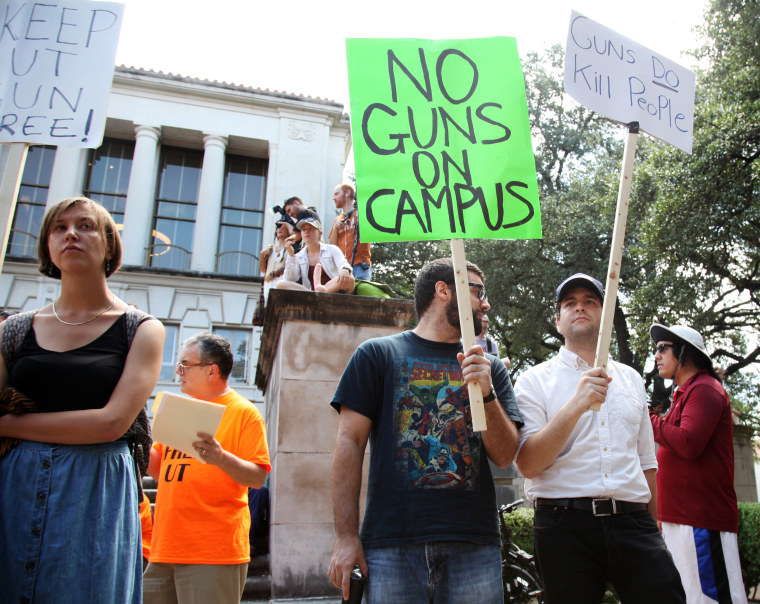 In Colorado and Oregon, high courts have overturned bans of concealed carry on campuses.
At the same time, 18 states specifically prohibit carrying a concealed weapon on a college campus, and 23 leave the decision to the schools themselves.
Because the campus-carry movement is relatively new, there hasn't been much evaluation of its impact on gun violence, the Johns Hopkins researchers said. So they examined studies that looked at issues relevant to the campus-carry question — including the impact of right-to-carry laws on violent crime, trends involving mass shootings and "factors that are unique to public safety on college campuses."
Related: New Texas Law Allows College Students to Carry Guns on Campus
They criticized much of the research cited in the pro-carry movement, saying that it was difficult to corroborate incidents in which gun owners claimed to thwart shootings — both mass shootings and smaller-scale attacks. The researchers also said that emerging research on concealed carry laws contradicted prior studies that concluded that such measures prevented violent crime.
The researchers said their data showed that most fatal mass shootings occur in places were guns are allowed, and people with guns rarely are able to stop them.
The Johns Hopkins group even raised questions about a central argument in the gun-rights movement: that concealed-carry permit holders are far more law abiding than the general population. The claim does not hold in states with relatively loose gun laws, the report said.
"Many states relaxed restrictions on concealed and open carrying of firearms based on claims that such policies reduced violent crime," the authors wrote. "But the best available evaluations of these policies indicate that these right-to-carry laws increase violence."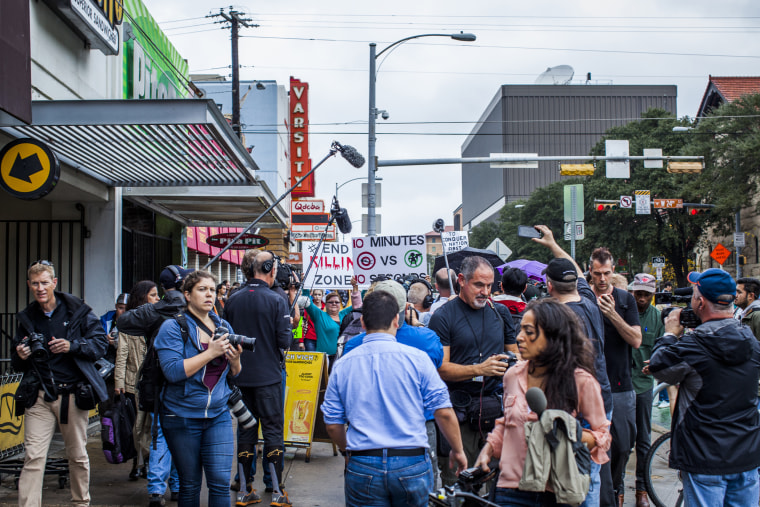 If anyone has a bone to pick with the Johns Hopkins report, it is John Lott. He is an economist and author of "The War on Guns: Arming Yourself Against Gun Control Lies" whose work is often cited by the National Rifle Association and other gun-rights groups. He argues that concealed-carry laws make the public safer because they put guns in the hands of people who are more law abiding than the general public.
Lott said he couldn't take seriously a report that singled him out so frequently and was based on the assumption that college-aged permit holders were as reckless as those who didn't have permits.
He claimed many other researches have come to similar conclusions as his — although it's worth noting that the gun-rights advocates have helped block federal research into gun violence for years.
And he argued that the reason it was hard to corroborate prevented attacks because such incidents often do not attract public attention.
"It's hard to find any group in the population that's as law abiding as the people who are willing to go through the process of getting a permit," Lott said.
Daniel Webster, director of the Johns Hopkins Center for Gun Policy and Research and one of the report's authors, said in an interview that he hoped the study would be read by policy makers who are in the middle of the debate about campus-carry laws.
"People should examine the evidence that take careful consideration and not take on the face some people's arguments that we're all safer with everybody carrying guns," Webster said.