LOS ANGELES — Around a half-dozen women have come forward as possible victims since charges were announced against an Orange County surgeon who is accused of drugging and sexually assaulting at least two women, officials said Wednesday.
Orange County District Attorney Tony Rackauckas said more women have come forward a day after investigators released information about the case of against Dr. Grant William Robicheaux, 38, and his girlfriend, Cerissa Laura Riley, 31, who are charged with allegedly sexually assaulting two extremely intoxicated women in 2016.
Rackauckas said Wednesday that he believes there could be many more victims, based on videos and images seized by authorities in the case.
"It's hundreds, probably over a thousand," he said of the videos and images. Many show sexual conduct, he said, "and some of those ... are situations where the lady in the video other than the couple appears to be intoxicated to the point of, past the point of being able to consent."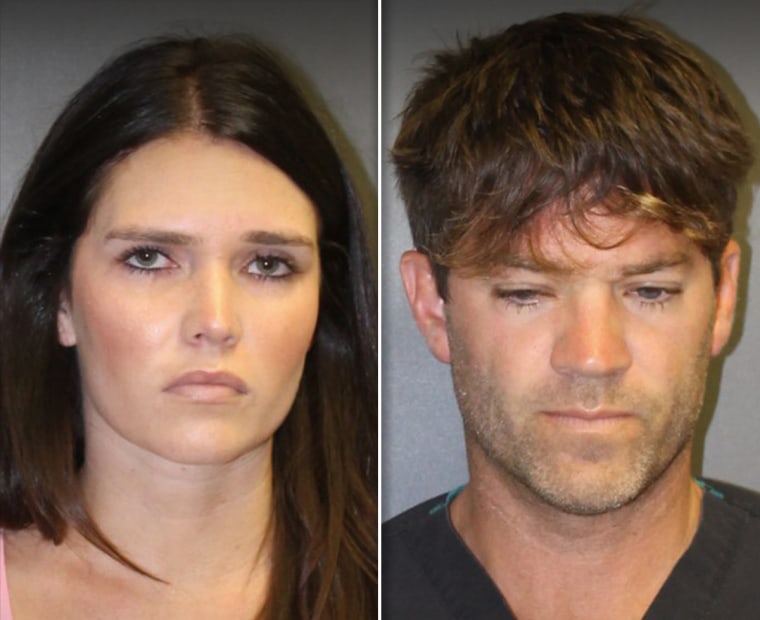 Robicheaux and Riley were charged on Sept. 11 with rape by use of drugs, oral copulation by anesthesia or controlled substance, assault with intent to commit sexual offense and possession of a controlled substance for sale. Attorneys for the pair say both deny any allegations of non-consensual sex.
Investigators released more information on Tuesday to notify the public they are looking for any additional victims.
Rackauckas said Wednesday that of the around six women who have contacted investigators as possible victims, those allegations will have to be investigated.
In one of the two incidents for which the pair is charged, they are accused of taking a 32-year-old woman they met at a Newport Beach restaurant to a party to Robicheaux's apartment where they allegedly drugged and sexually assaulted her in April of 2016.
The woman contacted Newport Beach police the next day, authorities said. Prosecutors said in court documents that she was was prevented from resisting by "an anesthetic substance, and a controlled substance."
A few months later, on Oct. 2, 2016, Robicheaux and Riley allegedly drank with a woman at a Newport Beach bar until she became unconscious and then they sexually assaulted her with the intention of raping her, a statement from the district attorney said. In that case, the woman became unconscious and awoke and began screaming for help, and a neighbor called Newport Beach police, Rackauckas' office said.
Attorneys for Robicheaux and Riley said in a statement Tuesday that "all allegations of non-consensual sex are unequivocally denied by Grant Robicheaux and his girlfriend Cerissa Riley."
"They have been aware of these accusations for a number of months, and each of them will formally deny the truth of these allegations at their first opportunity in court," the attorneys said in a statement. None of the allegations deal with Robicheaux's medical practice or patients, they said.
Robicheaux had appeared on a Bravo reality TV series called "Online Dating Rituals of the American Male" in 2014. The episode he was featured in was titled "Three's a Crowd."